Your course's renovation clock is running. It's not a matter of if, but when.
To the untrained eye, nothing looked out of place in 2018 at Reynolds Lake Oconee's Great Waters, a lakeside stunner designed in 1992 by Jack Nicklaus. Beauty can fade, however. So can infrastructure. It was time for a facelift.
"Every golf course has a life cycle, like a car," said Chad Goetz, the Nicklaus Design associate who oversaw the Great Waters project. "Things wear out and things change a lot in 30 years."
Goetz's boss, the Golden Bear, echoed those sentiments. "Although the golf course looked pretty good," said Nicklaus, "it looked a little tired. All golf courses after many years look a little tired, in need of sprucing up. I also think this golf course needed some improvements— things we probably couldn't afford to do when we originally did the golf course, but saw over time would make for a better course. If we could fix those things, naturally, we would want to."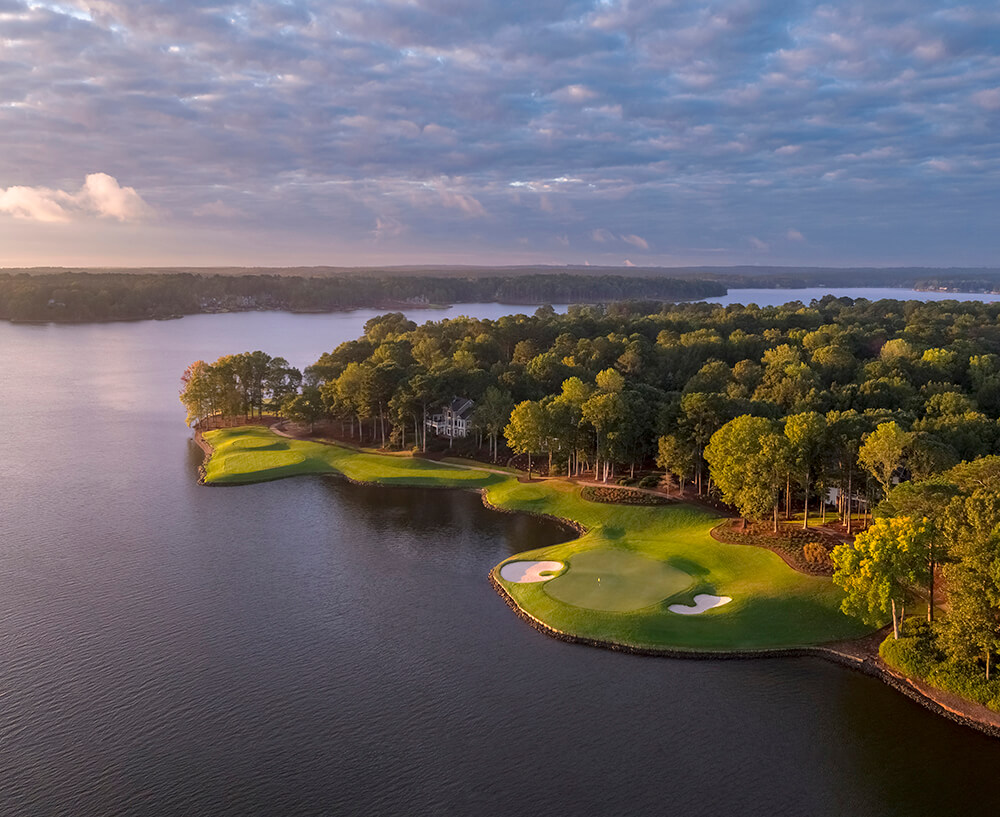 Located between Atlanta and Augusta in Greensboro, Ga., Reynolds Lake Oconee is one of many examples where top-tier golf courses have gone under the knife in recent years. If you're considering buying into a golf community, or are already part of one, know this: Renovating your golf course is on the way, sooner or later.
When will the renovation of course components likely be necessary? The American Society of Golf Course Architects recently weighed in with general guidelines. With the assistance of the USGA Green Section, the Golf Course Builders Association of America, and the Golf Course Superintendents Association of America, the ASGCA published the following "Expected Life Cycle for Golf Course Items."
Greens: 15–30 years
Bunker Sand: 5–7 years
Irrigation System: 10–30 years
Irrigation Control System: 10–15 years
Pump Station: 15–20 years
Cart Paths—asphalt: 5–10 years (or longer)
Cart Paths—concrete: 15–30 years (or longer)
Practice Range Tees: 5–10 years
Tees: 15–20 years
Corrugated Metal Pipes: 15–30 years
Bunker Drainage Pipes: 5–10 years
Mulch: 1–3 years
Grass: Varies
Architect Bobby Weed cautions that these numbers are strictly estimates, affected by climate, on how much regular maintenance has taken place over the years, on the skill and budget of the superintendent, and other factors.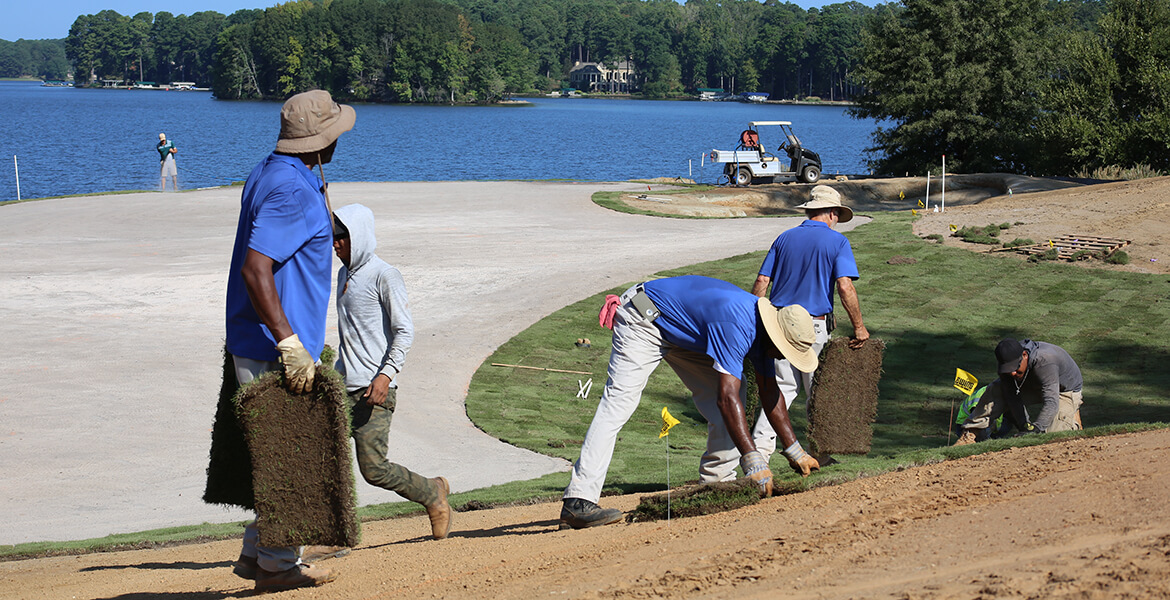 How long a course shuts down for these projects varies, as well. In the Southeast, especially Florida, renovation work can take place year-round. According to Weed, a cool season renovation takes 18 months and a warm season renovation takes 12 months, give or take two to three months depending on the scope of work. For David McLay Kidd's irrigation-only, one-hole-at-a-time project at Tacoma Country Club in Washington, the course never closed. At Rancho Santa Fe Country Club near San Diego—Phil Mickelson's home course—Kidd implemented changes to bunkers, greens, grassing, and irrigation in two nine-hole phases: Players lost only three months when they couldn't play at all.
At Reynolds Lake Oconee, the Nicklaus Design team installed new drainage and irrigation systems, also removing trees to widen fairways and improve turf quality by allowing for more sunlight and air flow. They also switched out grasses, moving to Zeon Zoysia fairways, TifTuf Bermuda rough, and TifEagle Bermuda on the rebuilt greens, a grass that performs better in the shade and holds its color in the fall. Additional back tees were added and a new set of forward tees at 4,500 yards increased playability for all classes of golfers.
For Kidd, the tipping point for a course renovation is most often the infrastructure reaching the end of its life, specifically the irrigation system. Irrigation is the most common problem area and—despite being mostly invisible—the single most expensive part of a golf course, at least on the West Coast, with many new systems costing up to $4 million.
And that's when Pandora's Box opens, according to Kidd. "Once a club commits to fixing the irrigation, it now needs to ask the architect, 'As long as we're digging up the course, is there anything else that we should consider, from grasses to greens to bunkers to even remodeling?' If at all possible, it's best to perform all the work at once, so you don't have to dig up a new irrigation system later on."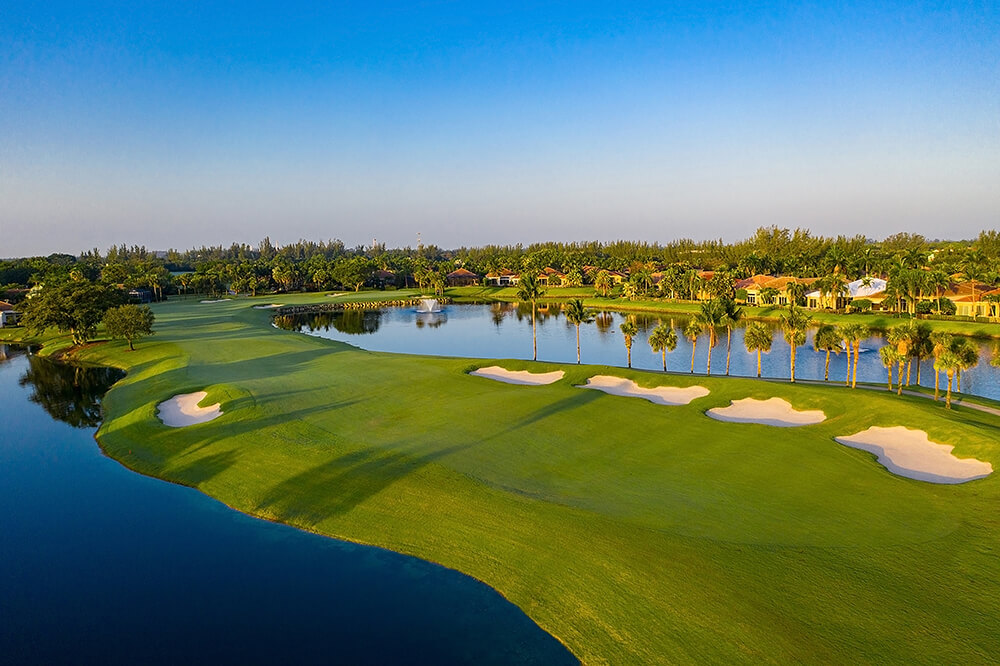 Rees Jones concurs. Reflecting on his 2019 renovation of BallenIsles's South course in Palm Beach Gardens, Fla., Jones said, "What leads to change is agronomics. Irrigation and drainage drive most of these projects." From that point, Jones coordinated a remodeling effort, moving lakes from the front of greens to the sides, relocating certain bunkers and installing bunker liners throughout, and lowering the greens to provide new ground-game options.
Of the course components that players can see, the most prominent candidates for refreshing are usually bunkers, grasses, trees, and greens. Tom Fazio acknowledges that not only are such renovations necessary for playability and performance, but simply to keep up with the competition. The greens at his home club in Florida, Jupiter Hills, are on their fourth regrassing—at a club that just turned 50.
Fazio acknowledges that not only do grasses have natural life cycles, they also have to yield to innovation, whether a different variety of grass replaces its predecessor or a better version of the original grass becomes available. At his Forest Creek North course in Pinehurst, N.C., he converted bentgrass greens to Champion Bermuda for improved year-round conditions.
"More people are using the club as their primary residence, so there is more summer play," said Fazio. "The Champion Bermuda holds up much better than bentgrass in the higher temperatures."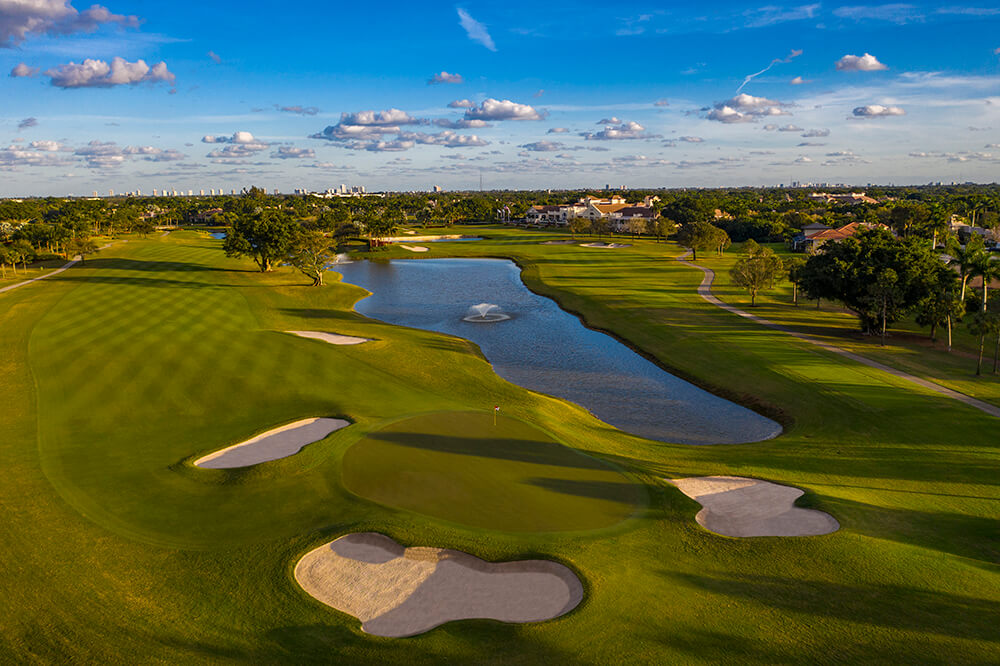 Swapping out grasses not only can lead to enhanced performance and aesthetics, but in some cases has an environmental benefit. With water consumption a vital concern, especially in the western U.S., changing the grass can have an enormous positive impact. In 2016, at The Preserve Golf Club in Carmel, Calif., part of the Santa Lucia Preserve community, Fazio replaced his original bentgrass fairways with Santa Ana Hybrid Bermuda grass. The new fairways played firmer, faster, and more consistent, and also required less water, helping the club realize a savings of nearly 35 million gallons a year. "We cut water consumption by half," said Fazio.
Weed aligns with the prevailing view on renovation priorities, but also nods to a modern concern—liability. "Irrigation and drainage trump everything, followed by turfgrasses, greens, bunkers, and trees," he explained. "However, liability concerns are a growing item to remedy, where problem holes need to be fixed."
Twenty-two years after he comprehensively renovated the Ocean course at the Ponte Vedra Inn & Club in Ponte Vedra Beach, Fla., it was time to do it again in 2020. This time, though, Weed also expanded the practice range, which had been no more than a "warm-up area," and eliminated the 10th hole, which sat adjacent to the range. The hole had been a nuisance with stray range balls littering the fairway; it also had become dangerous, putting golfers in harm's way. Weed found a spot for a new par three between the old 13th and 14th holes and slashed par from 72 to 71. Problem solved.
At Entrada at Snow Canyon Country Club in St. George, Utah, the members opened Pandora's Box to the fullest extent possible. "The tipping point was that something was failing," said Kidd. "Usually, that's the irrigation system, which was the case here. Then we took a good look at the course and could see the massive potential that had gone unrealized for whatever reasons. We didn't want to o end the membership, but when we met with them, we learned that the members loved the community, but didn't enjoy the golf course as much as they should."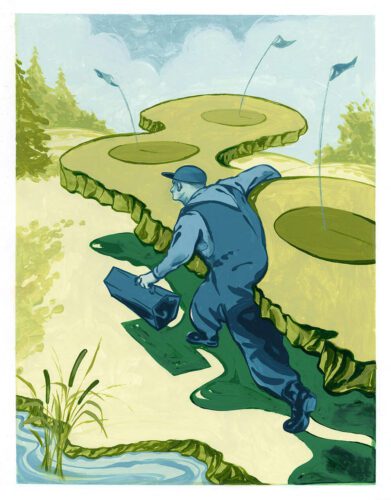 Entrada's original design called for too many demanding shots, with narrow fairways bracketed by native rough and even lava rock. "It was way too difficult," said Kidd. "Players would routinely lose a half-dozen balls per round from tee shots and most greens were elevated, with catch basins all around them, plus two inches of rye grass rough."
Kidd and his team crafted wider fairway corridors, removed some bunkers, grassed over others, and pushed the greens down to the grade of the surroundings. When the course reopened last November, players who misfired on their approaches had options, whether to flop, chip, putt, or bump-and-run.
"Entrada got an entirely new course," said Kidd. "It paid a big price, and the course was down for 12 months, but they emerged with a big prize."