By David DeSmith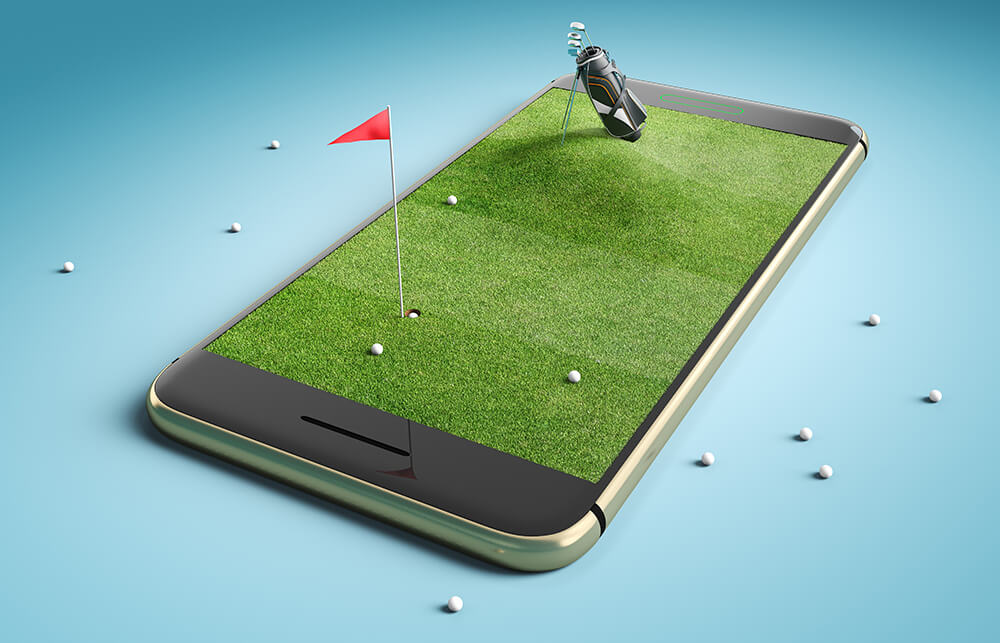 Technology pervades (some would say invades) every aspect of life today—including golf. But our brave new digital world has brought with it a corresponding collection of sleek smartphone apps that can definitely enhance your enjoyment of the game.
Here are some apps that every golfer should consider downloading and putting in play (all shown are available for both iPhone and Android, and all are free unless otherwise noted, though many offer paid upgrades of some kind).
GPS/Course Management
Not everyone's going to want to monkey with a phone when they're out on the course. That's why rangefinders and GPS watches exist. But those who don't mind dealing with a phone can avail themselves of a lot of information via best-in-class apps like GolfShot, The Grint, and GolfLogix.
GolfShot offers free and Pro versions—with Pro ($39.99/year) offering distances to targets and hazards on 40,000-plus courses, flyovers, and club recommendations—in addition to the free version's range-finding, shot tracking, advanced scoring options, and access to weekly GolfPlan instructional videos.
The Grint gives you distances to targets and hazards on 37,000-plus courses, in addition to a number of advanced score- and stats-tracking features, live leaderboards, golf society options, and more. It, along with Hole 19, are your best free GPS choices.
The GolfLogix app ($49.99/year) offers GPS yardages on over 35,000 courses plus a "Putt Line" green-reading feature that provides 3D green contour maps you can use to sink more putts.
Swing Analysis & Game Improvement
Whether you work with an instructor or have a self-taught swing, there are several apps that can help you make practice perfect.
If you've got a range nearby that's equipped for the Track Man Range app, it can give you info on eight key data points: Yardages, ball speed, launch angle, etc. The app has some fun games, too—and it's adding a virtual golf feature soon.
The Shot Tracer app ($5.99) lets you add shot-tracing to your videos and share them with an instructor or friends. It tracks ball flights and traces swings and putts.
Arccos Caddie bills itself as golf's first artificial intelligence platform. The system reads the movement of sensors that you attach to the top of each club's grip ($249 for set of 14) and automatically records their motion, allowing you to identify the strengths and weaknesses in all aspects of your game.
Golf Fitness
The Golf Fit Pro app offers dozens of exercises to help you strengthen your core, improve posture, increase flexibility, and even massage away after-workout aches and pains. The app also sells complete fitness programs tailored to your fitness level.
Tee Times
Dynamic pricing can work against you when you're looking to book an airline flight or hotel room. But in the golf tee times realm, it's nothing but good news. Apps like GolfNow and TeeOff save you money on tee times by letting you look at current availability and book your golf at the time and price you prefer, 24/7. Both apps feature map views and GPS capabilities.
On GolfNow, you can search hot deals and choose from over 6,000 courses worldwide.
TeeOff, the official golf tee time app of the PGA Tour, also offers thousands of courses, including many TPC tracks.
Golf Social
New in town? Visiting on vacation?
If you're looking for someone to play golf with, swipe right on an app called Fourball. It markets itself as the "Tinder of Golf " and lets you create a profile and build a network of new golf buddies to chat and tee it up with.
All Square also has a social media platform that connects golfers, but it adds to that extensive course reviews, equipment information, and other curated content.
Golf Games
When you can't make it to the course, there are several game apps that are the next best thing. The cream of the crop are WGT Golf (15 courses, including Pebble Beach, plus tips from David Ledbetter), PGA Tour Golf Shootout (four TPC courses), and GolfClash (a zanier version of the game with colorful graphics).
Other Must-Haves
Every golfer will want to have the apps for the four Majors, the PGA Tour app, and the GHIN app if you maintain a handicap.
You should also keep the Weather Underground app handy for its reliable hourly forecasts—and Spotify or Pandora if you like listening to tunes while you play.
Lastly—the USGA Rules of Golf app. You never know when that might come in handy.