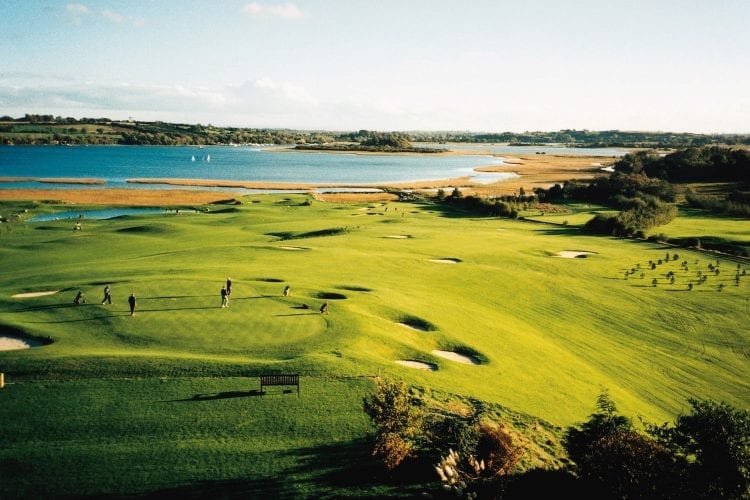 The Glasson Golf Club starter asked whether I would mind pairing up with two "society" golfers, Sunday plonkers named Jack and Jimmy who had motored out from Dublin that morning with their itinerant golf gang. For me it was the end of a six-day tour of demanding Irish linksland courses on the coastlines north and west, and I was glad for the company of men who might treat the day as a romp, not some epic quest.
Here in the sunshine at Glasson, Christy O'Conner Jr.'s sleekly contoured landing areas seemed inviting and the rough framing them looked downright playable. If the knee-high hay back at Doonbeg, Rossapenna and Ballyliffin had shackled me in a turfgrass Turkish prison, Glasson's rough seemed like the town cop who might let a guy off with a warning.
All that noble linksland you find along the edges of Ireland's map makes for glorious golf, but at Glasson—man-sized and deep-bunkered though it may be—there's a sense of ease and nonchalance about a day of golf. The course is a potent 6,600-yarder set amid heartbreaking Irish countryside. Glasson opened in the late 1990s under the direction of owners Tom and Breda Reid. To the American visitor, Irish golf imparts humility and the grinding, hypnotic mantras of a wind-whipped day scything dunegrass. Places like Glasson—not that there are many places like it—supply an antidote of sorts.
The bloodlines of this naturally grooved and mounded land come clear on the tee of the par-5 6th, where a player's drive takes off over a notch of pasture land hemmed in by a stone wall. This parcel, marked O.B. (and a threat to any clean golf shoes that would go treading there) extends a mere 70 yards forward from the markers, but flying it with a well-struck shot delivers a dose of satisfaction nonetheless. A similar tingle runs through the player teeing off on No. 8, also a left-bending dogleg, as his drive skirts a set of roadside trees and hedges before reaching a generous landing area.
Something happens on the tee of Glasson's downhill, dogleg-left 12th, a par 4 that sets up the finale of O'Connor's brains-and-brawn layout. You know the landing area is wide enough to hold an off-line shot, but your match-play sense tells you now's the time to bust one down the preferred left side and report for combat duty.
O'Connor has performed a clever feat with the final six holes. Three of them—the watery par-3 15th plus the uphill 16th and 18th, instruct you to grind away with solid shots to avoid trouble. The other three present stiff challenges but set the hormones thumping as well.  The drive on the par-5 14th should be played with a lofted wood, unless you feel confident about peeling your drive onto the second leg of the fairway. I did so, then mishandled my downhill lie and found doom in the form of a marshy inlet.
Glasson's home hole, though sharply uphill, requires no blind approach and feels nothing like a glum trudge. There's a natural viewing area for your fellow society players to gather 'round as they watch your group play in. You can't putt out here without turning back toward Lough Ree to view the panorama. The day has granted you both possible golfings rewards—you've had stimulation aplenty and enjoyed the game's calming effects, as well. Some other time you'll resume your epic linksland quest. This day was perfectly suited for a Glasson Golf Club romp.