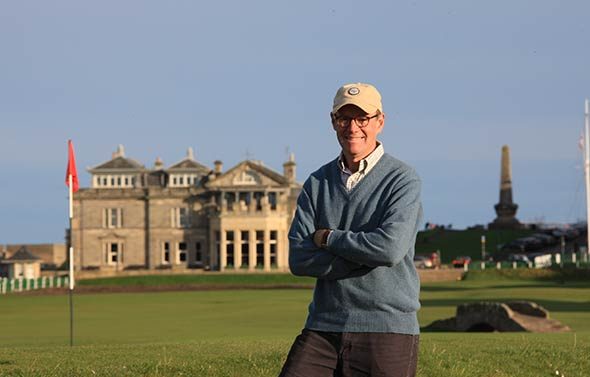 LINKS Editor George Peper
As a reader of LINKS Magazine, you've likely played golf for more than a few years—and with better than average skill. You've played on numerous courses and under all sorts of circumstances. You've made shots—and made friends—that will be with you forever. You've repeatedly experienced both the pure joy and utter humiliation that only this game can deliver.
Me too. I'm now into my sixth decade as a golfer. Other than eat, sleep, and breathe, I don't think there's anything I've done continuously for such an extended period—and what a precious trove of memories those years have brought. That said—and I here I suspect we have something in common—there are still a few things I'd like to do in this game.
For one thing, I'd love to shoot my age, and thanks more to longevity than skill, I'm getting close. I also have a bunch of courses I'd love to play at least once.  What follows is my current bucket list of 100 things every serious golfer should try to do before hanging up the spikes. (I first compiled it several years ago for a LINKS piece, but I've made a few changes since then.) Chances are you'll be able to check off well over half of these items. I doubt, however, that anyone has notched them all. A few are decidedly aspirational, demanding more than you may have of time, talent, connections, and/or financial wherewithal; others call for nothing but luck—good and bad—while in many cases the only requirement is either character or a passion for the game.
I'm up to 90—so my bucket list is an even 10 (noted below in italics). I won't get around to all of them, and in a way that's a good thing, for that is the nature of golf. No matter what we may accomplish, we will never master the game. Whatever grief and glory may come our way, there's plenty more of both out there.
So have a look, check your progress, and chart your course for the years ahead. Maybe we'll cross paths somewhere along the way.

SO YOU CAN BORE PEOPLE WITH YOUR STORIES…
1) Play Augusta National.
2) Play Pine Valley.
3) Play Pebble Beach.
4) Play the Old Course.
 5) Play at least one course in each of the 50 States. [If you've already done this, I'm not sure whether I'm envious of you or afraid of you.]
6) Play two courses in different states in the same day.
7) Play at least one course in Europe, Africa, Australia, Asia, and South America.
8) Play at least 54 holes in one day—and walk them if possible. [You likely did this a long time ago…and likely can't do it now.] 9) Play at least five courses for every year you've lived [if you're really into course collecting, go for 10].
10) Play Ushuaia (Argentina), the world's southernmost course.
11) Play Sondie Arctic Desert (Greenland), the world's most northerly course.
12) Play Furnace Creek (California) the world's lowest course (214 feet below sea level).
13) Play La Paz (Bolivia) the world's highest course (elevation 10,800 feet).
14) Get a private lesson from Butch Harmon, Hank Haney, David Leadbetter, Jim McLean, or Dave Pelz [and be prepared to pay dearly for the privilege].
15) Play in a PGA Tour pro-am with a player whose name is familiar to even the most casual golfer.
16) Witness a double eagle, even if you have to see it on TV [but live TV—no replays].
17) Get up and down, making your first swing at a ball submerged in water.
18) Go to The Masters.

BECAUSE IT'S THE RIGHT THING TO DO…
19) Introduce someone to the game.
20) Call a penalty on yourself.
21) Caddie for a family member or friend in an important event.
22) Visit the World Golf Hall of Fame.
23) Visit Pinehurst.
24) Visit the graves of Old and Young Tom Morris.
25) Give something back to the game [volunteer as a marshal at a tournament, work for a golf charity, donate your old clubs].
26) Get yourself custom-fitted.
27) Read the Rules of Golf from cover to cover. [This may be the most challenging assignment of all.]
28) Go to The Open Championship [preferably in Scotland, ideally in St. Andrews].
29) Go back and play the course where you played your very first round.
30) Play 18 holes without consulting any yardage markers, books, or devices.
31) Play 18 holes with hickory clubs.
32) Go to a golf school—or a get a series of lessons.
33) Have your swing videotaped. [It's like hearing your voice on tape for the first time.] 34) Play 18 holes in 2 ½ hours or less—walking.
35) If you're a dog owner, find a course that allows you to take Fido along, and then play it, just the two of you.
36) Play 18 holes alone.
37) Learn and understand Equitable Stroke Control.
38) Learn and understand the Slope System.
39) Determine the exact distance you hit the ball in the air with each of your clubs.
40) Spend a few hours practicing nothing but bunker shots.
41) Start a golf collection of some kind.
42) Learn how to regrip a club.
43) Fall in love with a funky putter.
44) Read at least one book by Bobby Jones.
45) Read at least one book by Bernard Darwin.

BECAUSE IT'S A HOOT…
46) Play 18 holes while carrying no more than four clubs.
47) Play 18 holes while listening to music.
48) Play 18 holes of summer solstice golf, teeing off at midnight. [Best options: Alaska, Scotland, Scandinavia.] 49) Failing that, play a course that's floodlit for night play. [Best options: Dubai, China, Thailand, and Florida.] 50) Failing that, play a few holes with a Day Glo ball.
51) Be the first to tee off on an early spring morning.
52) Be the last to finish on a late fall evening.
53) Take a golf-orgy trip of a week or more with your best buddies.
54) Play 18 holes after consuming at least three adult beverages.
55) Play Frisbee golf.
56) Play 18 holes of video game golf.
57) Play Topgolf.
58) Play when there's snow coming down and the fairways have turned white.

AS A WAY OF VALIDATING YOUR SKILL…
59) Shoot your age.
60) Failing that, shoot your age net. [It's easier, but not much.] 61) Shoot your career best score in a tournament.
62) Drive a par four and make the putt. [The forward tees count.] 63) If your handicap is over 10, reduce it by at least five stokes in one season—if it's under 10, cut it in half in one season.
64) Make a hole-in-one.
65) Win a tournament.
66) Make at least three birdies or nine pars in a row [net if you must].
67) Get your home course ringer score—the total of your career best on each of the 18 holes—under 50.
68) Come back from at least five holes down to win a match.
69) Play at least 72 holes without losing a ball.
70) Hit a drive of 300 yards or more.
71) Sink a putt of 100 feet or more.
72) Birdie the last hole to win a tournament.

BECAUSE IT'S CHARACTER BUILDING…
73) Choke on the last hole to lose a tournament.
74) Five putt [while actually trying on each putt].
75) Survive a bout with the shanks.
76) Suffer through an extended case of the yips.
77) Play 18 holes in a hard, steady rain.
78) Play a Scottish or Irish links in a wind of at least 40 mph.
79) Lose a tournament on a match of cards.
80) Play a foursome (alternate shot) match [ideally with your significant other].
81) Win a sudden-death playoff.
82) Play a U.S. Open course from the championship tees.
83) Lose because of a Rules infraction.
84) Give up the game (for at least a few months—and not in the winter).

BECAUSE, DESPITE THE EMBARRASSMENT, IT'S PART OF GOLF'S COLORFUL TAPESTRY…
85) Finish last in a tournament.
86) Hit at least three consecutive shots into a water hazard.
87) Hit at least three consecutive shots out of bounds.
88) Break a club in anger.
89) Sneak on and play a course—all 18 holes—without being caught. [The more illustrious the course, the better.] 90) Do damage to your home or its contents while practicing your swing indoors.
91) Hit—but not hurt—someone with a golf shot.
92) Be hit—but not hurt—by someone else's golf shot.
93) Call in sick so you can play golf.
94) Play the wrong ball in a tournament.
95) Find yourself in need of a toilet (not just a tree) and not find one in time.
96) Tumble into a bunker or water hazard.
97) Sign an incorrect scorecard.
98) Oversleep and miss your tee time.
99) Break a window (or windshield) with a ball you've struck.
100) Run out of balls.

SCORE
86–100     Yours is a golf life well-lived—now go for a perfect score.
71–85        Well done, but don't rest on your laurels.
56–70.      Pretty good, but this is one time you don't want to finish under 70.
41–55        A decent start, but you have so much more to experience.
< 40          And you call yourself a serious golfer!
–
How many things have you checked off? What else is on your personal golf bucket list? Let us know in the comments below.