Golf architecture is having a moment. Finally!
From the public-course world up to the elitest of the elite, golfers are bonding over a shared affinity for course design. To the small legion of geeks out there—guilty as charged—we've long wondered why the masses failed to share our passion even as architecture has long been golf's key differentiator from pursuits like tennis or the new big thing, pickleball. The way a course is crafted affects everything from buying decisions to moods and has no peer in the creative or sports worlds. Yet only now, for a variety of reasons, does it seem more kosher for golfers to openly identify as architechuristas. 
Granted, we geeks might have turned golfers off with snooty and over-intellectualized analysis of apparently mundane stuff when someone told us they enjoyed a course. "Seriously? But the Redan doesn't even have a decent approach and the 18th is a letdown. I give it a Doak 4 at best!" And maybe some of us tended to give the impression that timeless golf architecture is more complicated than understanding the genetics of a virus-stopping messenger RNA. It's not. 
Since this publication has long been devoted to golf courses and the vision behind them, you're probably thinking, "Golfers have always seen themselves as architects and paid attention to who designed a course." True. And maybe you're murmuring, "We've always made decisions about golf trips, memberships, green fees, and real estate purchases dictated by the design 'signature' or a quest to check off ranked courses." Definitely. Still, there has always been a mysterious resistance to getting immersed in the same types of details and insights that motivate expensive purchases of wine, cars, timepieces, or even the latest 460cc driver. 
I've been at this writing thing for 25 years and always approached architecture with the hope of spiking interest in the joys of connoisseurship and motivating places to reclaim lost design elements. While I'm proud of my books, all but a couple couldn't even sell out the first printing. Today, several of those same editions are now going for $200 or more while legendary golf titles can be picked up for the price of shipping. It's nuts. And exciting. 
If you don't believe me, sit in any 19th hole and listen to the conversations. Or go online and look at the comments in architecture-related social media posts. A passion for the particulars and a willingness to learn can be seen in all age groups and demographics. So what's driving the spike in architecture connoisseurship?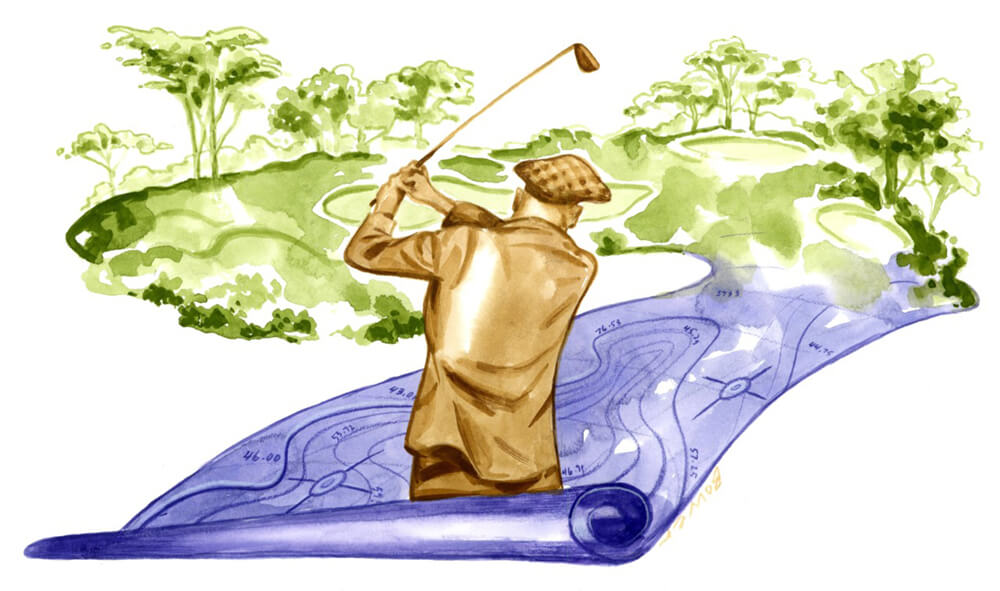 Coverage. From online to telecasts, increased attention is paid to highlighting the beauty, artistry, and character of the best courses. This openness and attention promote debate over what worked and what didn't, prompting plenty to realize there is more to the sport than the quest to improve handicaps or launch monitor numbers. A new generation of architecture buffs (the Fried Egg, Cookie Jar Golf, Links from the Road, UK Golf Guy, No Laying Up, etc.) employ modern visual mediums to tell a range of stories centered around the pleasure of knowing just a little more about courses whether you've played them or not.  
Drones. This is not a reference to the types who intellectualize about Dye's overreliance on the double dogleg par five. They're still lurking. This is about the very affordable flying cameras capable of easily giving us a perspective that used to require blimps, helicopters, or lifts to highlight design qualities. In the hands of a good operator, drone imagery pulls at heartstrings and inspires golfers to learn what motivated the architect. 
Restorations and renovations. While course overhauls still excessively cater to the needs of good players above the masses, the overwhelming majority of refreshes have proven more satisfying to play. Whether it's new vistas, better turf, improved function, better environmental stewardship, or more opportunities to hit fun shots due to more tees for all levels of hacker, the replenishment movement has allowed golfers to make a direct correlation between design nuances and their enjoyment. This trend will only continue now that donors are coalescing around things like the National Links Trust and other ventures to protect, refresh, and restore rundown munis with good bones. Sophisticated architecture "grows the game."  
Agronomy. Incredible strides in course maintenance have begun to prioritize the architect's intent. Pure conditions meant to highlight features have a funny way of turning a golfer's focus to overcoming captivating design elements instead of obsessing about unfair lies, their scores, or their fatally flawed grip. Superintendents and crews are taking more pride than ever in showing off the best of a design, usually after seeing how much joy golfers derive from the dreamy hybrid of architecture and presentation.  
Championships. The rejuvenation of the accessible(ish) Bethpage "Black" provided tangible evidence of how a revitalized gem delivers a more exciting tournament to attend and watch. Since Bethpage's first U.S. Open in 2002, similar rejuvenations have allowed millions to make the connection between rekindled designs and engaging championships. No one missed the formerly overgrown Southern Hills at 2022's magnificent PGA. Nor was anyone pining for the sterilized Pine Needles or dreary old Congressional Blue at the U.S. Women's Open and KPMG Women's PGA. This year, we've got the rejuvenated LACC North, Oak Hill, and Baltusrol to continue a theme of bold transformations on the grandest stages. 
Fun. Maybe it's generational or some combo platter of changes in handicapping and priorities, but "fun" is no longer a code word for "substandard design unable to host a major." Course slope, ratings, par, and back-tee yardages once seen as architectural bellwethers increasingly carry less importance. The first question golfers ask often has nothing to do with those meaningless digits. Instead, they want to know if the place is fun to play, has a good vibe, and whether the architect and purveyors provide sound reasons to return.  
Isn't it amazing what a little knowledge of design among the masses can accomplish? And why, fingers crossed, architecture's moment will keep on welcoming more adherents to the gospel of fun.  
Thank you for supporting our journalism. If you prefer to read in print, you can also find this article in the Winter 2023 issue of LINKS Magazine. Click here for more information.