It's safe to say that Augusta National is the best-known and most influential golf course in the United States. From both an agronomic and an architectural perspective, its impact in this country has been profound. But did it mark a turning point in how we viewed golf architecture at the time? Did it have a strong influence on the courses that followed it?
Was it a Game Changer? 
I'd argue no. For all its mystery and majesty, Augusta's effects on architectural trends were not necessarily felt the moment it was unveiled. Sure, it was well regarded and high-profile, but it was the introduction of color television, as well as the continued rise of the Masters, that gave Augusta its aura and led country clubs and developers to replicate its holes and start aspiring to the same impossibly perfect turf conditions and lightning fast greens. It's not that Augusta didn't make a splash when first constructed, it's that whatever waves were created by the MacKenzie masterpiece, they grew slowly into the tsunami we know today.
Compare that to the Game Changers that follow, each of which dramatically altered the prevailing views of what courses could and should be—and often where and how, as well. These eight weren't simply influential long term, they were, at that moment, unique. They didn't simply change the way we looked at golf architecture, they changed the way we looked at golf.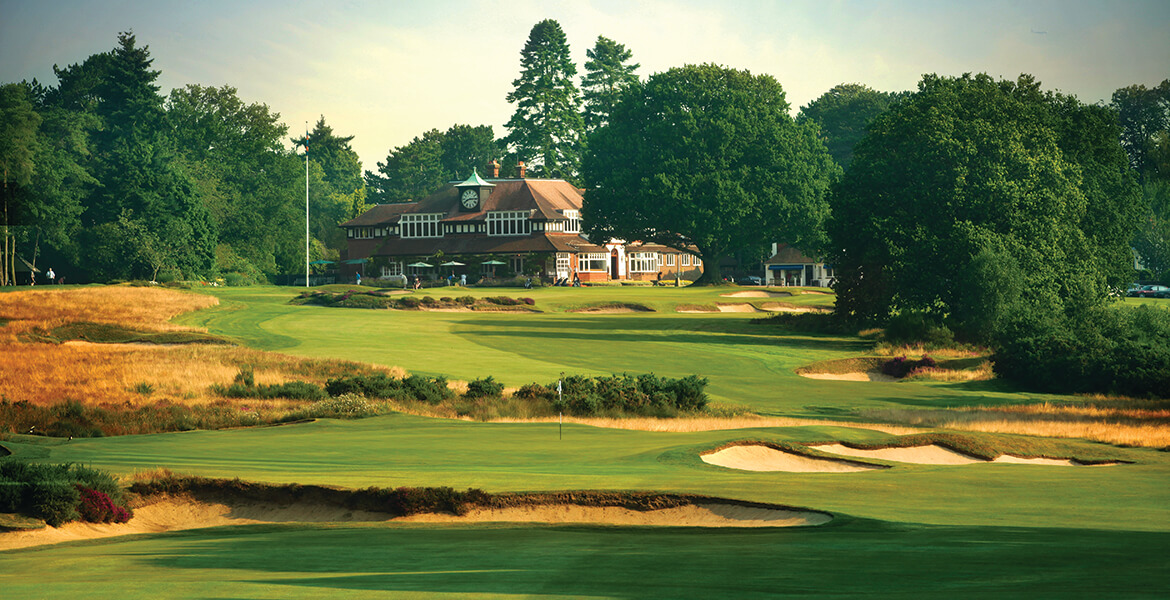 1900 – Sunningdale (Old Course)
The Game Moves Inland
Although the Old Course at St. Andrews is undoubtedly the most significant in the history of the sport, in many ways it started the game rather than changed it. Golf course architecture as an art form was not really born until the early part of the 20th century, when the game shifted from the coastal links of Great Britain and Ireland to inland sites nearer population centers. And the first great course away from the sea was at Sunningdale Golf Club, outside of London.
Sunningdale Old was designed by Scotsman Willie Park Jr., whose sphere of influence would stretch across the globe. Not only did his beloved course help popularize inland golf, it brought forward the concept of strategic design, the placement of hazards, and the creation of putting targets. Sunningdale's inaugural secretary, Harry Colt, who refined Park's layout during his tenure, added a second course, and went on to become one of the most important design figures, and design mentors, in all of golf.
1907 – Alwoodley Golf Club
Golf Design Becomes a Vocation
While it's not uncommon these days for professional people to change careers, conservative Britain during the Edwardian Era wasn't as open-minded. Back then, the thought of a respected medical practitioner walking away from a prosperous practice to arrange golf courses must have seemed preposterous. But that is exactly what happened in 1907, when the Alwoodley Golf Club was established.
One of its founding members was Dr. Alister MacKenzie, a hobbyist designer who conceived Alwoodley's routing plan. The rest is history—MacKenzie went on to create some of the most cherished courses in our game, incorporating  many of the design ideas formed at Alwoodley. Look hard enough and you will see elements of Augusta National, Royal Melbourne, Kingston Heath, and others here.
1909 – The National Golf Links of America
Old Ideas Become Icons
Almost universally recognized as the first outstanding golf course in the U.S., The National Golf Links project was a hugely important one for both club founder Charles Blair Macdonald and his non-golfing protégé Seth Raynor. Macdonald's faith in the principals of the great old links was first tested here, and the success of his course would transform golf forever in this country. Macdonald's holes were inspired by classic holes and ideas abroad and built by a surveyor so skilled at converting those ideas into features on the ground that he was entrusted by Macdonald to move onto other important projects like Chicago Golf Club, Fishers Island, Yale, Shoreacres, and Mid Ocean. The fact that we still talk about Redan holes and Biarritz greens 100 years after The National shows how timeless the design was, and how influential the course remains. Although our game evolves all the time, it's inconceivable that golfers will ever tire of this place.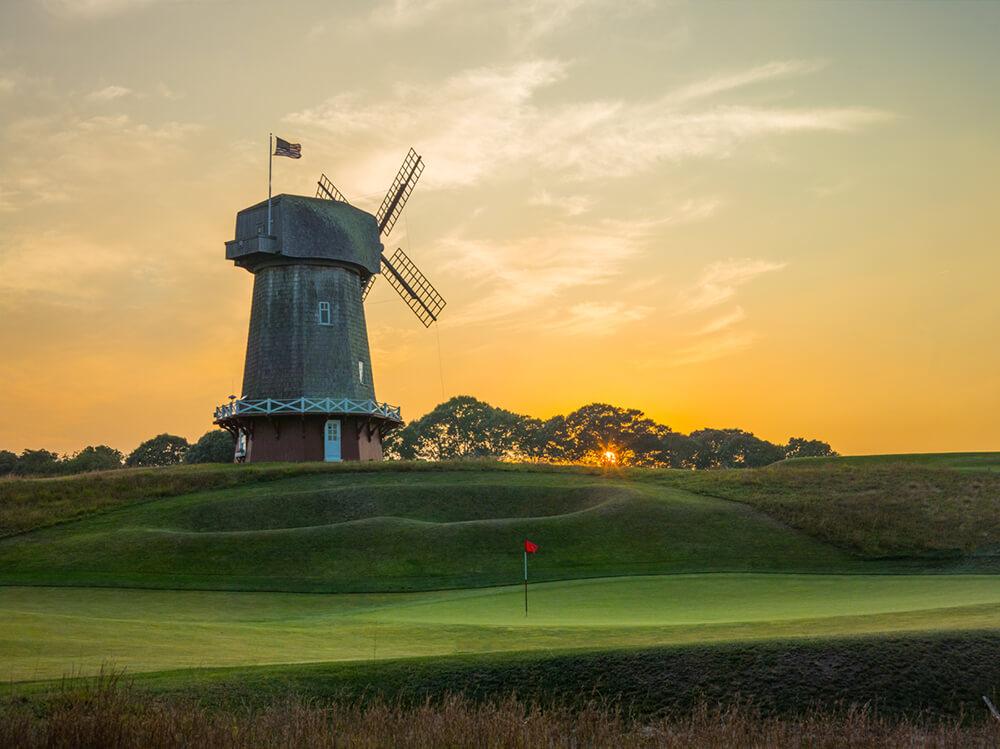 1918 – Pine Valley
Finding Genius in Toughness
After The National Golf Links came an even more epic undertaking, the Pine Valley project in scrubby pinehills outside Philadelphia. Club founder George Crump took golf course design to the next level with this layout, which initially shocked for its audacity and sheer difficulty, but would quickly inspire for the beauty and originality of its holes and the brutally efficient manner in which they are able to uncover weaknesses in one's game. The ultimate blend of strategic ideas with penal features, there is no hiding from poor play at Pine Valley. Many have tried, but none yet have been able to put together a collection of holes quite as strong or quite as varied as Crump's masterpiece.
1947 – Peachtree
Hard Par, Easy Bogey
Described by many as the "Father of Modern Golf Course Architecture," Robert Trent Jones was one of golf's first formally educated architects. Though he had built courses prior to Peachtree, it was his collaboration here outside Atlanta with Bobby Jones in the late 1940s that established his design credentials, increased his profile, and forced the use of that now famous middle name. Trent Jones redefined golf course design with his "hard par, easy bogey" mantra and a modernistic artificiality that the game is now largely turning its back on.
Infamous redesigns at Oakland Hills, Congressional, Baltusrol, Oak Hill, and others came after the Peachtree project, which features many of the elements synonymous with the Trent Jones school of design. These include partitioned greens, long runway teeing pads, and large, smooth-edged bunker shapes.
1969 – Harbour Town Golf Links
Target Golf
Pete Dye was an unheralded course designer when recommended by Jack Nicklaus to build the Harbour Town Golf Links on Hilton Head Island in the late 1960s. Famously, Robert Trent Jones was building Palmetto Dunes nearby at the time so Dye decided that to stand out his course would need a point of difference. What he created was the polar opposite, with flat, low-set fairways and small, sharply contoured green sites. He also introduced railroad ties as a means of shoring up his lagoons and
some bunkers.
The look at Harbour Town was different, as was the target style of design. Rather than shades of grey, here you either hit into intimate target areas successfully or were punished. Arnold Palmer won the inaugural Hilton Head event in 1969, which seemed to legitimize the design style and made Harbour Town an overnight sensation. Dye has built many courses since, but few that had the same long-term impact.
1981 – TPC Sawgrass (Stadium Course)
Stadium Golf
Despite being panned by many in the golf business when it first opened, the Stadium Course at TPC Sawgrass is a legend of the modern era and one of the most influential layouts in our game. It was golf's first custom-built tournament course, with abundant mounding for spectators, modern length, and notorious difficulty. If Harbour Town was where Pete Dye started a trend toward the target-golf style of design, it was at Sawgrass that he took that style to the next level by raising the excitement and building holes that mix the spectacularly heroic with the devastatingly penal. Often lost amid all the drama and all the water is just how clever, and strategically sound, most of the holes really are. Like the very best Game Changers, while TPC Sawgrass has inspired hundreds of copycat courses, particularly in developing regions, it remains top of the pile for this particular school of design.
1999 – Bandon Dunes
Minimalism for the Masses
Measuring the impact of the original Bandon Dunes course on modern golf is difficult, given that the resort grew so quickly after its opening and the effects are still ongoing. What we do know is that before Bandon, American golfers were largely apathetic toward the bouncy, firm, links-like golf they found in the British Isles. Bandon Dunes has always seemed like the right course at the right time. The four subsequent courses built at the resort directly inspired Chambers Bay, Streamsong, Erin Hills, Barnbougle Dunes, and others to seek out naturally rolling golf ground and choose traditional cool-season golf grasses.
Bandon Dunes changed course architecture in America by reminding the industry of the beauty of coastal golf, and that not only can old school, hands-on, minimalistic design still produce the best results, it can also produce the best profits.