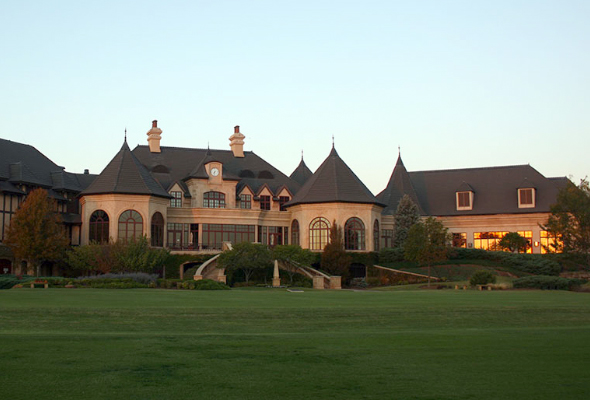 Edward King Gaylord was a soft-spoken man, just 29 years old, but he had stars in his eyes. The year was 1902, and Gaylord had logged enough time as a newsman for a Missouri daily to know he was ready for a change: He wanted to run his own paper. Having heard glowing reviews about the Oklahoma Territory, Gaylord ventured southwest to Oklahoma City for a first-hand view. Impressed with what he saw, he purchased the struggling Daily Oklahoman. In no time, his revamped paper boasted the largest circulation in the state.
Over the years, Gaylord's media empire would expand to include the first radio station west of the Mississippi, as well as Oklahoma's first television station. When Gaylord's philanthropic life ended in 1974, at the age of 101, leadership of the Oklahoma Publishing Company passed on to his son, Edward L. Gaylord, who began major diversification. During the '80s, the company bought, among other things, the Opryland complex in Nashville and the historic Broadmoor Hotel in Colorado Springs. A new public entity called Gaylord Entertainment Company was spun off in 1989.
Yet while the acorn planted by E.K. Gaylord in the early 1900s grew into a mighty oak, with branches extending all over the country, its roots remained firmly planted in the Sooner State. In the fall of 1995, OPUBCO Development Company—another subsidiary of the Oklahoma Publishing Company—broke ground on Gaillardia, a luxurious master-planned community in northwest Oklahoma City named for the red-and-yellow state wildflower. Everything about the development is first-rate, particularly the jaw-dropping, 55,000-square-foot Normandy French clubhouse. But the real centerpiece is an Arthur Hills-designed golf course that, at just four years old, already compares favorably to a pair of other Oklahoma modern classics, Tom Fazio's Karsten Creek in Stillwater and Pete Dye's Oak Tree in Edmond.
In October last year, the top 31 money-winners on the Senior PGA Tour found out how good—and how demanding—Gaillardia can be when the club played host to the Senior Tour Championship. With the winds calm and the scoring conditions ideal during Friday's second round, Bruce Lietzke took the lead with a course record 63 (breaking the mark held by Phil Mickelson, who shot 66 in a September 2000 Shell's Wonderful World of Golf match against Fred Couples). But when the wind kicked up on Sunday, Lietzke shot 74 and first-round leader Bob Gilder withstood a late charge by Doug Tewell to earn the second victory of his rookie season. Gilder won with a final-round 1-over 73 on a day when only five players managed to break par. This year, the tournament returns to Gaillardia on Oct. 21-27.
"This golf course was one of the toughest-finishing courses I've ever played on," said Gilder, who ended up at 11-under 277 for the tournament.
"[The course] said, 'I'll give you Friday, but I'm going to take it back today,'" added Tewell. An Oklahoma native, Tewell is well familiar with the wind factor prevalent on golf courses across the Plains. Particularly on a design like Gaillardia, which was constructed over a whopping 250 acres of open, rolling terrain. There are few trees on the links-style layout, just a handful of oak, pecan and sycamore clusters framing several holes, so the course changes character every day, depending on the wind direction.
"We moved less than 200,000 cubic yards of dirt," says Steve Forrest, Hills' design partner and project manager at Gaillardia. "You could just place the holes on the land and take advantage of the natural, strategic features that were there."
The course starts with a handshake in the form of a downhill par-4 measuring 419 yards, before waking up the golfer with a challenging trio: No. 2 is a short but deceivingly difficult par-4; No. 3 is a 553-yard par-5 that typically plays directly into the prevailing south wind; and No. 4 is a long (202-yard) par-3 over Bluff Creek to a green guarded by a pair of bunkers on the left. Water comes into play on 13 of Gaillardia's 18 holes.
Another strong sequence begins with No. 9, a 180-yard par-3 with a lake right and a bunker left, and a green complex sloping toward the water. Next, at 450 yards from an elevated tee box, No. 10 is the lengthiest par-4 on the golf course and one of its most difficult, requiring a long approach into the south wind to a green that slopes from right to left. No. 11 is a short par-4 (357 yards) with a dual fairway and a green complex that is wickedly contoured—unusual at Gaillardia. Because of the wind here, Hills built TifEagle greens considerably flatter than those on the majority of his designs.
The finishing hole will decide many a wager. Another dual fairway offers the golfer a challenge: Take the safe route to the right or go for a forced carry over a creek and native grasses to a narrow landing area. If successful, you'll find ample opportunity to reach the green in two shots. Fail and a big number awaits. "You can make 3 and you can make 7," says Hills. "We always try to make the finishing hole one the golfer will remember."
Every par-3 at Gaillardia measures more than 180 yards and every par-5 allows the opportunity to reach in two. Mickelson eagled both par-5s on the front side en route to his 66, then gushed about the course after the round. "This is just a fabulous place," Mickelson said. "The greens are some of the best I've ever seen. Arthur Hills did a great job incorporating the course into the land."
Oklahoma's capital is a vibrant city with a variety of businesses and attractions, and a population now topping one million. As the settlement has moved north toward Gaillardia, prospective members have been wowed by approximately 300 homesites spread over 590 acres of land and a wide variety of luxury homes.
One of Oklahoma's favorite sons, Will Rogers, once said, "Golf is the only game that takes longer to explain than it does to play." Gaillardia members get to do both: Play the course, then explain their rounds in the amazing clubhouse. Crowning the highest point on the property, the structure was designed by Denver-based architect Bill Zmistowski, who blueprinted the Castle Pines clubhouse as well. Although nearly 60,000 square feet, Gaillardia's wood, stone and slate clubhouse doesn't feel immense. Surrounded by manicured gardens, it is stately yet cozy with a comfortable ambience.
"What you see speaks volumes about our ownership's commitment to quality," says head pro Mark Chitwood.
Surely, somewhere, Edward King Gaylord is smiling.