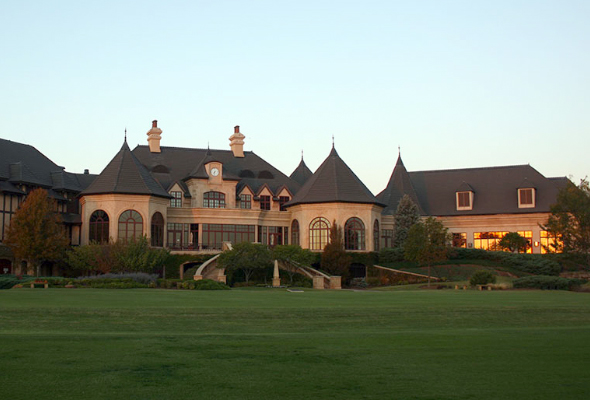 Every golfer has a windy story. Few are as good as Phil Herrington's.
Shortly after purchasing Gaillardia Country Club in Oklahoma City, Herrington was on the tee of the 363-yard 11th, which has a generous fairway flanked on the right by a waste bunker and beyond that, a pond. There, Herrington learned about the Oklahoma wind and how strange things can happen to your ball when it "comes sweeping down the plain," as immortalized in the musical Oklahoma! by lyricist Oscar Hammerstein II.
"I hit it pretty good up the left side and it looked like it was going to be a good drive," says Herrington, a 14-handicap who is CEO of Little Rock, Arkansas-based private equity firm Herrington, Inc. "But then it took a hard turn right."
The wind blew Herrington's ball across the fairway and over both the sand and the water. Ultimately, after the ball blew nearly 100 yards from left to right, it took not one, but two houses getting in the way before Herrington's ball came to rest.
Herrington's experience with the Oklahoma wind became a great opportunity to introduce himself to a few members. But instead of explaining that he was the new owner, he opened with: "I'm the guy who just hit your house."
If the homeowners were golfers, they would have understood, as anyone who has played Gaillardia knows that the wind, which can consistently reach 50 miles per hour in the spring, can make a par 5 play like a par 4, while a par 4 can become a par 6.
Not quite on a plain, Gaillardia sits on a 600-acre parcel originally owned by Oklahoma City's prominent Gaylord family, which operates a number of media and entertainment properties, including the Daily Oklahoman newspaper, in addition to having its name on University of Oklahoma's football stadium.
The idea behind Gaillardia was to create a golf course and community that would be national in character, helping to attract top academic, medical and business professionals to Oklahoma City. Seeking an environmentally friendly design that would take advantage of the area's beauty, the Gaylords hired Arthur Hills, who built a layout with holes bordered by native wildflowers and indigenous strains of blue stem, buffalo, switch and Indian grasses.
After opening in the summer of 1998, the course quickly attracted national attention. After hosting a Shell's Wonderful World of Golf match between Phil Mickelson and Fred Couples, Gaillardia became the site of back-to-back Senior Tour Championships in 2001 and 2002, won by Bob Gilder and Tom Watson.
Herrington purchased the course at the end of 2002 after the Gaylord family decided to get out of the golf business. "The first time I saw Gaillardia, it was all a surprise to me," says Herrington. "It's a piece of property that's genuinely unique for this part of the country."
Those surprises included a 55,000-square-foot Normandy French-style clubhouse sitting on the property's highest point and offering panoramic views of the course. It was, Herrington thought, something one would expect to find at a high-end resort or club in South Carolina, rather than in the capital of a state best known for agriculture and oil.
Having developed other luxury courses and communities, Herrington believed that he could find subtle ways to improve the experience. His intention was the same as that of the Gaylords: making Gaillardia one of the best clubs in the country. He began with the golf course, which had "good bones." But there were opportunities to make it better.
After interviewing several well-known architects, Herrington invited Tom Kite, who finished tied for seventh at the 2001 Senior Tour Championship at Gaillardia. Until Kite's visit, Herrington had never met the 1992 U.S. Open champion.
"Walking the course with Tom was one of the best days of my life," says Herrington, who has worked with Jack Nicklaus and Tom Fazio on other courses. "He is one of the most creative people I've ever been around. That day with Tom Kite convinced me that we'd only scratched the surface."
There was little that could be done with the routing, but Kite had no problem finding areas for improvement. At every tee box, Kite laid out several options for building on the Hills layout and maximizing its natural beauty while, according to Kite, "present[ing] challenges to every level of golfer without making those challenges so stout that they become unmanageable."
Kite's familiarity with the topography of this part of the country led him to surmise that of the four possible hazards—sand, water, trees and hills—the latter two would be non-factors. His solution was to expand the generally understated bunkering and bring the water hazards into play on more holes.
Today, the 2nd and 11th holes feature massive waste bunkers that run nearly the length of the fairway. (On No. 11 it also cuts diagonally across the front of the green.) On other holes, Kite made the bunkers deeper and bolder, creating a stiffer challenge on a course with generous fairways.
The 7th hole had been a straightaway par 4 on which the water was hardly a factor. So Kite shifted the green right, bringing a pond into play. Now, aggressive players must hit their approach shots over water, while conservative golfers can take the longer but safer line down the left side on the 403-yard hole.
With the changes, Kite installed more risk-reward strategy without making the course unplayable for mid and high handicaps.
Kite's eye also noticed subtleties like the divot pattern in fairways that indicated landing areas where drives would collect into the same place. By using directional bunkers and recontouring fairways, Kite was able to reframe the holes in a way that enhanced their appearance while creating a greater variety of strategic decisions.
Kite also narrowed some fairways, reworked a few greens and converted the 18th from an easy par 5 into a dramatic 508-yard par 4 that is deadly when played into the wind.
With Kite as his guide, Herrington installed a modern practice facility where Hank Haney and Stan Utley have given clinics. The update included a short-game area modeled after the one at Augusta National Golf Club. Improvements to the non-golf amenities included renovations and enhancements to the 7,000-square-foot exercise area with free weights, saunas, steam rooms and massage tables.
The Gaillardia experience, however, is about a great deal more than the course and its facilities. For Herrington it's about the people of an underrated city who survived the 1995 bombing of the Alfred P. Murrah Federal Building. Although the tragedy decimated much of downtown, the city has come out the other end with a revitalized sense of community.
"Oklahoma City is consistently underestimated," says Herrington, "because people think it's just a small city in a state known for football—and that's about it. But the level of sophistication and the kind of people you find in Oklahoma City would be a surprise to most people in America."
It is the welcoming small-town atmosphere that helps give Gaillardia its renowned reputation. "At a lot of clubs there's that 'round table' in the locker room where no one but the 12 regulars can go for fear of death," says Herrington. "But, if you're a member [at Gaillardia], you're a member. The people here—their character, their sense of humor and their authenticity—are what make it such a great club."
At lunch, your neighbors might be a local legend like Barry Sanders, a CEO or a retired airline pilot. The common bond is golf, and it is clear that whether they've made a living with the running game or through the air, the people at Gaillardia are a group you'd like to spend time with—at a golf course or anywhere else.
It doesn't matter who you are, what you've accomplished or how rich you are. Because the club treats everyone the same way, in much the same way the wind doesn't care who is playing the course.
"That's Oklahoma," says Kite. "They've written songs about that wind."