Frugal is a relative term in Naples. After all, this southernmost enclave on Florida's Gulf Coast offers a winter respite for many of the wealthiest people in America. Collier County claims to have more golf courses per capita than anywhere else in the world, but most of them are private. Some are more guest friendly than others, but wherever you manage to score a tee time during the high season (November through March), count on guest green fees of $250 or more.
Of course, the Frugal Golfer isn't necessarily cheap. Rather, wise with his/her allocation of dollars. Which makes the off-season (i.e., summer) the ideal time to enjoy many of the same courses, accommodations, beaches, and other amenities for which the one percenters pay exorbitant prices when they flee cold climes.
"During the off-season, you can get on almost any course in town if you're shrewd enough," says Jack Welsh, who works at the PGA Tour Superstore in Naples.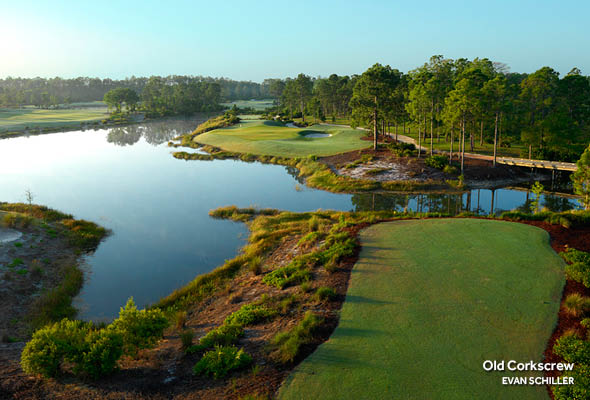 Procuring a South Florida PGA Players Club membership or Shark Pass is a smart starting point. The SFPGA deal costs $50 and includes discount coupons for more than 40 courses in the Naples area, good from May through October. The 2015 Shark Pass, offered by Greg Norman's Franklin Templeton Shootout for $110, has discount coupons at fewer courses, but they're among the best in town. Plus, the Shark Pass has multiple same-course coupons, meaning you can treat the rest of your foursome to discounts at the Ritz-Carlton's Tiburon Golf Club, and includes less steeply discounted coupons for November and December.
Tip: Off-season is maintenance time. Before booking a tee time, call and ask if greens are being punched or any renovation projects are underway. Many facilities are reluctant to volunteer that information, so don't leave yourself open to surprise.
With roughly 80 courses of repute in the Naples area, choices abound. The following candidates will deliver either good bang for the buck, a unique experience, or a stiff test of skill.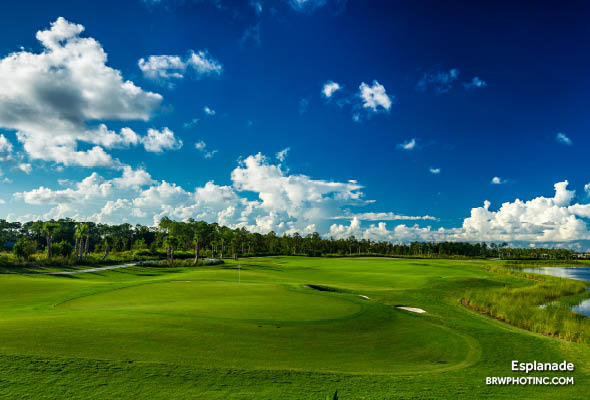 WHERE TO PLAY
Esplanade Golf & Country Club of Naples has earned rave reviews from locals since it opened in 2014. It's the handiwork of up-and-coming architect Chris Wilczynski, who created a gentle, golfer-friendly layout that still demands strategic thinking and a deft touch around the greens. 
La Playa Golf Club is a sporty Bob Cupp design affiliated with the 180-room LaPlaya Beach & Golf Resort on the gulf. All 18 greens were rebuilt during the 2015 off-season, a major project that figures to elevate LaPlaya's status among the elite clubs in town.
Valencia Golf & Country Club is an anomaly in Naples—a well-maintained daily fee with a spacious public practice facility. Tee times are available on Golf Now.
The semi-private Panther Run Golf Club is off the beaten path and noteworthy for its bucolic setting in Ave Maria, a planned Roman Catholic community east of Naples at the edge of the Everglades.
Lely Resort Golf & Country Club has layouts designed by Robert Trent Jones Sr. (Flamingo Island) and Lee Trevino (Mustang). Both courses are popular with year-round residents.
At the higher end of the spectrum, the Marco Island Marriott Beach Resort, Golf Club & Spa has two affiliated courses, Hammock Bay and The Rookery, both designed by Peter Jacobsen and Jim Hardy.
The Gasparilla Inn & Club is an old-world alternative to glitzy Naples, featuring a circa 1913 hotel and Pete Dye-designed golf course. While not easy to get to—it's on Gasparilla Island in Boca Grande (where the Bush family has a retreat)—Gasparilla is worth the two-hour drive from Naples if you enjoy throw-back experiences.
Old Corkscrew Golf Club in Estero, a Jack Nicklaus design, is arguably the most difficult course in the Naples area, playing to a 74.0 rating/146 slope from its 6,617-yard blue tees—one set forward from the tips.
WHERE TO EAT
Mansion's Pizzeria Okay, I'm biased; the owner is from my hometown in Pennsylvania. Located midway between LaPlaya and Esplanade, just off Immokalee Road, Mangino's features a blue-collar, authentic Italian menu that includes its signature stuffed meatball loaf and cannolis (stuffed on order, so they aren't mushy).
For a notch more formal yet equally traditional Italian dinner experience, go to Parmesan Pete's.
Masa features upscale Mexican fare.
The Counter is a build-your-own burger and milkshake joint that caters to Paleos, vegetarians and vegans, as well as demanding carnivores.
For Asian cuisine, locals recommend AZN.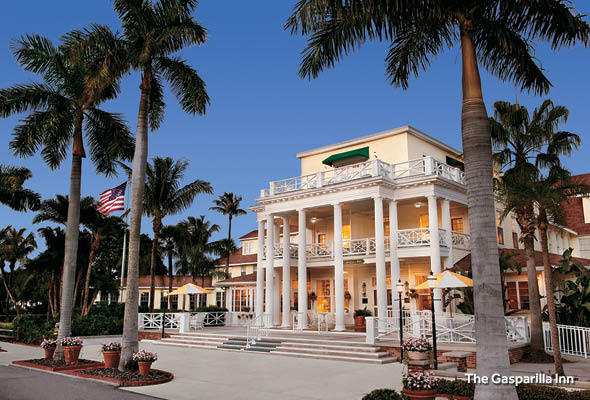 WHERE TO STAY
Naples is an excellent place to cash in hotel rewards points and AAA or AARP discounts; you name the chain, it's represented. Off-season stay-and-play packages start at $350 per night at the Marco Island Marriot, and $365 at the Gasparilla Inn—roughly a third of high-season rates. Four nights off-season at the Courtyard Marriott or Hawthorn Suites by Wyndham, and five rounds of golf using coupons, will cost two people roughly $1,000. Online comparisons and advance booking can yield exceptional values, especially by Naples standards.