By Dave Seanor
Considering a golf trip to Florida's First Coast? Be prepared to grapple with the 400-dollar gorilla in the room, the Stadium Course at TPC Sawgrass. The popularity of this Pete Dye chamber of horrors is just another piece of irrefutable evidence that golfers are masochists.
TPC Sawgrass aside, and no disrespect intended, the First Coast—the very top of northeastern Florida—suffers a bit as a golf destination because Jacksonville, its epicenter, lacks the easy availability of condo and villa rentals popular with budget-minded golf groups. However, it does offer four very good and very popular resorts—TPC Sawgrass, World Golf Village, Amelia Island Plantation, and Hammock Beach Resort—which, particularly in peak season (November through March), can be expensive.
Of course, prices fluctuate seasonally. For example, while the non-refundable green fee at TPC Sawgrass is around $500 in high season, it can dip below $200 from June through September, but you run the risk of iffy course conditions and the daily threat of afternoon thunderstorms.
There still are ways to save a few bucks. Forego alcoholic beverages; eat fast food; take Uber instead of renting a car; and resist buying any logoed apparel. You don't need a shirt to remember the round of a lifetime.
TPC Sawgrass
The Stadium Course reopened in mid-November after a six-month renovation that included reseeding the greens; redesigning hole 12 to make it a potential one-shot par four during The Players Championship; tweaks to seven holes for maintenance purposes; and a redesign of the practice area. Golf packages typically include a round at the next-door Valley Course and optional rounds at Sawgrass Country Club, Marsh Landing Country Club, or the Ocean Course at the Ponte Vedra Inn & Club.
• The Ponte Vedra Inn & Club is the place to splurge for lodging, but several chain motels are nearby as well. Après golf, rehash your round with a beverage on the patio at Pusser's Caribbean Grille, near the TPC entrance on U.S. A1A.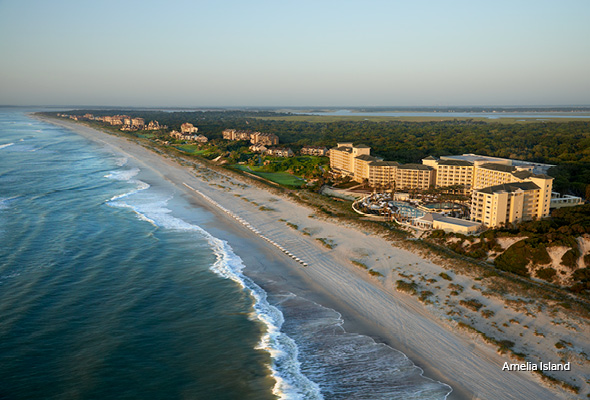 Amelia Island
For a diverse golf and beach experience, it's hard to beat the Omni Amelia Island Plantation Resort and environs. Pete Dye and Bobby Weed's Ocean Links has five holes on the beach; stay-and-play packages also include Dye's Oak Marsh and Tom Fazio's Long Point. Shop early for competitive prices.
• Amelia Island Plantation is the most upscale property in this listing, also featuring marshlands, 3.5 miles of private beach, and the historic, funky town of Fernandina Beach. For sustenance, head off property and try Gilbert's Underground Kitchen, Timoti's Seafood Shak, Green Turtle Tavern (a fun neighborhood bar), and Halftime Sports Bar & Grill.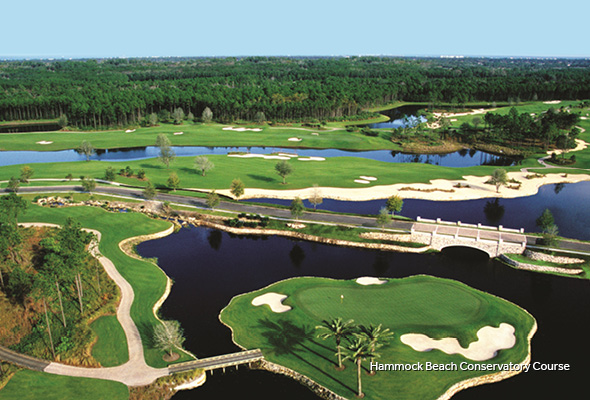 Hammock Beach Resort
This resort has two excellent golf courses, designed by Jack Nicklaus (Ocean Course, with six holes hard by the Atlantic) and Tom Watson (Conservatory Course). There's also a variety of lodging options, with villas a great choice for groups.
• Hammock Beach is at least a 90-minute drive from the Jacksonville airport, so consider flying into Daytona Beach or Sanford. The latter, a hub for Allegiant Air, is a favorite of budget-minded travelers with flexible schedules. Nearby Palm Coast isn't known for nightlife so you won't be spending much there.
World Golf Village
This monument to PGA Tour licensing was created in the late 1990s to showcase the World Golf Hall of Fame, although it's been more successful as a residential community owing to its comparatively remote location west of St. Augustine. Of its two courses—The Slammer & The Squire and The King & The Bear— the latter, co-designed by Jack Nicklaus and Arnold Palmer, is more challenging. Good courses nearby include St. John's Golf Club and South Hampton Golf Club.
• Stroll through the Hall of Fame and enjoy its interactive lessons in golf history. Also on property is Murray Bros. Caddyshack restaurant and bar, filled with ephemera related to the namesake movie. For more socialization, shuttle service is available between the resort and the historic town of St. Augustine.
• Truly frugal: In Jacksonville, consider Hyde Park Golf Club or Windsor Parke Golf Club. The former is a 1925 Donald Ross design where Ben Hogan famously made an 11 on the par-three 6th hole while leading the 1947 Jacksonville Open. The latter is a pleasant Arthur Hills layout and frequent qualifying venue for USGA events. Tariffs range from $20 for a late-afternoon walk at Hyde Park to $63 for a weekend morning ride at Windsor Parke.
________________
What other courses would you recommend in northern Florida? Let us know in the comments below!