By Chris Wagner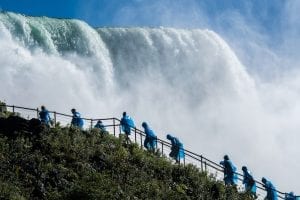 Mention Niagara Falls and the first thoughts that come to mind are wonder-of-the-world waterfalls, heavenly honeymoon hotels, and rainbows appearing magically in the mist.
For golfers, the Niagara Falls areas on both sides of the U.S.-Canadian border hold an unexpected treat, a flood of fine courses that are a barrel of fun. That is far truer on the Canadian side, where tourism is more successfully promoted; but the U.S. side holds claim to arguably the best course in the region, Seneca Hickory Stick.
Be sure to pack proper ID (a passport is best) or you'll be stuck enjoying only one side of the falls, and keep in mind the golf season is short. It rarely kicks into shorts-weather high gear before mid-May and winds down before Halloween. Mid-summer is best. Also note that U.S. dollars have been going about 20 cents further in Canada for the past year, meaning a course listed at $100 Canadian will cost only $80 in U.S. cash.
Where To Play
• On the Canadian side, put the Legends on the Niagara complex on your must-play list. It offers two acclaimed courses—Thomas McBroom's tight and tough Ussher's Creek and Douglas Carrick's watch-out-for-water Battlefield—as well as the nine-hole Chippawa course. Ussher's and Battlefield cost $79 to $99 (CAD) mid-season; Chippawa is $18 (CAD) for nine holes.
• Architect Rees Jones makes the most of the flatland at Grand Niagara Golf Club, where pristine conditions are complemented by holes that reward brain over brawn. Fees are $79–$115 (CAD) from May 12 to Oct. 1.
• Perched majestically above the famed Niagara River Whirlpool and Gorge is Whirlpool Golf Course, a mid-century Stanley Thompson design operated by the Niagara Parks Commission. The mist can't hide this course's beauty. $55 to $89 (CAD) May to September.
• At Thundering Waters Golf Club, player/designer John Daly's signature is all over this course, from a grip-it-and-rip-it, driver-friendly layout to championship tees that are identified as neither black nor gold but "Daly." Loudmouth Pants are optional. Rates from May to September, $70 to $90 (CAD).
• On the U.S. side, Seneca Hickory Stick in upscale Lewistown (seven miles north of Niagara Falls) vies for honors as the best course on either side of the river. While you don't have to be a daredevil to play it, a few holes on the Robert Trent Jones Jr. layout require tightwire shotmaking to survive. $55 to $75 from Memorial Day to Labor Day.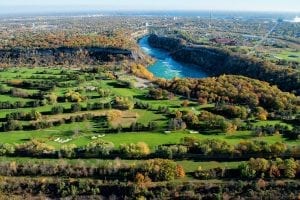 Where To Eat
• In Lewiston, the Griffon House serves an eclectic menu, including the famous 100 Acre Wood slider trio of Piglet (glazed pork belly), Rabbit (braised rabbit), and Kanga (kangaroo burger).
• A quick jaunt south into downtown Buffalo will take you to the Anchor Bar, home of the original chicken wings. They still stand the test of time.
• On the Canadian side of Niagara Falls, the Weinkeller is a craft wine pub featuring its own wines and fixed-priced meals served in cozy, brick-basement ambience. AG Inspired Cuisine offers sophisticated fare using fresh ingredients from its own farm, while the Tide & Vine oyster house serves up the best seafood in town. The Blueline Diner provides breakfast food hearty enough to fuel a hockey player, which is no surprise because it's run by the daughter of hockey Hall-of-Famer Marcel Dionne (who owns a memorabilia shop next door).
Where To Stay
• Some of the most affordable stay-and-play packages can be found through Canada's Niagara Parks Commission, which offers one-night, two-round deals starting at $145 (CAD) at the Best Western Cairn Croft and two-night, three-round incentives (at Cairn Croft or Comfort Inn Lundy's Lane) beginning at $240.
• Rooms with a view command higher prices at Canada's 11 "fallsview" hotels, ranging from the upscale Marriott Fallsview Hotel to the more budget-minded Oakes Hotel overlooking the Falls.
• On the U.S. side, the Seneca Niagara Resort & Casino presents all-around entertainment, including its Seneca Hickory Stick course.
If you want to add culture and romance to your golf getaway, a short jaunt north to Ontario's Niagara-on-the-Lake area—home to the summer-long Shaw Festival—will bring many quaint options, including the Historic Davy House Bed & Breakfast Inn.
_______________
What are your "go-to" spots in Niagara Falls? Let us know in the comments!