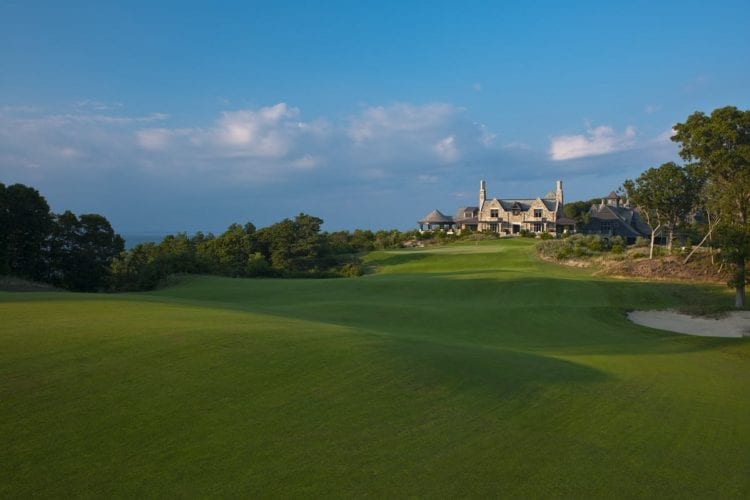 Among the American courses I've played in 50-plus years, those approaching perfection fit on a short list led by Cypress Point, where my stepfather was a member and where I first got pathologically serious about golf. Alongside it is the National Golf Links of America, my home course since college days. Pine Valley and Augusta National (as it was in the days of Cliff Roberts) have filled out the roster. Now with assurance I lengthen that list to include Friar's Head, freshly minted some 70 miles out from New York City on eastern Long Island, in the hamlet of Baiting Hollow.
The course is designed and built by Bill Coore and Ben Crenshaw and their inspired atelier of design associates and shapers, all in collaboration with 1997 U.S. Mid-Amateur champion Ken Bakst. The atmosphere, the human factor, comes courtesy of Bakst.
Start with the site: 350 acres of windswept terrain, half of it tree-fringed duneland tracking along 200-foot bluffs that overlook Long Island Sound, the other half a grassy and undulating meadow. The name Friar's Head bespeaks what 19th-century merchant sailors saw from their ships—a bald dune top with a ring of vegetation further down, resembling a tonsured monk looming above the shoreline.
Bakst's work with the Coore and Crenshaw group has produced a flat-out triumph, a golf course and a golf experience that will reunite you with the game's essence. The understanding at Friar's Head is that you will walk the golf course and complete play in under four hours, morning or afternoon, weekend or weekday. You will bring along a well-trained caddie whose yardages you can trust. You will play from unraked bunkers and you'll accept the good and bad breaks with equanimity.
Friar's Head's resemblance to Cypress Point, physically and atmospherically, is uncanny. A set of black-and-white Friar's Head photos I looked at recently could be slipped in among 1930s images of the Cypress Point Club and fool many an expert.
Others compare Friar's Head to Pine Valley, and I can see their point, but for me, the Coore-Crenshaw collaboration with Bakst could be called "Cypress Point East," not that it's in the slightest degree imitative. The nearby presence of big water—Long Island Sound is just the other side of the bluffs that frame the northerly margins of Friar's Head—is perhaps what sets this course, along with Cypress Point and the National, apart from so many other beloved golf sites.
Long Island's great Golden Age courses were built, after all, before the advent of modern earth-moving machinery, which in this golfer's opinion has had a more dire effect upon the game than any ball or club technology. What you can't do—or choose not to—often matters as much as what you can. A golf architect worth his salt would rather lean on Mother Nature as a design partner than Caterpillar or Komatsu. Coore and Crenshaw take all possible paths toward the natural, nuanced look and away from machine-made homogeneity. Toward this end, they encourage their on-site artisans—working this project were Dave Axland, Jeff Bradley, Jim Craig, Rod Whitman and Jimbo Wright—to express their personal artistic visions in every curve and angle of the golf course.
A lot of golf courses have been built in this country in recent years, and quite a few out on eastern Long Island. Until Friar's Head, however, none could be said to seriously challenge the triple godhead of Shinnecock Hills, Maidstone and the National. To see the old trinity joined by a new and worthy peer in this century is an inspiration, especially knowing what a force of character and will is required to do so. With its original driving force, Bakst, keeping watch, the club and course will surely age well. And when the Coore-Crenshaw design record is written in full, this will doubtless be viewed as one of its crowning achievements, a symphony of golf holes for the ages.
Par: 71
Yardage: 6,774
Year founded: 2003
Architects: Bill Coore and Ben Crenshaw