The old adage "work hard to play hard" only sometimes applies to golf. Yes, plenty of avid golfers focus only on the "play" when they jet off to a resort for a golfing getaway. But others recognize that those resorts can be ideal places to put in some hard work on their games, too.
For golf travelers who want to mix practice, training, and top-quality instruction into their daily agendas while on a golfing holiday, the following resorts are without equal.
If you're fortunate enough to book a trip to Pebble Beach, you can rest assured your golfing buddies will want to know about your experiences playing Spyglass Hill, The Links at Spanish Bay, and—of course—the resort's eponymous course, Pebble Beach Golf Links. But when you come back with a retooled swing and an all-around sharper game, you can fill them in on all that the Pebble Beach Golf Academy has to offer.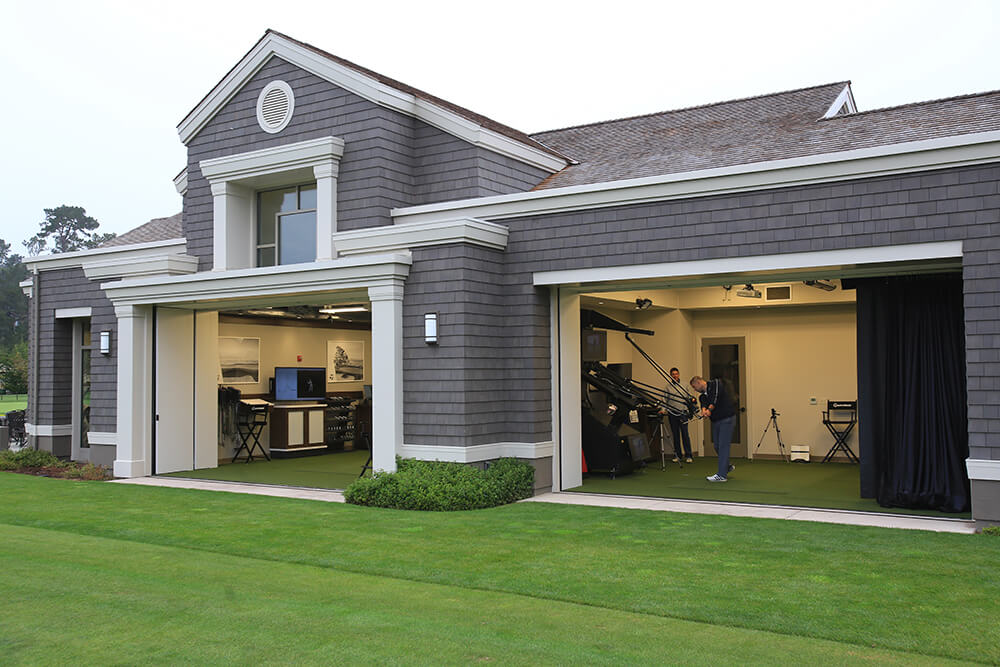 The resort's dedicated training center offers a diverse portfolio of seminars focused on specific aspects of the game. Novice players—or those who simply want a comprehensive tune-up—can enroll in "The Basics," a program that teaches (or reinforces) solid fundamentals. Those looking for more distance can sign up for a "Hitting It Farther" session, which evaluates all of the constituents for generating speed. "The Putting Master" program includes a club fitting at the Science and Motion PuttLab, as well as an evaluation of a golfer's putting skills and green-reading abilities. Visitors can also shore up their short games with the "Wedge Guru" seminar. There's even a robotic swing trainer that can help amateurs feel the ideal, on-plane swing for their body compositions.
Even if you're not there for such specific training or swing alterations, the resort's practice facilities are amongst the best in the country. Take, for example the 350-yard, double-sided driving range, which can accommodate 85 golfers on natural grass hitting areas. Then there's the 40,000-square-foot short game complex outfitted with greenside and fairway bunkers, as well as chipping areas. Finally, golfers will find it possible to practice any length putt on a 4,500-square-foot practice green.
When it comes to golf at Nemacolin, the Pennsylvania resort's championship layout, Mystic Rock—a Pete Dye design that hosted the annual 84 Lumber Classic on the PGA Tour during the mid-2000s—steals most of the spotlight. The resort's second Dye-designed course, Shepherd's Rock, which opened in 2017, attracts the rest of the attention. Overshadowed by both of those courses is the resort's recently redesigned, 4,000-square-foot golf academy, which can easily transform to meet the needs of individual visitors.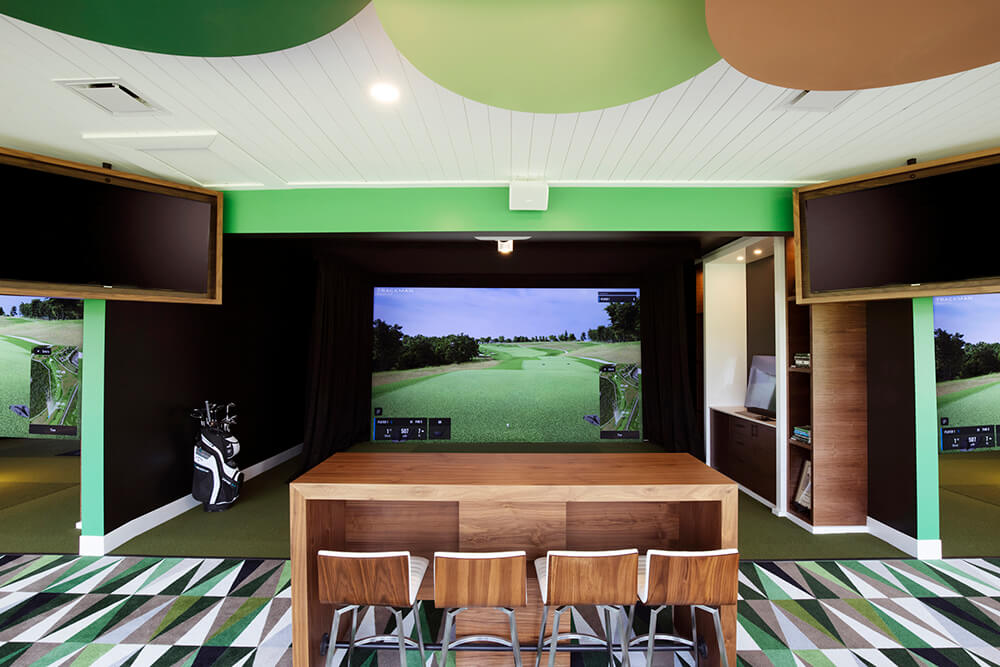 Outside, a large 25-station driving range (complete with TrackMan Range), two short-game areas, and a sprawling putting green provide all of the customary venues for dedicated outdoor practice. Inside, four hitting bays are equipped with balance and dual force plates from Swing Catalyst, as well as GC Quad launch monitors and the latest TrackMan technology. When fully enclosed, these stations serve as ideal venues for simulated rounds or intensive swing analysis using high-speed cameras (they're perfect during the winter months). However, these bays can also open up to the driving range, allowing golfers to hit shots into the open air while still benefiting from all of that technology.
Best of all, with all of that analytical data at their fingertips, the academy's instructors can quickly create a virtual 3-D model of a golfer's swing, allowing them to focus on specific areas that need improvement and delivering that feedback in a visual package that golfers of all ability levels can easily understand.
Looking out at the driving range that extends beyond the six instruction and club-fitting bays at Sea Island Golf Resort's performance center, it's easy to forget about all of the technology that's housed inside the 17,000-square-foot facility. From inside any one of those bays, golfers are treated to an unobstructed view of Saint Simons Sound. It's the kind of view you'd associate with multi-million-dollar resort villas or sprawling estate homes—not a golf performance center. With such a backdrop, players will take great joy studying the trajectory of their shots—even the ones that need improvement—but they'll benefit even more from what's found further inside the performance center itself.
Knowing that Sea Island has created golf-specific workout programs for some of the best tour players, it's no surprise that a fitness area dedicated to golf is there to help players of all abilities improve their flexibility and increase the power of their swings. Golfers looking for ways to shave strokes from their scores can also book time in the center's putting studio, which was designed by Phil Kenyon, a putting guru who works with tour pros and also serves as the director of putting instruction at Sea Island. Guests can even book sessions with Dr. Morris M. Pickens, a sports psychologist whose client list includes recent major champions.
Given all of those amenities, it's not surprising that more touring pros live and train at Sea Island than any other golf destination in the country. According to Brannen Veal, the resort's director of golf, the performance center's "holistic, comprehensive approach" to game improvement is one that can be tailored to players of all ability levels.
When golfers think of The Highlands at Harbor Springs (one of Boyne Golf's three resort properties in northern Michigan), they're likely to focus on the Donald Ross Memorial (a recreation of 18 holes famously designed by the Golden Age course architect), The Heather (a mid-century layout designed by Robert Trent Jones Sr. in 1966), or Arthur Hills, the namesake course of its late creator, which opened in 1995. TrackMan Range, GEARS, and TPI, on the other hand, won't immediately spring to mind. But all three amenities are on offer at the Ross Golf Center, an advanced training and club fitting facility at the resort that can tailor a swing to your physiological makeup and your clubs to that swing.
The resort's latest technology, TrackMan Range, has equipped 30 of the grass hitting bays at the center's almost 360-degree driving range with shot-tracking capability. Golfers looking to dial in specific shots or improve individual metrics can do so while hitting outside in the elements and on natural grass. Virtual rounds on famous courses, as well as games focused on accuracy, also elevate otherwise ordinary practice sessions.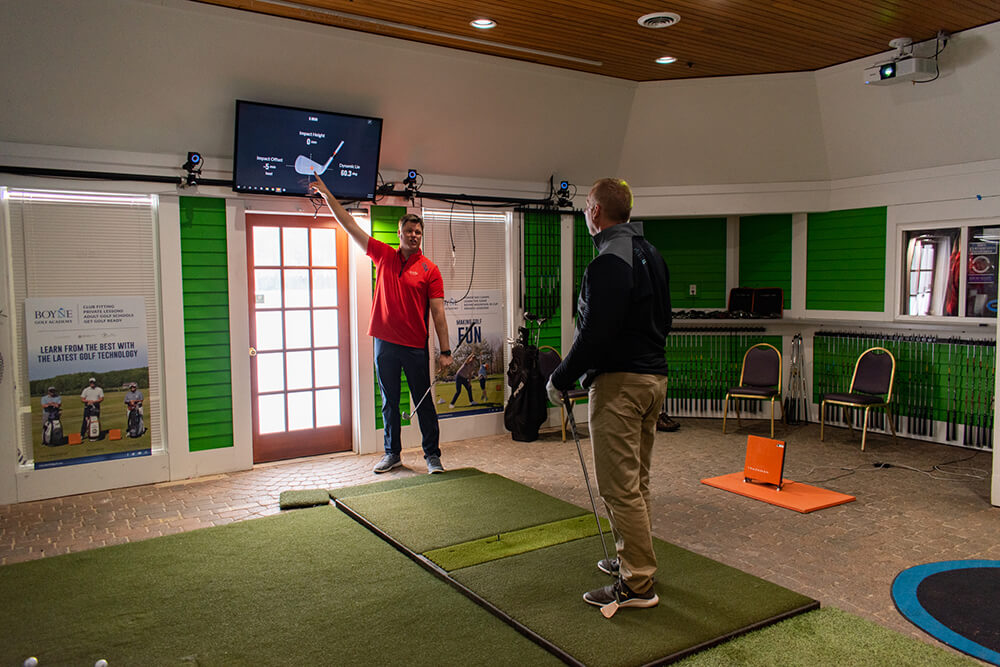 Inside at the Boyne Golf Academy, guests can book a training session utilizing GEARS Club and Body Tracking System, a program that utilizes more than two dozen sensors placed on key areas of the body and six additional sensors on the golf club. Those sensors combined with eight high-speed cameras provide an in-depth analysis of the golf swing, allowing instructors to focus on specific areas and even small movements that need improvement. The system can also be used to further refine a club fitting session.
Finally, golfers can book Titleist Performance Institute (TPI) evaluations, which not only reveal the strengths and limitations of each golfer's body but also provide insight as to how players can best utilize those attributes to play better and avoid injury.