With the Valero Texas Open returning to TPC San Antonio this week, our limited attention spans turn to the Texas Hill Country, the 25,000-square-mile, 23-county region that cuts a mighty swath through the state's southern tier and turns the popular perception of Texas as a big flat prairie on its ear. The Hill Country is a land of sheer-walled canyons, spring-fed lakes, swift-flowing streams—and very friendly folks. Here are our five favorite things about a rustler's hideaway whose praises have been sung by everyone from Waylon Jennings to Willie Nelson.
Topography
A broad crescent of layered limestone and steep escarpments, the Hill Country, cloaked in scrub oak forests, is marked by rocky ravines and rushing creeks. The deep-carved limestone and vertical cliffs are a welcome anomaly in a generally flat state. While the terrain is brittle and difficult, enterprising developers and golf course designers have built some of the state's finest resort and daily-fee layouts in the Hill Country, which runs roughly south and west from Austin to San Antonio.
Wildflowers
Blessed with over 300 sunny days a year, the Texas Hill Country comes alive starting in March, when a profusion of bluebonnets, Indian paintbrush, and other native wildflowers blanket the hillsides. Every spring, people travel from all over the world to see the vibrant, deep-blue blossoms of the cone-shaped bluebonnet. The shape of the petals resembles the bonnets worn by pioneer women to shield themselves from the sun.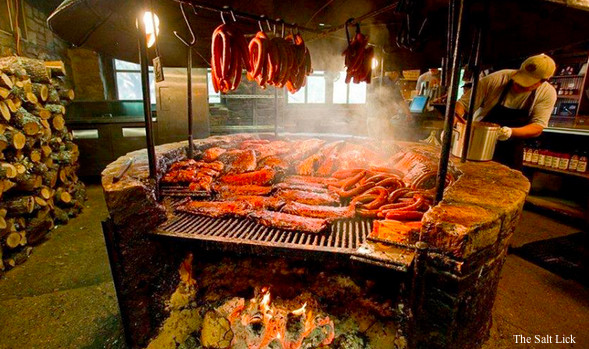 BBQ
We're not talking pulled pork taken from sides of hogs as served in the Deep South. In Texas, it's all about the BEEF: beef brisket, beef sausage, and meaty beef ribs served with beef-flavored ranch beans and fresh-baked bread. (By the way, these items are sauced after being cooked, not before). The Hill Country has more than its share of reputable BBQ shacks and dining emporiums. Look for places with pot-bellied stoves, outdoor patios, screened porches, and the unmistakable aroma of smoked beef. Coffee-cured brisket is popular at present, but it's all good. Wash it down with sweet iced tea or an ice-cold beer.
Austin
Even without a smidgen of Texas bravado, this lively capital city, a mecca for serious musicians, lives up to its claim as the "live music capital of the world." The rollicking clubs and music venues clustered along Sixth Street provide an unrivalled showplace for top and emerging talent. On any given night, hundreds of acts play country, rock 'n roll, blues, jazz, reggae, zydeco, etc.  Follow your nose to the many superb Tex-Mex restaurants in the neighborhood. And buy a pair of genuine cowboy boots if that suits your fancy. If you want the full musical treatment, attend the Austin City Limits Music Festival, a raucous eight-stage jamboree held in October.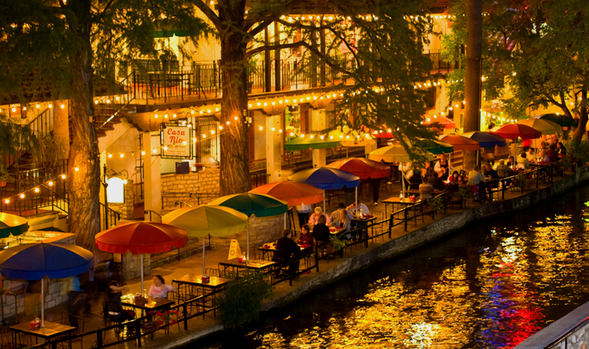 San Antonio
The state's most beautiful and atmospheric city? The vote goes to San Antonio. Stroll the scenic stone pathways along River Walk (Paseo del Rio), which line both sides of the San Antonio River that flows through downtown. Kids of all ages love SeaWorld San Antonio, a 250-acre marine mammal park and oceanarium; and Six Flags Fiesta Texas, which has thrill rides and live entertainment. At the heart of the city is The Alamo, a legendary symbol of Anglo-Texan valor where all 187 defenders (including Davy Crockett and James Bowie) perished during a 13-day siege in 1836. Purists can tee it up at Brackenridge Park, a classic 1916 A.W. Tillinghast design nestled near downtown that benefitted greatly from a 2008 restoration.