By Adam Schupak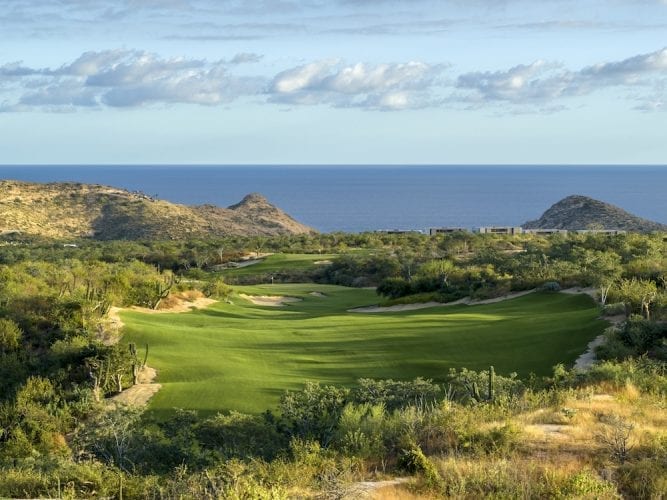 With Fred Couples part of the architectural team it's no surprise that this new course at the tip of the Baja Peninsula is laid-back and fun
Golfers needing another reason to visit the southern tip of the Baja Peninsula have a good one. Set on the shores of Santa Maria Bay, where the Baja Desert meets the Sea of Cortez, Twin Dolphin Golf Club is the newest creation of Todd Eckenrode and Fred Couples, a private club that extends a members-only experience to resort guests.
Labeling this the best piece of land he's ever been given, Eckenrode manufactured a few humps and bumps while establishing a sensitive clearing plan that leaves the surrounding native landscaping intact. The ridge-top opening par five plays across and along an arroyo, followed by a gentler second hole with a stunning whitewater bay backdrop, then the downhill 3rd hole, nestled into a natural valley of native cactus.
And so it goes, with a drop-shot par three on the second nine, risk-reward par fives, and holes like No. 10, which is modeled after the 11th at Pasatiempo, the Alister MacKenzie gem in Santa Cruz, Calif., where Eckenrode learned the game. Making a course both fun and challenging for various skill levels is always a delicate dance for golf architects: Eckenrode and Couples have walked that tightrope masterfully.
The two "Red Door" comfort stations are just plain fun. The challenge is what to order: Does a salty margarita go better with fresh guacamole, made-to-order sliders, fish tacos, or octopus ceviche?
Couples did more than just lend his name to this project. He returned for the inaugural member-guest, spent Christmas vacation here, and talks about enjoying months at a time in Cabo once his playing days wind down. And why wouldn't he? It's summer camp for adults and Twin Dolphin personifies his golf course design philosophy to a T. And what would that be?
"To have everyone stare at the ocean."