By Graylyn Loomis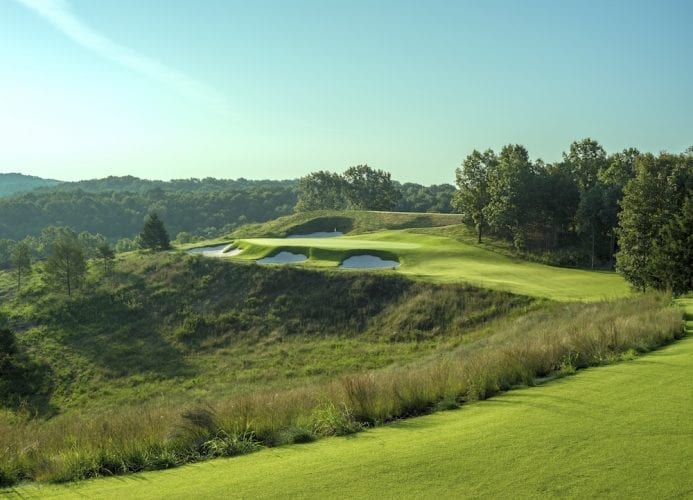 Course number four at Big Cedar Lodge brings minimalists Coore and Crenshaw to the heart of the maximalist Ozark Mountains
It's no easy task for a resort to broaden its identity and reach a totally new customer. Big Cedar Lodge in southern Missouri had long been known for hunting, fishing, and boating when owner Johnny Morris—founder of Bass Pro Shops—decided to add golf to the attractions. To get attention, Morris brought out the big guns, opening three courses since the early 2000s designed by Jack Nicklaus, Tom Fazio, and Gary Player.
Ozarks National is the name of the recently opened number four, for which Morris hired a pair of heavyweights, Bill Coore and Ben Crenshaw. They designed a genius routing atop rolling ridgelines that presents stellar Ozark Mountain views and avoids the steep drops and long green-to-tee marches typical of mountain courses. The alpine terrain and limestone base are a far cry from the sandy sites with flattish landscapes the architects usually work on, but they found a way to incorporate their usual minimalist, naturalist style.
"Our job was to fit this piece of ground and make it look like the course has been here for a long time," says Crenshaw. The elevation changes force multiple decisions on every tee: Wide fairways hug the slopes, often funneling balls into the rough or bunkers, and golfers must consider where balls will bounce and run and what that might mean for the resulting stance and approach to the green. It's a mental workout for the low handicapper and a fun, no-balls-lost day for the carefree resort player.
A fifth course—from another big name, Tiger Woods—is on the way; its clubhouse is currently under construction. Four pheasant hunting fields sit adjacent to Ozarks National and the distant booms of shotguns remind golfers that even with the expanding golf options, Big Cedar Lodge remains true to its roots.