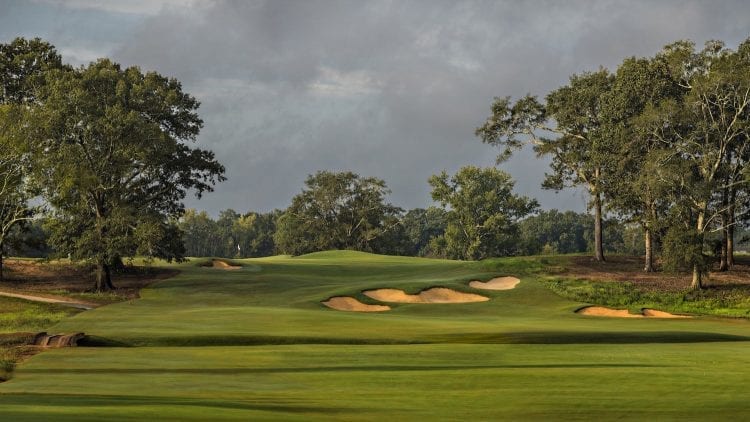 Gil Hanse wowed the world last summer with his Olympic course. But since Rio isn't exactly around the corner, it's good news that Hanse recently unveiled another exciting example of minimalist design that's easier to get to. Not a lot easier, but easier.
Located in West Point, in north-central Mississippi, Mossy Oak is across the street from the semi-private Old Waverly, site of the 1999 U.S. Women's Open. Both were built by a local family that hopes to turn its hometown into a golf destination: A relative owns a nearby hunting/fishing preserve, so golf packages can include those pursuits, too.
The course was built on an old dairy farm, 180 acres of rolling land punctuated by knobs that provide elevation change. Hanse didn't move much dirt or remove many trees, but he wisely left a dozen sturdy oaks that provide a sense of grandeur and the occasional aiming point for golfers. Mossy Oak feels timeless and natural: It's a new course with an old soul.
Meant for walking, this is a course where greens feed into tees and wide openings front putting surfaces. Some of those greens are huge and bunkers are everywhere. Hanse continually challenges the player's depth perception and club selection, pushing up greens and siting them on slopes, and placing hazards so they're not as close to greens as they appear. Long, wispy native grasses define the wide fairways yet are thin enough so off-line shots won't be hard to find.
Mossy Oak is home for the Mississippi State golf teams, which have their own building with locker rooms and fitness facilities. There's also a practice green shaped like their home state—and almost as large.
West Point, Mississippi
Public
Opened 2016
Architect Gil Hanse
Yardage 7,212
Par 72