By James A. Frank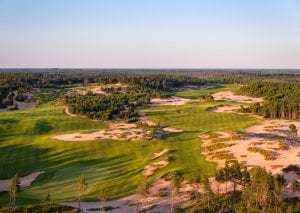 The course is called Mammoth, the fairways are mammoth, the views and the surrounding forest are mammoth. Even the early hype about this David McLay Kidd design in the middle of Wisconsin has been mammoth. But big isn't the whole story.
Which isn't to say that size doesn't matter. It does, but not as much as Kidd's real purpose: He wants golf to be fun.
The Scottish-born Kidd—who burst onto the scene in 1999 with the original course at Bandon Dunes—does everything possible to show players a good time. Along with wide fairways, the towering dunes are meant to be helpful, while the greens are dug down rather than pushed up, which makes them unusually receptive. Furthermore, those greens aren't surrounded by sand; there's always an open side to play to.
"The conservative player should have a chance of making par," says Kidd, "then think he might be able to birdie the next hole. But if he does screw up, he still has a chance to recover. The punishment needs to fit the crime."
Merriment doesn't only follow measurement. There are a few drivable par fours, including the 6th hole, which features a half-moon-shaped green (inspired by Alister MacKenzie's Crystal Downs) that can leave some interesting first—and second, and third—putts. None of the five par fives is overly long. In fact, even from the way-backs the course comes in under 7,000 yards. But how you manage the width affects the length.
The new layout joins the original Sand Valley course (a Coore-Crenshaw design that opened last year) at this terrific resort three hours from Milwaukee. Like the fairways at Mammoth Dunes, it's an experience you can't miss.