When a serious green jacket contender sees his ball land on the false front short of the flag at Augusta National's 9th hole on Sunday afternoon and reverse 20, 30, even 40 yards back down the hill toward him, the patrons can barely stifle their groans. They've probably witnessed the same distressing sequence befall a number of players during the week, but at this late stage of the tournament the ball's funereal backtracking seems especially grim.
The false front at Carolina Cherry is one of the wickedest in the game—a combination of contour and short grass so insidious it turns what would otherwise be a straightforward drive/short-iron hole into a potential nightmare. And, of course, should a player, wanting to exercise caution, take enough club to cover the no-go area, he likely leaves himself an abominable downhill putt which, if he's not careful, make its way inexorably off the front of the green.
As an architectural feature it hovers right on the edge, especially at Masters speeds, as the difference between a shot that leaves a makeable birdie putt and one that suffers an ignoble misadventure can be miniscule.
It's certainly not the only false front at Augusta National, though. Those at the 5th and 14th greens are similarly significant if not quite as malevolent. All of them raise the level of interest for the viewer and the level of precision required of the golfer.
The history of false fronts isn't clear, but it's likely they evolved from push-up greens, especially on uphill holes. The standard method for constructing greens before the 1970s, the push-up was built with native soil that had a good sand content and elevated above the surrounding area to ensure the putting surface drained well. Because the surface was elevated, it sometimes became obscured or less visible to the golfer approaching it, so a section at the front was mown to give him/her a better indication of the green's precise location. The false front would be a narrow, sloped tongue of green (such as on the original 4th, 7th, 9th, and 18th holes at Augusta National) that usually wasn't wide or flat enough for a pin.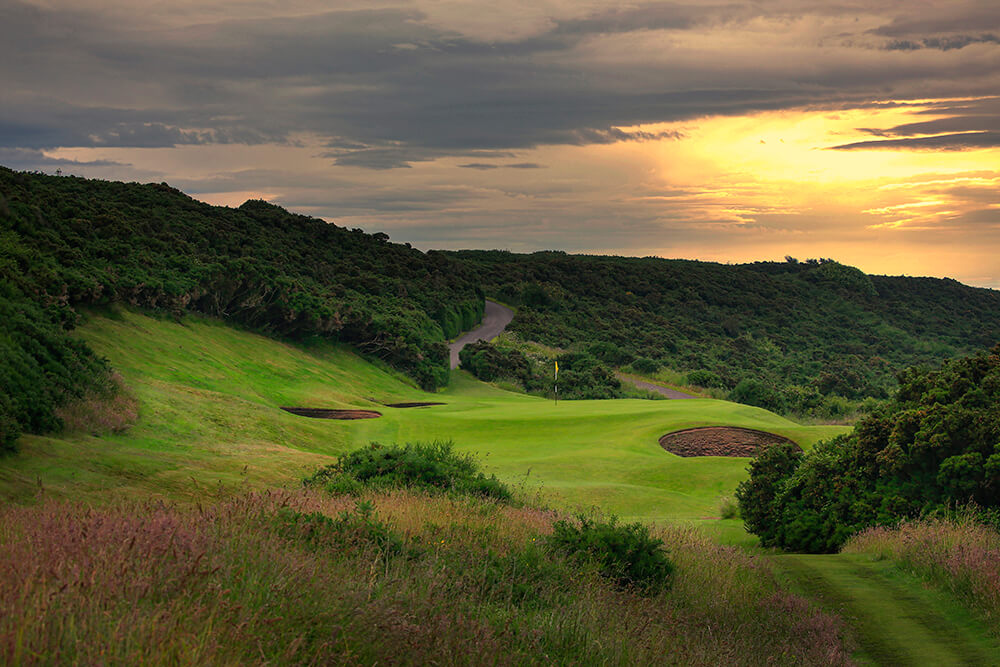 Today's false fronts are a very different animal, of course. Though still largely unpinnable, their purpose has shifted from being what was essentially a "sighter" to an important architectural element, though there remains a distinction between what is simply a large, downhill section at the front of the green and an authentic visibility-enhancing false front.
Now their purpose is to defend a front-ish pin and demand a precise shot, says Mike Clayton of Clayton, DeVries & Pont who are currently building the highly anticipated 7 Mile Beach in Tasmania. "They give the player only a couple of yards leeway if they want to fly the ball onto the green," according to Clayton.
Martin Ebert who, along with design partner Tom Mackenzie, has renovated or restored a number of the world's greatest courses including eight Open Championship venues, agrees. "They provide a real challenge, obviously requiring golfers to get the ball up beyond the point where the slope will not bring the ball all the way back off the green," says Ebert. Mackenzie likewise sees their value: "They're a useful tool when playing uphill and the flatter sections of the putting surface are above eye-level, and we want the putting surface to be visible."
Though they definitely acknowledge their place in the game, Mackenzie & Ebert seem a little more reluctant to use false fronts than other architects, however. "I'm not sure we've actually ever built a serious false-fronted green," says Ebert. "One reason is that they can eat up a large amount of putting surface and restrict flag positions dramatically. Also, we prefer to offer a ground route to the hole which is less likely to be an option if there's a steep slope at the front of a green."
The steepness of the slope is obviously a major factor in the effectiveness of a false front. The steep slope Ebert envisages would be undesirable as it would inhibit the ground game if not prohibit it altogether. Clayton sees it slightly differently, however, provided the slope is fairly gentle. "They can make a running shot more interesting," he says. "And require a shot played with the right trajectory and force if it is to land short and run on." Tom Doak said something similar in a 2008 GolfClubAtlas.com thread. "I think they're a very cool feature at the micro scale," he noted. "One or two feet high at the edge of a green, so you have to decide how to play your pitch or chip shot, and there is some fear in not making it up to the top."
False fronts can be built, of course, but as with virtually everything else in course architecture, using the natural topography is better. Rob Collins of King-Collins Golf Course Design, which opened the incredible Landmand in Nebraska in 2022 and is following up with Red Feather in Texas in summer 2023, says he likes to "sprinkle them in from time to time."
"But we look for the right places," Collins adds. "At Landmand, there were a lot of great natural green sites and some called for a bit of a false edge, while some didn't. It's fun to pick and choose where to place them. In the right spot they can add a lot to the strategy and playing characteristics of a hole."
Sweetens Cove, Collins and Tad King's mega-popular 9-holer in South Pittsburg, Tenn., certainly has some. "And the greens there are generally quite large," says Collins, "so the setup crew has a lot of flexibility in terms of where they can put the pin. Placing it near the false front/false edges is a good way to add a little difficulty and demand precision for the approach."
Blind holes, water hazards, centerline bunkers, front-to-back-sloping greens, fairways that have trees in them, and 220-yard par threes are fine if used sparingly and judiciously. Same with false fronts. "They certainly can work well, but aren't something to be overused," says Clayton. "Nor should they be forced into a situation where they don't really work."
A few false fronts can lend a course intrigue, variety, and interest. Too many, though, and the sight of a ball failing to get sufficiently deep into the green and rolling backwards can get old pretty quickly.
10 of the Best False Fronts
1st hole, Royal Portrush—Portrush, N. Ireland
5th hole, Tobacco Road—Sanford, N.C.
5th hole, Royal Melbourne (West)—Melbourne, Australia
6th hole, Royal Dornoch—Dornoch, Scotland
9th hole, Ballybunion—Ballybunion, Ireland
14th hole, Erin Hills—Erin, Wis.
14th hole, The Old Course at St. Andrews—St. Andrews, Scotland
16th hole, Pasatiempo—Santa Cruz, Calif.
17th hole, Landmand—Homer, Neb.
17th hole, Bandon Trails—Bandon, Ore.
What do you think of false fronts, and where have you faced them?