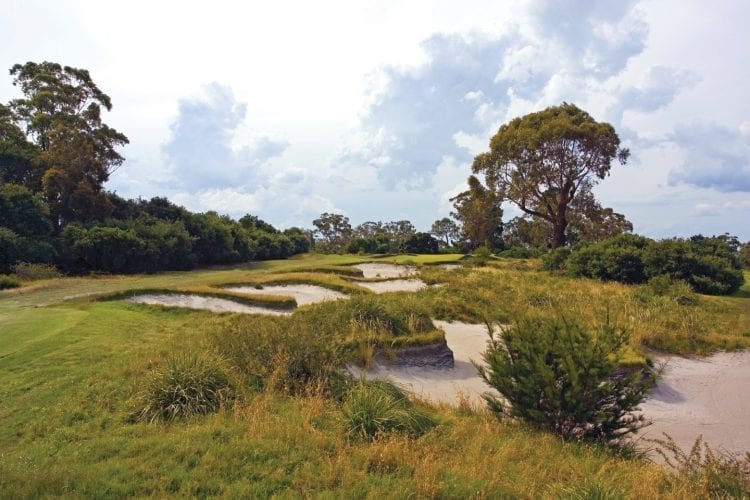 Where to Stay

Melbourne is a great and vibrant city, though not particularly a late-night party town. You will surely want to spend two to three days in the city, probably staying in one of the many new hotels near the Yarra River on the south edge of downtown, near the Victorian Arts Center. It's the coolest place in town on long summer evenings, and it's within walking distance of the Australian Open tennis facilities or the Melbourne Cricket Ground.
Most of the golf courses, though, are southeast of town, a 30 minute drive—longer in the morning rush—so you might want to stay near the courses for part of your trip. The best deal in town may be the rooms for rent in the clubhouse at Victoria Golf Club; otherwise, small but nice motels in and around Dingley are the most centrally located for Royal Melbourne and Kingston Heath.
If you include the Mornington Peninsula in your itinerary, there is a wide range of accommodations there, from full-on resorts at Cape Schanck and Moonah Links to homes for weekly rental. Summer is the busy time and it is wise to book ahead: On my last trip I almost wound up sleeping in the car.
What to Do
Melbourne is a sports-mad town and to get a feel for the city you should try to attend one of its many sporting events. Depending on the season, you can watch Australian football, which was born in Melbourne, cricket, international rugby, swim meets or the Australian Open tennis.
The centerpiece of Melbourne dining is the variety of first-generation ethnic cuisine, particularly Greek and Indian. First-time visitors should leave a bit of time to understand the nature of this island continent. Healesville Sanctuary, 90 miles northeast of Melbourne, is a world-class venue for an up-close view of Australian wildlife, including koalas, wombats, platypus and the Tasmanian devil. Phillip Island, southeast of the city and about an hour east of the Mornington Peninsula, is a very touristy locale to watch the migration of little penguins at dusk, but the birds are sensational and kids will love it.
Melbourne is also a fascinating city for architecture, with new buildings mingling alongside Victorian-era edifices and cathedrals. The bank of the Yarra River is particularly fascinating, with the mod Federation Square on one side and Flinders Street Station across the street.