Growing up in the Cadillacs-and-concrete jungle called Detroit, northern Michigan may as well have been a mythological realm—all fjords, forests, and fog. Never got up there as a kid (I didn't ski, nor swim) and hell, we thought the slate-gray waters of Lake Erie an hour into Canada were plenty beautiful.
But thank the mighty golf gods that the siren call of a white dimpled ball finally beckoned me to cities bearing venerable Native American place names like Mackinaw, Petoskey, and Cheboygan. As rumored, the baby and ring fingers of the mitten that is Michigan were truly the state's crowning glory, where towering trees abound, the rolling hills are alive with wildlife and wonder, and, yes, there is indeed water, water everywhere. Bring a swimsuit.
And your sticks! A greater variety of proximate, distinctive layouts you'd be hard-pressed to find, and at a price-point that won't bust your bankroll (donate the difference to one of the many tribal casinos here).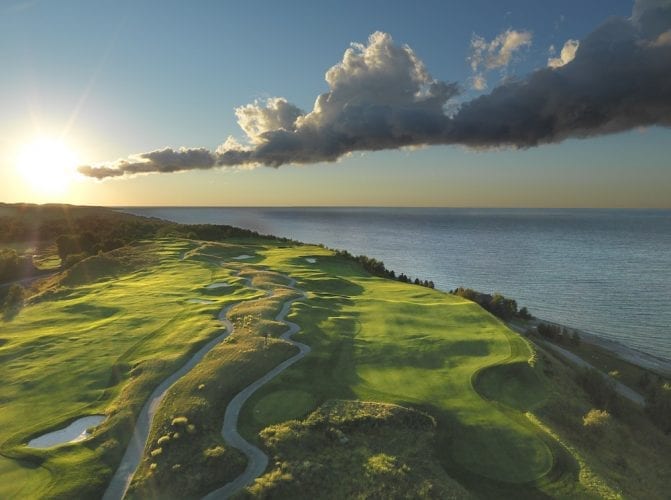 Here's the drill for those of you who live outside the glove: Fly into Detroit, rent a macho-looking Dodge Charger (instant respect in these parts), and make your way a couple hours north across the prairie until the earth begins to heave and billow. Take note of the abundant inland lakes and rivers, the dense hardwood forests of sugar maple and white spruce, and don't stop until you see fluttering flagsticks and fairways. They, too, are nearly everywhere.
Which has been both a blessing and a burden. The explosion of courses in this region got a reality check in 2008, when investment dollars and real estate sales dried up. Forest Dunes in Roscommon is a good example of such optimism nearly gone awry. Now almost 20 years young, the property went through owners like hackers through a box of ProV1s; even the Michigan Carpenters' Union Pension Fund held the deed for a spell.
The good news is that the property survived and then some. The original (and justly celebrated) Tom Weiskopf 18 has been joined by The Loop, Tom Doak's "reversible" links-style layout that plays clockwise one day and counterclockwise the next, allowing for 36 distinct holes on the same plot of earth. Hard and fast in the Doakian mode, it pays to play the Black and Red routings on successive days to fully appreciate the ingenious design (and you can ride rather than walk starting this season).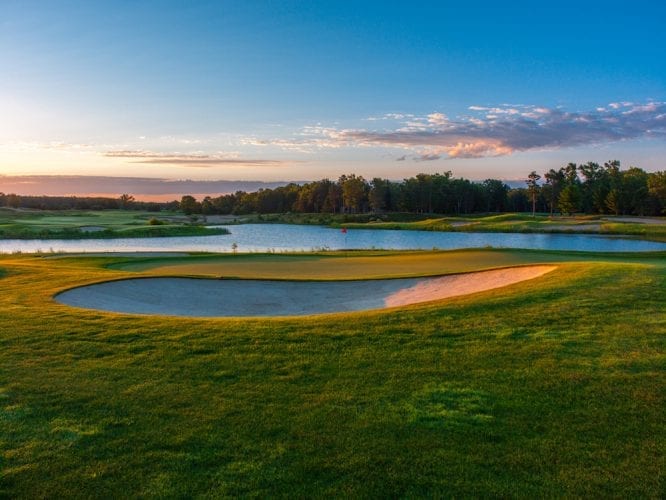 Wise visitors will stay overnight at the nicely appointed Lake AuSable Lodge and get in at least one round on the original course, a serene, winding journey through rugged native dunes and dense pine forests, emerging into the sunshine at an intimidating 560-yard, par-five finisher. Weiskopf even threw in a 117-yard 19th hole as a bet-settler, replete with a Riviera-like bunker in the middle of the green.
Rural Roscommon is well off the beaten path—on land better known to deer hunters than birdie fanciers—but a 90-minute jaunt to the west gets you out of shotgun range into a week-long shotgun start along the boundless blue waters of Lake Michigan.
Drive up scenic M-22 until you hit Arcadia Bluffs, where a second 18 has recently been added to the golf menu. The original Rick Smith/Warren Henderson-designed Bluffs course has been humbling golfers since 1999, an Irish-flavored linksland track with sod-wall bunkers and tall native grasses. There are lake views aplenty and three holes butt up to the whispering water's edge. 
Plan on playing the newer South Course as well, Dana Fry's reverent echo of the Seth Raynor/C.B. Macdonald Chicago Golf Club, replete with mid-fairway pot bunkers and rectangular greens and tees. False fronts rule here, making distance control a must, and persistent winds make both layouts a highly creative enterprise. Stay in the ruggedly masculine Cottages, which sleep eight and include a complimentary breakfast.
Another hour or so upstate gets you to the nerve center of northern Michigan golf, not to mention a magnet for downstate urbanistas in need of their annual cherry festival fix (it takes place in Traverse City starting June 29, all parades, pies, and seasonal patriots). I say escape the stone-fruit-hungry hordes, buy the obligatory bag of dried cherries, and head for the starter's window at a number of impressive nearby courses.
My traditionalist heart tells me to start at Belvedere Golf Club, a 1925 Willie Watson gem that has hosted the likes of Snead, Sarazen, and a boy named Tom Watson, who played here with his father and ranks it among his favorites. A 2017 restoration by Doak disciple Bruce Hepner added lost bunkers and removed a number of trees, bringing a winding creek back into play. Belvedere hosts the annual Hickory Open, a testimony to its playable parkland lines and timeless beauty.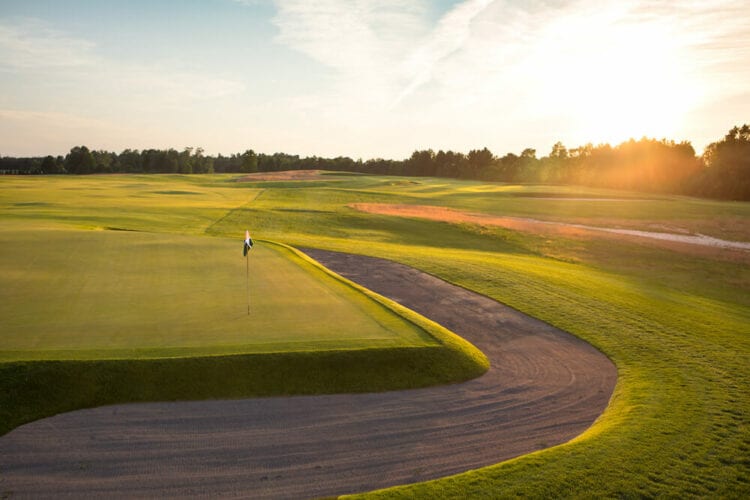 If you prefer drama and grandeur to muted classicism, Bay Harbor Golf Club more than fills the bill. It's comprised of three nine-hole Arthur Hills layouts: The breezy Links course has strong Scottish echoes and traces the craggy Lake Michigan shoreline; The Preserve wends tranquilly through critter-filled hardwood forests; and The Quarry is possibly the fairest of them all with stone cliffs, a 40-foot gorge, and a waterfall gracing the Instagram-worthy grounds. If you ain't broke yet from the healthy green fees, check in at the Inn at Bay Harbor and sleep off your three-putt doubles in five-star style.
Those 27 holes are but a fraction of the offerings from Boyne Golf, whose 10 local courses ought to attract scrutiny from the anti-monopoly boys in D.C. (what else do they have to do these days?). Originally a winter skiing destination for lower Michigan flatlanders, founder Everett Kircher's venerable Boyne Highlands is now a year-round operation, and an impressive one at that. 
By acclamation, Robert Trent Jones Sr.'s Heather course is the crown jewel, known for its tight, tree-lined doglegs and elevated greens. Three of its four par threes are over water and the formidable par-five 9th checks in at a healthy 617 yards from the back tees. Last year's Michigan Course of the Year is also known as friendly to women and senior golfers.
The 6,814-yard Donald Ross Memorial Course is another must. Its replica versions of holes at Oakland Hills and Seminole obviate the need to inveigle your way onto those hallowed tracks, and the baffling green complexes will have you calling your optometrist by round's end. (The family can bike, hike, or canoe their way around the resort while you gently curse at Mr. Ross for his smallish crowned greens.)
Have time for a bentgrass amuse bouche just a little north? Warm up at Rick Smith's challenging Threetops par-three course at Treetops Resort in the morning, then play Tom Fazio's vertiginous Premier course in the afternoon on your way toward the Mackinac Bridge and the Upper Peninsula. For the best scenery, take M-119—the so-called Tunnel of Trees—a bucolic and shadowy drive illuminated by shimmery glimpses of the lake and countless kitschy craft shops. Also, the Good Hart General Store has a justly famous chicken pot pie you shouldn't pass up.
Now that you're an unofficial "Yooper" (denizen of the U.P.), check in at the quite comfortable Island Resort & Casino, home to two comely Paul Albanese/Chris Lutzke tracks. Sage Run's generous fairways are routed through an elongated oval hill (called a drumlin) and play hard and fast; Sweetgrass, the original 18, has an open-prairie feel and eight holes involving water. Both are well worth the journey northwest.
As for local comestibles, I have three words for you: whitefish, walleye, and perch. Fish fries are everywhere you turn, the best ones sourcing their freshly caught fare from John Cross Fisheries in Charlevoix. Try Scalawag's in Traverse City or the Friday night all-you-can-eat perch-athon at nearby Sleder's (established in 1882). For a few bucks more, visit Terry's of Charlevoix and try their signature stewed tomatoes alongside your meuniere'd Omega-3s. 
A footnote: Detroit's rep for mean streets and mayhem is a world apart from the humility and warmth of our northern neighbors. People actually smile and look you in the eye up here, and mostly without ulterior motives. That's the kind of culture shock you can get used to in a Motown minute.