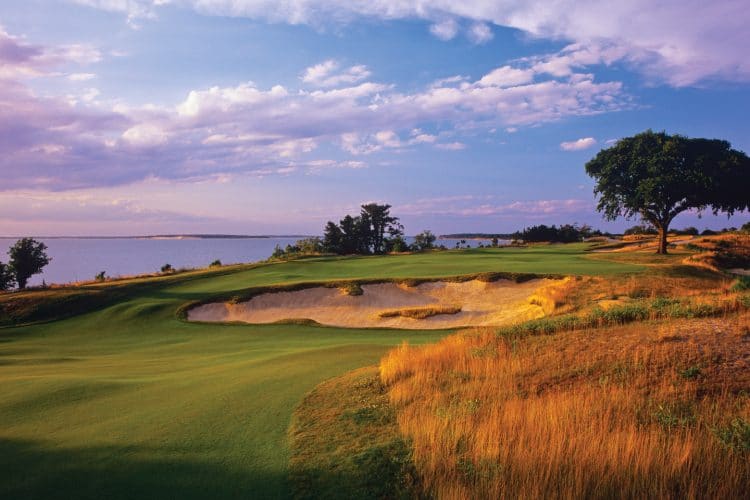 The home hole at the soon-to-be opened Sebonack Golf Club in Southampton, New York, is a natural beauty, a par 5 that dips, rolls and rises atop a cliff overlooking Peconic Bay. The target off the tee is a flagpole at the adjacent National Golf Links of America, opened in 1911.
The symbolism is not coincidental. Sebonack and other new enclaves on eastern Long Island, like Friar's Head and The Bridge, are taking dead aim at establishments like National, Shinnecock Hills and Maidstone.
Setting aside golf, the difference between the two types of clubs is social pedigree and money. Initiation fees at the old-line clubs are relatively low, less than $75,000. But if you're not a blue-blood, related to a blue-blood, or service the blue-bloods' financial, charitable and social trusts, even an unlimited checkbook won't help.
Until recently, that meant few places to play in the Hamptons, New York's most desirable summer address. That started to change in 1990, when Lowell Schulman founded Atlantic Golf Club, with memberships for the then-astronomical price of $100,000. Atlantic's fees have since doubled, and there is a long waiting list.
Soon, others joined in. In 2003, Robert Rubin founded The Bridge, which costs $550,000 to join. "We're not trying to imitate our elders," says Rubin. "We're trying to do something contemporary, as exemplified by our modern clubhouse. The atmosphere is relaxed. We want everybody to have fun."
Another difference is the quality of the courses.
National, Shinnecock and Maidstone are beyond approach, but some of the new layouts are starting to crack "best of" lists. "I have tremendous respect for Friar's Head," says golf course architect Tom Doak, who co-designed Sebonack with Jack Nicklaus. "I think the property that Friar's Head and Sebonack are on is comparable to Shinnecock and National, but it will take years before any new course earns the same degree of respect as those icons."
Michael Pascucci spent $45 million to acquire the property for Sebonack, which opens in August. He is asking $550,000 for basic membership. This trend is not limited to the Hamptons. For city denizens, there are options across the Hudson River in New Jersey, Donald Trump's Trump National ($200,000 initiation fee) and Reebok CEO Paul Fireman's Liberty National ($500,000).
SIX-FIGURE SIGNATURES
Long Island
East Hampton G.C., East Hampton ($260,000 initiation fee)
Sebonack G.C., Southampton ($550,000)
Friar's Head, Baiting Hollow ($250,000)
The Bridge, Bridgehampton ($550,000)
New Jersey
Trump National G.C., Bedminster ($200,000)
Hamilton Farm G.C., Gladstone ($300,000)
Liberty National G.C., Jersey City ($500,000)
Bayonne G.C., Bayonne ($150,000)
Westchester County
Hudson National G.C., Croton-on-Hudson ($210,000)
Trump National G.C., Briarcliff Manor ($200,000)