It's always time to plan your next holiday, and for those considering a visit to the Continent, we offer one selection for 10 different European nations. You'll find surprising diversity in this bunch—old courses and new, true links and parkland rambles, five-star resorts and quiet old-line clubs. Each would be worthy of building a trip around; taken as a group, they'd make for a pretty good "Grand Tour."
Belgium
Royal Zoute
Architect: Lt. Col Allen
Year opened: 1947
Just north of the medieval city Bruges is Royal Zoute (top photo), Belgium's most prestigious club and site of several national opens. Golf has been played here since the late 19th century; two separate iterations of the club's course, one a seaside links by Harry Colt, were destroyed in the World Wars. Today, golf is played on a gentle inland site lined with pines and silver birches. Royal Zoute makes good use of its natural features and rests lightly on the land—it is a worthy addition to a Benelux golf itinerary.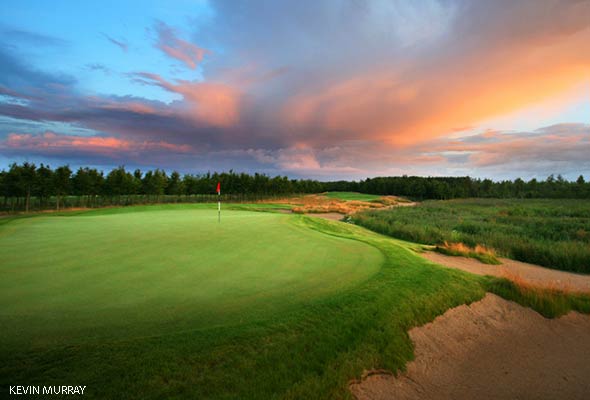 Denmark
Lübker Golf Resort
Architect: Robert Trent Jones, Jr.
Year Opened: 2008
Located just outside of Denmark's second-largest city, Aarhus, Lübker's three nines play through a parkland environment (above) rich with flora (several rare wild orchids have been discovered on-site) and fauna. Dramatic, sweeping bunkering in the current RTJ2 mode also abounds. Lübker's golf offering is part of a stylish contemporary resort with a full-service spa and other luxe amenities.
France
Le Touquet (La Mer)
Architect: Harry S. Colt
Year Opened: 1931
The great Harry S. Colt crossed the English Channel on several occasions to design courses along the North Sea coast, including Le Touquet, which opened in 1931. Severely damaged during WWII, the club recently commissioned Dutch architect Frank Pont and his French partner Patrice Boissonas to bring back La Mer's linksy identity. Early photos of the work in progress appear promising.
Germany
Golf Club Budersand
Architect: Rolf-Stephan Hansen
Year Opened: 2009
Germany's first new links in many moons opened in 2009 on the razor-thin sandbar-island of Sylt, not far from the Danish border. Built on a former industrial site, Budersand's dunes have a manufactured look, but the turf and texture (and deep pot bunkers) are links golf all the way.
Holland 
Royal Hague
Architect: Harry S. Colt
Year Opened: 1939
Royal Hague, just an hour from the Dutch capital, is by any standard one of the Continent's top courses. It's a links that, despite being much more heavily treed than in its early days, still plays true to form. The terrain is unbelievably bold and hilly, and while Harry Colt did a great job producing a walkable routing, it's a good workout and an excellent test of golf.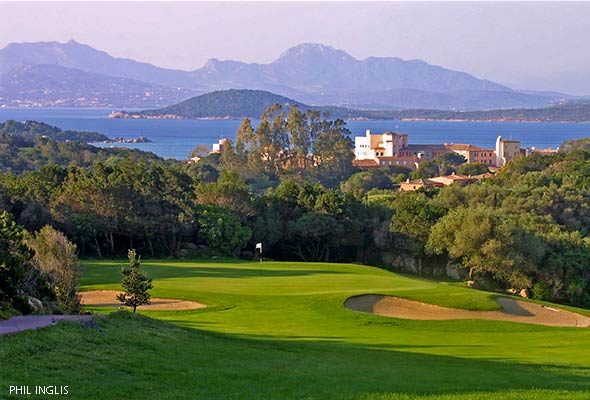 Italy
Pevero Golf Club
Architect: Robert Trent Jones, Sr.
Year Opened: 1972
We're cheating just a bit here since Sardinia isn't a part of the Italian mainland, but it's hard to pass over Pevero's spectacular coastal scenery (above) and gentle Mediterranean breezes. Some might find Trent Jones, Sr.'s design a bit dated, but the Costa Smeralda is one of the world's great holiday spots—here, you won't feel guilty about playing golf instead of touring yet another incredible Florentine church or museum.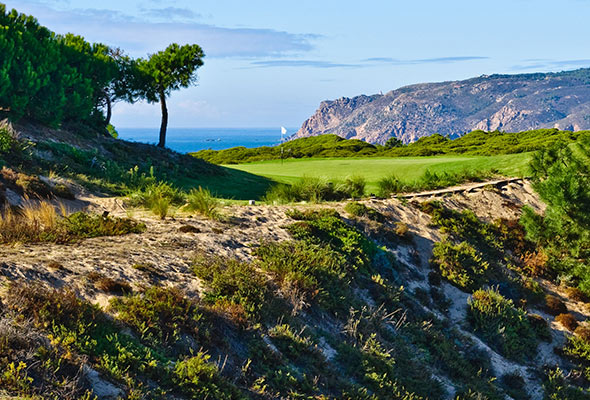 Portugal
Oitavos Dunes
Architect: Arthur Hills
Year Opened: 2001
Set in a piney dunescape hard by the Atlantic, Oitavos (above) is one of Europe's most-lauded modern courses. Although it features a traditional out-and-back routing, it also bears some of the "throw out the rulebook" hallmarks of new school design, like back-to-back par-threes and par-fives as well as a drivable, bunkerless par-four at the 11th. The Oitavos, a five-star hotel on-property, makes for a great base from which to explore the Lisbon Coast.
Spain
El Saler
Architect: Javier Arana
Year Opened: 1968
Valderrama is probably Spain's most famous course, but many observers believe that El Saler, near the Mediterranean coast city of Valencia, is the country's best. The course features a mix of parkland and seaside holes, boasting excellent rolling terrain and firm and fast conditions throughout.
Sweden 
Falsterbo Golf Club
Architect: Gunnar Bauer
Year Opened: 1930
Like Germany's Budersand, Falsterbo occupies a narrow peninsula in the country's extreme south, but this venerable old links possesses much gentler, natural features than its modern counterpart. While the opening holes play through a parkland environment, leading LINKS editor George Peper and Malcolm Campbell to diagnose Falsterbo with "multiple personality disorder", the majority of the holes are wide-open seaside golf. Three holes on the back nine wind their way around a charming lighthouse—for New Englanders, the scene might evoke memories of a Sankaty Head or Highland Links.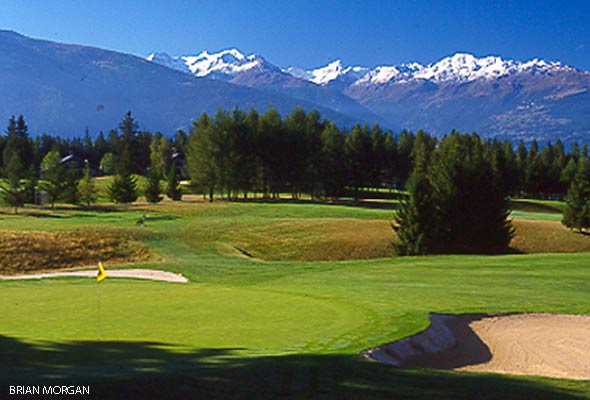 Switzerland
Crans-sur-Sierre
Architects: Harry Nicholson; renovations by Seve Ballesteros
Year Opened: 1928
The home of the European Tour's Omega European Masters, Crans-sur-Sierre (above) is built on an Alpine plateau almost a mile high in elevation. Expect big drives and even bigger views. While this is an old-line club, in the 1990s Seve Ballesteros made a series of dramatic alterations to the course—enough so that it now bears his name.