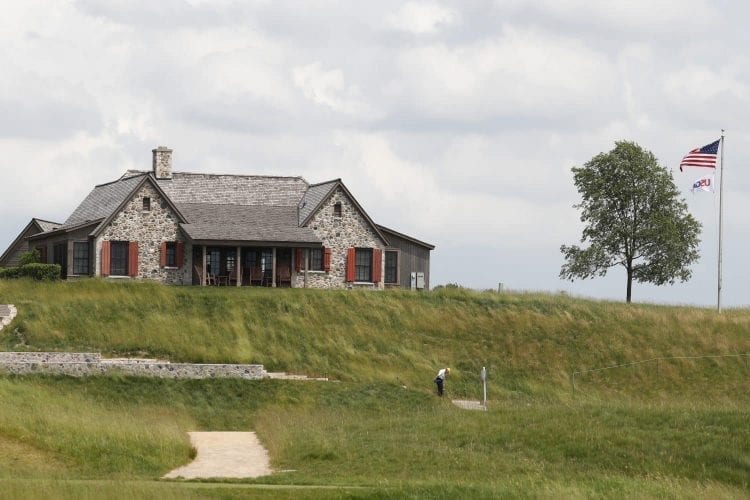 On Friday, a fan died while attending the U.S. Open at Erin Hills. In the days and hours since, we have learned more about the man, and thanks to a story in the Milwaukee Journal-Sentinel, we now have the full story.
Marshall "Chick" Jacobs was the 94 year old golfer that died, and he lived quite the life. A veteran of both World War II and the Korean War, Jacobs receive a Silver Star and a Purple Heart for his service.
He was also an avid golfer and golf fan. A one-time single digit handicap, Marshall served as a marshal for several years at the old Greater Milwaukee Open.
Just three days before his scheduled trip to the U.S. Open with his son Bill, Marshall's wife of 68 years Lucille died. While Marshall himself was in"poor health," he made the trip to Erin Hills anyway on Friday, having circled the day back in 2010. He told his son at the time, "I hope I'm still alive when this thing is here."
Jacobs lived out his wish spending, as his son described it, "three hours of bliss out there." Sitting in the grandstand behind the sixth green, father and son saw some of the best in the game come through during the second round, including Marshall's favorite golfer, Steve Stricker.
After watching Stricker get up and down out of the bunker to save par, Marshall became unresponsive and was later pronounced dead.
"He got to see his favorite golfer (Stricker) make that last putt," Bill said. "Jesus came down and said, 'Hey, Marshall, I'm going to bring you up and reunite you with your wife. Because obviously, you didn't want to spend any more time here."
As if the story wasn't touching enough, it has an even better ending.
Bill and his sister Patti returned to Erin Hills on Sunday for the final round. After the USGA learned of the story and learned that Stricker was Marshall's favorite golfer, they got Stricker to sign a player credential for the family. The family hopes to get the credential framed in time for the joint funeral that will be held on Friday.