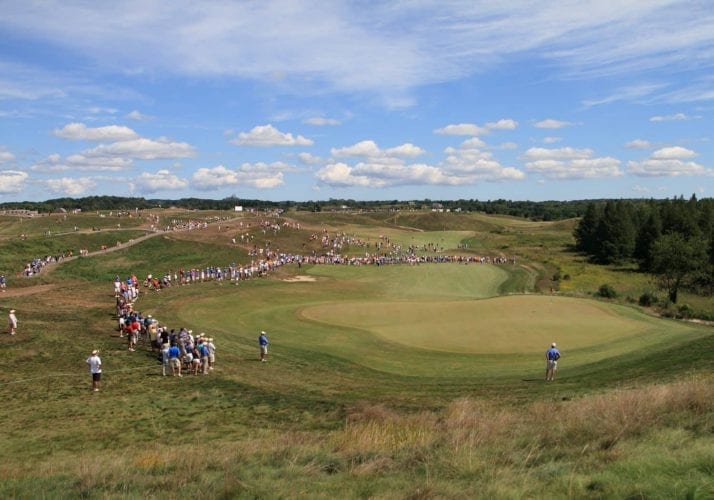 It wouldn't truly be a U.S. Open without some criticism of the course and the setup by the USGA. While Erin Hills is a relative unknown to most of the golf world, the thick Erin Hills fescue rough has already become a hot button topic.
It all started two weeks ago when Wesley Bryan took a scouting trip to Erin Hills and posted this video of how thick and deep the fescue is to his twitter account:
Holy wow! Here's your @usopengolf preview 😳 pic.twitter.com/VDLUdYiF4o

— Wesley Bryan (@wesleybryangolf) May 30, 2017
As more and more golfers have made their way to Erin Hills, more videos and opionions have surfaced.
There was this very charged video from Kevin Na on Sunday where he didn't shy away from how he really felt about the setup:
Yesterday, Lee Westwood had some fun showing the length of the fescue:
Ryan Palmer took it one step further, trying to hit a ball out of the thick stuff:
Had one shot from the fescue. Fun golf course. Very fair off the tee. Still have to drive it well… and long. pic.twitter.com/9zUi5MHvOE

— Ryan Palmer (@RyanPalmerPGA) June 12, 2017
Erin Hills has some of the widest fairways for any course on the PGA Tour, so we will have to wait and see how big of a storyline the fescue is once play gets under way Thursday. In the leadup to the 117th U.S. Open though, it has been quite the hot button topic.
Update: Per Rex Hoggard of The Golf Channel, the USGA cut some of the fescue rough on holes 4, 12, 14 and 18 on Tuesday.
Portions of the fescue rough @ Nos. 4, 12, 14 & 18 were cut on Tuesday at Erin Hills.

— Rex Hoggard (@RexHoggardGC) June 13, 2017