The names resonate like a church bell at high noon: Ballybunion, Lahinch, Doonbeg. What golfer hasn't dreamed of playing these legendary Irish links courses with their massive, marram grass-covered dunes on the southwest coast?
Of course, the experience is just that much better if you get to play them with a couple of friends. Well, imagine playing in a tournament on all three courses—in this case The Great Irish Links Challenge —with your golf buddies along with a couple of hundred other diehard golfers, particularly when base camp is the luxurious Lodge at Doonbeg (above).
With its stone exterior and meticulous interior, the five-star hotel, which opened in 2006, resembles a grand old country house and has taken Irish hospitality to a whole new level. The common areas and rooms are so inviting, it's a little hard to pull yourself away to play golf. But then you catch a glimpse of the 1st green in the distance set at the foot of a 100-foot high dune (below) and, well, the Guinness can wait. It's one of the best opening holes in golf.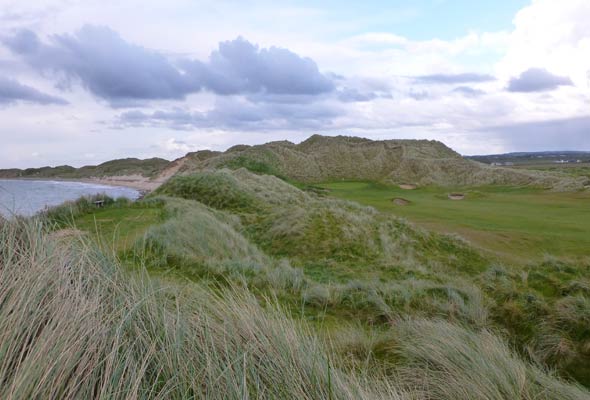 The tournament took place Monday—Thursday, May 7–10. I arrived Monday morning, but alas, my clubs did not (thanks United!). Not to worry. The staff at Doonbeg had a new set of TaylorMade RBZ woods and irons waiting for me for my afternoon practice round.
Designed by Greg Norman and routed in an around massive dunes, the course opened in 2002. The holes stretch for 1.5 miles along Doughmore Bay. When you get to the 9th green (below) and look back at the Lodge, you can't believe how far you've walked or how stunning the view is. The signature hole is the 111-yard 14th with the green perched precariously on the side of a dune. With the wind whipping off the bay, the hole can play a lot tougher than the yardage would indicate.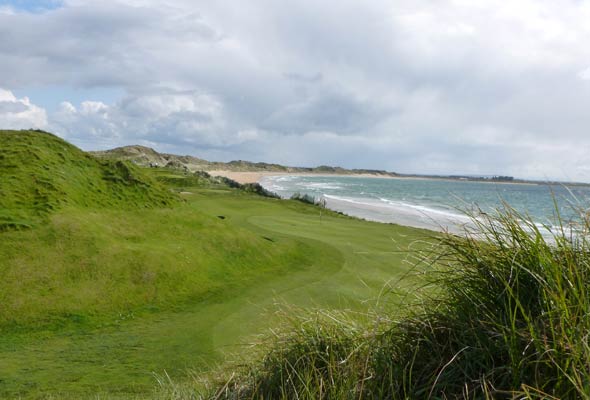 After a welcome reception the night before in a big white tent alongside Doonbeg's 1st hole, I played my first round of the tournament the following day at Lahinch (unfortunately my clubs didn't arrive in time for my round). The format is a better-ball Stableford with zero points for double bogey or worse, one for bogey, two for par, three for birdie, and four for eagle. Although there are four to a team, you only play with one of your other partners and two members of another team.
My team consisted of three other journalists: Fairways + Greens publisher Vic Williams, CNN golf correspondent Shane O'Donoghue, and Mike Touhill, the director of public relations for Kiawah Partners, which built and runs Doonbeg. Mike and I played together at Lahinch against an Irish father-and-son team, the elder of which played cross-handed because all his years playing hurling, an ancient Irish game similar to field hockey.
It was pretty cold and windy when we teed off, but a couple of holes in the wind died down somewhat, the sun came out, and it was just a glorious day. The meteorological goats for which Lahinch is famous were as about as far away from the clubhouse as they could be (legend has it that the closer they are, the more likely it's raining or going to rain). There are a fair amount of blind shots, but the course was just so much fun to play, particularly the Dell hole, the 154-yard 5th (below), with the rock on top of the dune that indicates the pin position. Our team managed to rack up 77 points total—good enough for second place overall.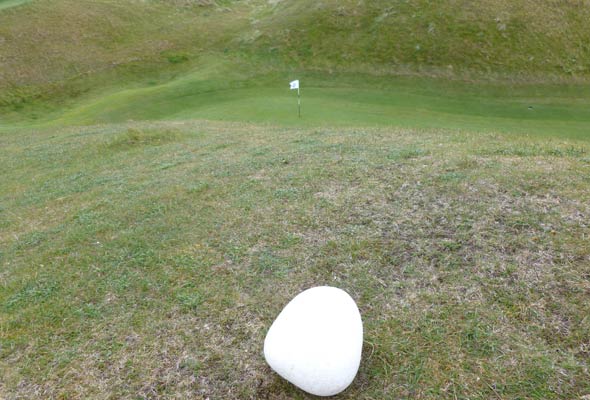 The next day I played Doonbeg with Shane against a couple of guys from New Orleans. Despite the good weather again, we didn't fare as well, which might have had something to do with one too many Smithwick's, an Irish ale a little lighter than Guinness, at Darby's the night before. If ever there was a pub with a pitch-perfect atmosphere, it's Darby's, named after Buddy Darby, the chairman and CEO of Kiawah Partners, who played on a team that included NFL great Dan Marino. We only managed 71 points, dropping us back to fourth or fifth place.
The final round with Vic was at Ballybunion, one of the most beautiful and challenging links courses there is with its giant dunes and small greens with a lot of fall-off. Native son Darren Clarke once likened it to Pinehurst No. 2 set on links terrain. Not for nothing does a graveyard sit to the right of the first fairway. "Oh, that's dead," I said to one guy teeing off in front of us who sliced it into the tombstones.
The constant views of the Irish Sea will lift anyone's spirits, however. Golfers get their first panorama after hitting their blind approach on the uphill 445-yard 2nd and climbing up to the green (below). The rest of the holes are just as exhilarating, particularly the 473-yard 11th, which plays downhill through the dunes along the edge of a cliff with a frighteningly narrow entrance to the green. Tom Watson called it his favorite par four.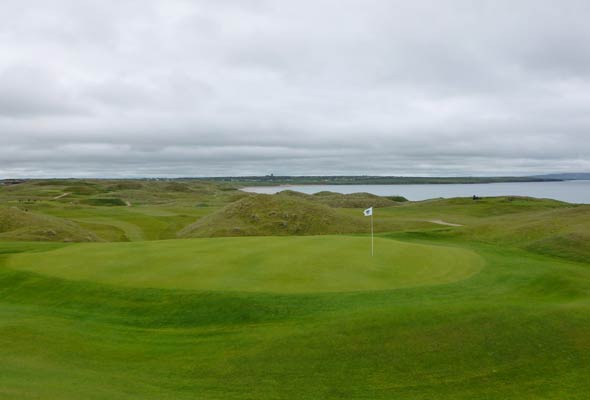 One of the great things about playing in an event like this is the other people you meet and on this day we were paired with two Bostonians, including 6'10" Ric Lewis who played pro basketball in Spain, had a cup of coffee with the Cleveland Cavaliers, and now runs a $12 bilion London-based investment portfolio.
With just a light breeze, Ballybunion played a lot easier than it normally does and our team managed to pick up 85 points—good enough for second place overall (we lost to a quartet of Irish sandbaggers—they know who they are). That night, there was a terrific awards dinner in the tent complete with Irish song-and-dance group right out of Riverdance.
The reward for our efforts? A beautiful piece of Irish crystal and a lifetime of memories.
From left to right: O'Donoghue, Williams, Touhill, and yours truly