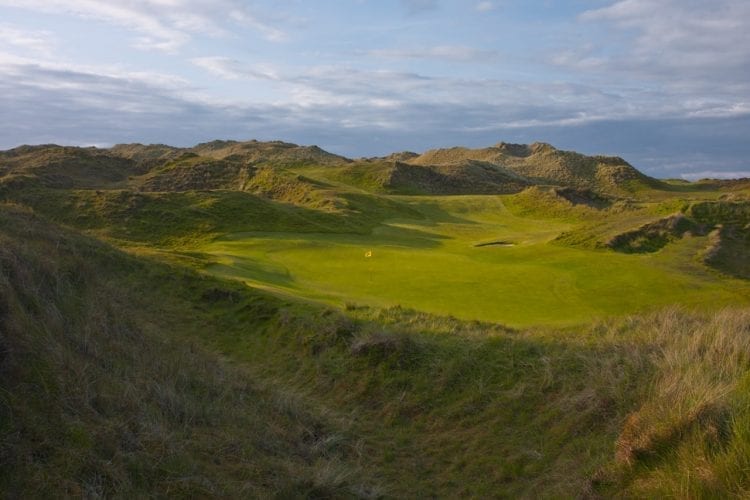 Given the timeless quality of the country's links, it's surprising that golf arrived in Ireland at roughly the same time as it did in the U.S., in the late 19th century. The Emerald Isle's most famous architect was a "Johnny Appleseed" type who by sheer prolific force helped the game reach new levels of popularity: Eddie Hackett. Born in Dublin in 1910, Hackett was afflicted by tuberculosis as a young man and took up golf on doctor's orders. He qualified as a club professional in 1932, began his career at Royal Dublin, then bounced around before becoming head pro at Portmarnock in 1939.
Hackett came to golf architecture fairly late—after apprenticing with Fred Hawtree's firm in the late '50s, his first solo design, Letterkenny, a parkland course in County Donegal, opened in 1967—but once he got going, he remained busy for the rest of his life. With more than 100 original courses and renovations to his name, he is the definitive father of small-town Irish golf. But he also got plenty of cracks at classic linksland, especially on the west coast, where most of his best work can be found.
Visiting Ireland, chances are good you'll walk in Hackett's footsteps, but you won't always know when or where. Since his death in 1996, subsequent generations of architects have updated his work. Hackett is best seen today as an evolutionary figure. Yet his record of creating golf in quantity—sometimes average, sometimes excellent, nearly always on a low budget—stands as a formidable achievement.
Design Signature:
Hackett's strength was clearly in routing—his courses almost always flow well. When it came to construction, he was a minimalist long before the term entered golf parlance. He would often speak of "divine terrain" and was given to expressions like, "You can't make a green as good as Nature." That said, his form of minimalism often doesn't look quite natural to the modern eye; one contemporary architect suggested this is because Hackett didn't have the same interest in detailed finish work as the new generation does. His courses tend to be long—a good portion of his renovation work involved finding extra yardage for older clubs—and fairly straightforward in presentation, with simply shaped pot bunkers and disc-like greens. A "bread-and-butter" approach often led him to site greens and tees on ridges, with the lows given over to valley fairways or, in the case of one-shot holes, rough grass or broken ground.
Best Course:
Waterville Golf Links, with its peninsular site tracking along the Atlantic as well as the tidal Inny Estuary, was the site of a lifetime for Hackett, so it's no surprise it yielded his best overall course. Tom Fazio's renovations markedly improved the front side, which plays through a gentler dunescape than the epic inward half, which is one of the finest nines in links golf, yielding tremendous holes both in its interior and along the coast.
Most Representative:
Enniscrone, a northwestern links of shifting temperaments, is a good stand-in for many Hackett courses today in that while the best of his work remains, the more indifferent stuff has been edited out. An opening pair of flat par fives was particularly disappointing, but in the late 1990s, Donald Steel shuffled this lesser land off to a new nine-holer and re-routed the main course into the big dunes.
There's nothing typical about the gargantuan dunescape at Carne Golf Links, in the wilds of County Mayo. Golfers with strong legs and a taste for quirk may well decide this is Hackett's very best. Holes like the bruising par-four 17th, with its boomerang-shaped green banked into an amphitheater of dunes and defended by a steep plunge short and right, are undiluted expressions of his adventurous spirit. May it remain ever so, as Carne was his final design.
Sleeper:
Though far from flat, the vast and rocky landscape that is Connemara Golf Links mostly lacks the big dune corridors that lend themselves to natural golf holes, making it a good example of Hackett's routing skill.
Most Famous Hole:
The par-three 12th at Waterville, which plays 200 yards from the tips across a deep, fescue-clad hollow, is the famed "Mass Hole." Following the Cromwellian conquest of Ireland in the 17th century, persecuted Catholics would gather here in secret to practice their faith. It was important to Hackett, a devout Catholic, that this low area not be disturbed by machinery.
Further Reading:
Hackett plays a starring role in Richard Phinney and Scott Whitley's excellent 1996 Irish travelogue Links of Heaven. One chapter offers a first-person account of stomping around with the architect during his routing of Connemara, while many of the course descriptions offer a valuable record of his work before revisions occurred. Hackett's own writing is sparse but an essay on golf design in Ireland appeared posthumously in Fred Hawtree's Aspects of Golf Course Architecture II, available via Grant Books in the UK.