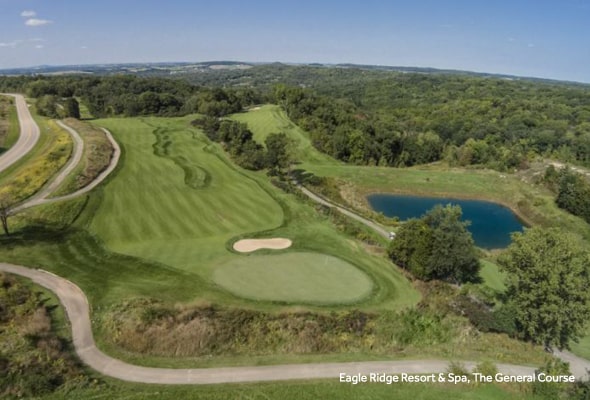 In the collective American mind, a principal characteristic of the Midwest is flatness. Regions of Michigan and Minnesota to the north or the Ozarks to the south form exceptions, but most of the Midwest is strictly on the level.
For golfers, this conjures up Midwestern resort courses dependent on water hazards for definition and bulldozers for their elevation changes. In historic Galena, Illinois, however, Eagle Ridge Resort and Spa stands as an anomaly. The landscape here is one of very few in the region where Ice Age glaciers failed to steamroll everything flat. Caverns, hills, bluffs and valleys remain intact, creating scenery reminiscent of the Pacific Northwest, New England or the Mid-Atlantic.
A three-and-a-half hour drive from Chicago, Galena is tucked in the Prairie State's northwest corner. Founded in the 1820s by lead miners and steamboaters who plied the Mississippi, Galena's era of greatest prosperity came in the 1860s. That's also the period when it served as home base for Union general Ulysses S. Grant, who moved to the town in 1860 to help run his family's leather goods store.
More than 100 years later, Galena entered a period of rebirth as a vacation spot for Chicagoans, with an old-fashioned Main Street full of restored Italianate and Greek Revival buildings (85 percent of which are listed on the National Register of Historic Places), small shops and cozy restaurants. A walk through town takes visitors past the Desoto House, a 150-year-old hotel where Abraham Lincoln once gave a speech from the balcony overlooking Main Street. The Desoto's famous guests included Abe's rival Stephen Douglas and William Jennings Bryan.
Eagle Ridge, founded on a preserve known as the Galena Territory, opened its first course in 1977. Over the next 20 years, the resort expanded to 63 holes, all designed by Roger Packard. At Eagle Ridge, Packard took whatever the terrain had to offer, incorporating limestone cliffs, natural bodies of water and tree-studded valleys into his layouts.
The 18-hole North course is the resort's most forgiving and picturesque, with large undulating greens and fairways that run through dense forest and along Lake Galena. The South is a rolling parkland layout that plays through a wooded valley. But when skilled players head off to Eagle Ridge, it's the General they come to salute.
Opened in 1997, the General is a collaboration between Packard and two-time U.S. Open champ Andy North. With several tees at 100-foot-plus elevations and uphill approach shots from fairways that undulate in width and depth throughout, the 6,820-yard General awards no particular advantage either to the power hitter or the finesse player. It's a course that tests your mental and physical skills alike.
An added benefit of the exercise is an array of views that seem out of place in topographically deprived Illinois.Eagle Ridge's accommodations range from a central inn to rental villas and homes, where the look and feel is adequate and homey in a middle-class, Midwestern way. More of a place for corporate outings and golf weekends, these lodgings aren't quite overflowing with charm or elegance. Then again, it's not the kind of resort where most golfers would be prone to hang out in their guest room when they could be playing golf, strolling the lakeshore or sauntering through downtown Galena.
The restaurants at each course and in the resort's main lodge range from ultra-casual pizza and salads to the requisite low-key eatery offering a steak/seafood/pasta menu. The staff at Eagle Ridge is exceedingly friendly, and the resort's Stonedrift Spa provides at least a half-day's distraction for non-golfing companions—as well as a place to oil up your neck and shoulders after an afternoon's duel with the General.