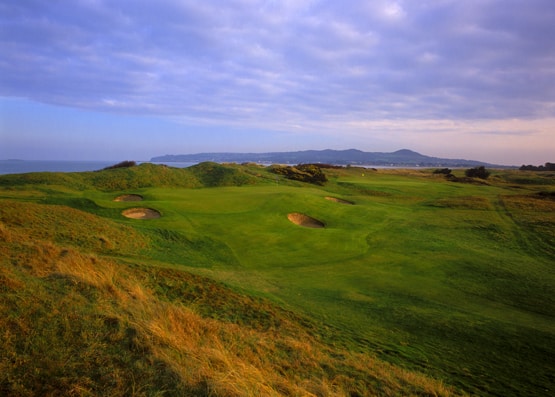 Steeped in culture, history, and good cheer, the Irish capital has now become a cosmopolitan city, the center of the country's torrid economic growth over the last 15 years. As a golf destination, there are courses old and new for visitors to enjoy while exploring this charming city.
Golf
Located on an island nature preserve, Royal Dublin Golf Club, a Harry Colt design renovated by Martin Hawtree, is three miles from city center. Just up the road are Portmarnock Golf Club and the Island Club. Pat Ruddy's European Club, the new kid on the block, has sea views from 16 holes. For a change of scenery, the parkland Palmer Course at the K Club, site of the 2006 Ryder Cup, is one of the King's best.
Accommodations
Established in 1824, the Shelbourne is the grand old man of Dublin. Just down the street is the equally elegant Merrion. The hippest joints are still U2's Clarence Hotel and, just across the river, the Morrison. Dublin's taxi fleet has tripled in recent years, making the excellent hotels of Ballsbridge, like the Four Seasons and Berkeley Court, all the more desirable.
Dining
Restaurant Patrick Guilbaud is the only Irish restaurant with two Michelin stars, combining French fare with Irish charm. Roly's Bistro offers an equally memorable dining experience. For burgers, nothing beats the Bad Ass Café, where Sinead O'Connor once waitressed, in the bohemian district of Temple Bar. Out of town, P.D.'s Woodhouse, with a flavorful oak barbecue, is in the town of Dalkey, easily accessible by train.
Activities
The world-class Dublin theater district is a bargain compared to Broadway or the West End. Dublin has a rich literary history; celebrate the lives and works of James Joyce and other literary giants at the Irish Writer's Museum. Pubs are at the core of Ireland's social scene, and you can't go wrong with Kehoe's, McDaids or Nearys. It's not exactly a pub, but you can enjoy 360-degree views of the city with your pint at the Gravity Bar, the last stop of a tour of the Guinness Factory.