I am blissfully reclined, 30 feet up a banyan tree. A warm breeze, infused with the smoky sweetness of incense, wafts across my brow. From a hidden speaker come the soothing strains of a harp-and-flute duet, while in the distance waves break gently onto a sandy beach. With me in the tree—actually it's a treehouse—is an exceedingly attractive woman, young enough to be my daughter. Well she's not with me per se, she's been paid to show up, and she's on her back beneath me.
Wait, that didn't come out right. Actually, I'm lying in an enormous nylon hammock and the young lady is positioned on the floor where she is about to use her feet to give me the most strangely sublime back massage of my life. This may not be heaven but it can't be far off.
It's all part of a larger celestial experience—a brand-new botanical spa attached to a brand-new deluxe hotel at the center of a $400 million transformation taking place at the Caribbean's most venerable golf resort, Dorado Beach.
It's been more than half a century since Laurance Rockefeller purchased this 1,400 acres of Puerto Rican paradise just as Americans were discovering air travel as the ideal way to get away from it all. An ardent conservationist, Rockefeller created a resort with deep respect for the environment—where no building was taller than a palm tree—while at the same time hiring Robert Trent Jones Sr. to craft four challenging courses. Instantly, Dorado Beach became a playground for the rich and famous, attracting everyone from Liz Taylor and Ava Gardner to Mickey Mantle and Joe Namath to Presidents Eisenhower and Kennedy.
Over time, however, it lost its luster, suffering through a series of owners with neither the vision nor coffers of Rockefeller. Then a few years ago, a committed group of investors brought Ritz-Carlton on board. Check-in at the resort now brings a Downton Abbey moment as a lineup of smiling maids and butlers assembles curbside and one of them, assigned as your personal "ambassador," leads you to a room that would make even Dame Maggie Smith gush with glee.
The hotel that stood on this spot since day one has been razed and replaced by 114 ultra-chic guest rooms and suites spread across 11 two-story buildings. Each of the ground-floor rooms has its own infinity pool and lawn leading to the beach just steps away, while each of the second-floor rooms has a rooftop pool. If that's not enough aquatic extravagance, the rooms also have both indoor and outdoor showers as well as soaking tubs.
But why stay in the room when just outside are those Trent Jones golf courses, a three-mile beach, 11 miles of hiking trails, an enormous water park, a sleek new fitness center, a magnificent beachclub, and a chic restaurant from celebrity chef Jose Andres (not to mention a spa that offers hammock massages in a treehouse)?
For me, golf was the main attraction. I hadn't been to Dorado in 20 years, back when the courses were referred to as the East, West, North, and South, the last two attached to the high-rise Cerromar hotel. The East and West have retained their names but the North and South are now called Sugarcane and Pineapple, and the Cerromar is about to be pulverized in favor of a lavish new outpost from Ritz-Carlton's parent company, Marriott. The resort's facelift called for major renovations of all four courses, and the first to get the treatment was the flagship East, which I played in the company of Dorado's chief agronomist, Brad Boyd.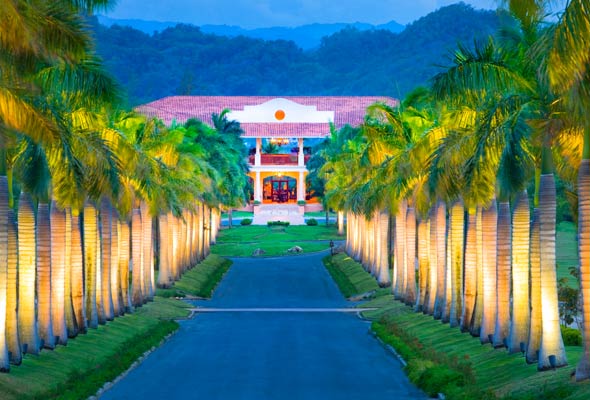 Two things struck me the moment we arrived at the first tee. The first was that this wasn't the first tee—it was the 10th, at least as I remembered it. The nines had been reversed. The second was that this was a much more airy and open course than the one I'd played. Robert Trent Jones Jr. supervised the renovations of his father's work and one of his priorities was to remove hundreds of trees, both to open up the vistas and to improve the health of the turf by letting in more air and sunlight.
One of the most dramatic results came at the 4th—formerly the signature 13th hole—a par five that zigzags to a green fronted by a pond and backdropped by the sea. (I vaguely recall magazine ads from my youth featuring Chi Chi Rodriguez on this hole offering anyone who could eagle it a free return visit to the resort.) Numerous palms have been cleared from the back of the green and the fairway has been raised a bit so the blue Atlantic is now visible on all shots into the green. As I can attest, it's a beautiful place to make a bogey.
I originally lamented the relegation of this fine hole to the middle of the front nine, but as we came to the finishing stretch, I understood the switch. The "new" 14th is a long par five that swoops like a roller-coaster, downhill and back up, and it's followed by another hole with a steep drop, a short four where the green is reachable from the tee but so is water on the right. At the 16th tee, Boyd drew my attention to Trent Jones's artifice, an echelon of fairway bunkers that appear to extend all the way to the green but in reality lie 200 yards short of it. The course concludes with a nerve-testing par three over water followed by a par-four home hole that wends gracefully to a fun-filled green.
Jones Jr. and his associate Bruce Charlton, working together with Boyd, lengthened Jones Sr.'s runway-strip tees so the back markers now stretch to 7,200 yards. They also enlarged the greens by 25 percent and converted the surfaces to fast-running ultra-dwarf Champion bermudagrass. "If we want to, we can get them rolling at 12-plus on the Stimpmeter," says Boyd, who should know something about green speed—he grew up playing at Oakmont. The condition of the entire course was extraordinary, particularly for a tropical layout.
Next up for renovation is the West, almost as formidable a layout as the East, followed by the more benign Sugarcane and Pineapple courses. There is also talk of a massive Himalayas-type putting course.
The price for a stay at the new Dorado Beach is not modest: $1,500–2,000 per night.
However, if the over-the-top luxury of The Ritz-Carlton Reserve is more than you want or need, a few hundred yards away, beside the Sugarcane and Pineapple courses, is Plantation Village, a collection of two- and three-bedroom condominiums that are offered both for sale and rental. The daily charges begin at $1,300, but bear in mind, the places sleep up to six, and they have full kitchens.
The grand plan, however, is to sell these residences. Prices for the fully furnished condos start at just under a million dollars. If that sounds daunting, know this: There is no down payment, there are no closing fees, and the Puerto Rican government has agreed to exempt buyers from real estate tax for the first five years of ownership. Such incentives have spurred a spate of sales, both of the condos and of a bevy of higher-end homes set directly on the beach beside the Ritz-Carlton, where prices start at $2.5 million. Thus far, 27 homes have been built and 20 have sold, with plans to build at least another 60. All the homes come with membership at the golf club.
In all, the real estate inventory at Dorado Beach is roughly one billion dollars—a number that would make even Rockefeller take notice—but as sales are made and profits recorded, continued investment, enhancement, and expansion will take place. In the meantime, the old glitz has already started to return. A few months back, the forthcoming thriller Runner, Runner brought Ben Affleck and Justin Timberlake to Dorado for filming.
I wonder if those guys got the massage.