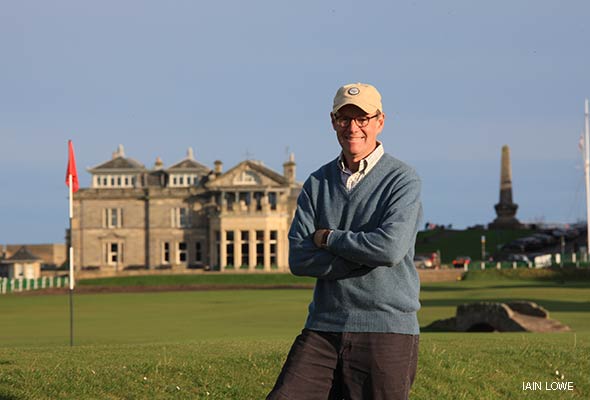 Lost in the outrage over the one-stroke penalty for slow play slapped on 14-year-old Guan Tianlang at this year's Masters was this simple fact: It was the first such penalty ever imposed at the Masters.
Indeed, in the long history of golf's four major championships, there have been only five slow-play penalties. The others: two strokes to Robert Impaglia in the 1978 U.S. Open and one stroke each to Edward Fryatt in the 1997 U.S. Open, Steve Lowery in the 2004 PGA, and Gregory Bourdy in the 2010 PGA.
Let's see, by my count that's 424 tournaments comprised of 1,760 rounds, which works out to roughly 150,000 scorecards and somewhere around 11 million strokes—many of them executed at a glacial pace. And of those 11 million strokes, how many were penalties for slow play? Six.
According to the Augusta Chronicle, the average pace on Thursday and Friday of this year's Masters was five hours and 15 minutes—about the same as it's been for years. The Masters guidelines call for such rounds (three-balls) to be completed in no more than four hours and 38 minutes. So it was indeed criminal that young Guan was the first to be penalized: He should have been around the 101st.
As we all know, slow play is like the weather—everyone talks about it but no one does anything. Ah, but now a powerful new voice has been raised, that of Glen Nager, the President of the USGA. At his association's annual meeting in February, Nager announced a multi-pronged assault on the game's number-one scourge, declaring "now more than ever the golf community needs to act."
Some of the initiatives sound formidable if also a bit formless: an analysis of the factors that cause slow play; the development of a pace-of-play model; a revamp of the USGA's Pace Ratings system; on-site assistance for golf course managers; an online resource center; and player education programs.
But Nager's plan also calls for consultation with the PGA Tour with an eye toward improving the pace of play in the U.S. Open. For those of us who lay a large measure of slow-play blame at the feet of the Tour players, that sounds particularly encouraging.
Certainly Merion would be an appropriate, albeit ironic, venue for the USGA to score some points, for it was during the last U.S. Open at Merion, 32 years ago, that the USGA suffered a  huge embarrassment.
If you think the Fred Ridley/Tiger drop fiasco was clumsy, consider this incident from the second round of the 1981 U.S. Open as described by Jeff Silverman in his forthcoming club history, Merion—The Championship Story:Journeyman John Schroeder, later a co-founder of Cobra Golf, had such a reputation for slow play that fellow pros used to joke he should carry 13 clubs and a lantern. He and playing companions Forrest Fezler and former 49ers quarterback John Brodie reached the final green 20 minutes behind the previous group; as they walked off after putting, USGA official—and former executive director—P.J. Boatwright assessed two-stroke penalties "for undue delay" on Schroeder and Fezler. In what Newsweek called his "swiftest move of the afternoon," Schroeder appealed to the four-man rules committee, received a prompt hearing in the clubhouse, and won a quick 3–1 decision, with Boatwright the minority dissenter.
Tom Meeks, now retired from the USGA staff, worked closely with Boatwright, and following Boatwright's retirement became responsible for the setup and conduct of several U.S. Opens. He was in the scorer's tent at Merion that day and recalls the incident:
"After P.J. informed the players of the penalty, he informed me and told me to be sure the strokes were added to their scores on hole 18. Obviously the players were not happy but they did add the penalties as instructed. I recall several groups following Schroeder's, who had heard about the penalties, applauding the USGA for doing something about slow play and particularly about Schroeder.
"When the penalties were rescinded, it was like putting a knife in P.J.'s back. I don't think he ever got over what they did to him. Many people said it was the worst mistake the USGA ever made." Boatwright died in 1991, but not before passing on his knowledge and experience to Meeks and a few others, notably David Eger—the same David Eger who made the fateful phone call to the Masters about Tiger's mis-drop. (Eger held Boatwright's USGA job from 1992–1995.)
So Merion would seem the ideal place for the USGA to right its mistake by redressing decades of inaction and announcing a tough new policy.
Sadly, that does not appear to be in the cards. When contacted a few weeks before the Open, the USGA had few specifics to offer. Asked whether anything was planned in the wake of President Nager's war on slow play, John Bodenhamer, the current USGA Rules and Competitions kingpin, replied as follows:
While we don't believe there is a significant issue at the U.S. Open in terms of pace of play, we are looking at areas where we can make improvements. It is important to recognize that the purpose of the U.S. Open is to test the best players in the world with a large field and a demanding set-up philosophy and therefore, major championship competition may not represent an appropriate pace-of-play model for the recreational game.
This is particularly disappointing because the USGA actually has in place a system for policing pace of play. It involves the use of checkpoints at the 4th, 9th, 13th, and 18th holes. Players are given time targets to hit—miss one target and they're warned, miss two and each player in the group gets a one-stroke penalty, miss three and it's an additional two strokes, miss four and everyone gets disqualified.
The system has been used at numerous USGA Championships where penalties have been imposed and pace has improved. But, inexplicably, they have not rolled it out for the Open. Five years ago, when asked why not, they said they were "studying the system" and hoped to be able to implement it. This time, when asked why not, Bodenhamer said:
We are studying the USGA checkpoint system; how we might enhance it, the use of technology, and the practicality of expanding its use in USGA championships. At this time we do not anticipate incorporating the system at the U.S. Open.
Just how much studying does it take?
Another suggestion—this one advocated by former USGA Executive Director David Fay—is to reduce the time players are allowed to play their shots once they're on the clock, from the current 40 seconds to 25 seconds or less.
Bodenhamer:We do not anticipate modifying our policy to reduce time allowed to play a shot.
So what, if anything, will we see at the U.S. Open in this avowed year of action? During the telecast, we'll likely see a spate of cheery public service announcements poking lighthearted fun at slow-playing weekend golfers. In between those, we'll see a four-day death march of extremely slow-playing professional golfers.
I may be wrong—I hope I am. Maybe the USGA will step up and do something that is truly, in their words, "for the good of the game." If not, it will be a shame—and shameful.