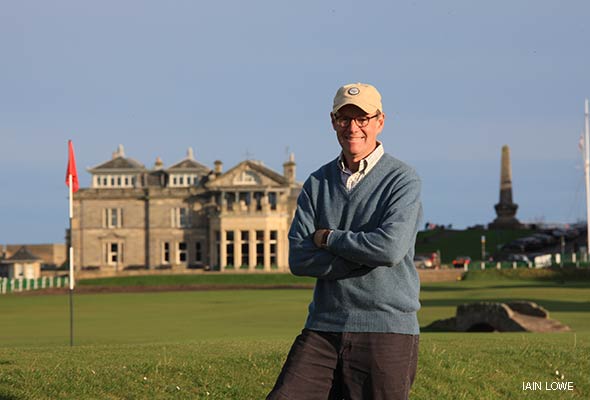 While putting together this month's cover story on the Top 25 Islands in Golf, I was reminded of the quality I value most highly when it comes to rating and ranking golf courses: charm. Charm, of course, is a difficult thing to define. There are charming mountain courses, charming lakeside courses, and courses that are charming just because a fine architect made fine use of fine land. But for me, charm derives in large part from one thing: views of the sea. I'd rather play a mediocre golf course by the sea than a great one inland.
Until recently, however, I had no way of quantifying that experience, no metric for comparing or rating seaside courses. Then it dawned on me: If sea views are what it's all about, why not just count them. Here then, for the first time, is the Peper Charm Rating System.
First: Every course begins with 50 points. Second: On each par four or five, score an additional 1 point when the water is visible from the tee, 1 point when it's visible from the teeshot landing area, and 1 point when it's visible from the green—maximum 3 points. Third: On each par three, add 1 point when water is visible from the tee and 1 point when it's visible from the green—maximum 2 points.
On a standard course—with 14 long holes and 4 par threes—there's thus the potential for 14 x 3 (42) plus 4 x 2 (8) bonus points, for a total PCRS score of 100.
Just to be clear, "visible" means in view from any perspective. You don't need to be pointing down the fairway, you're allowed a full Linda Blair 360. Also, in rare cases, I include courses where the views are of water that is not salinated. Two that jump to mind are Whistling Straits and Arcadia Bluffs, where the water in question is Lake Michigan, which happens to be larger than a few oceans. Both are certified charmers.
Now, since my system is brand new, I haven't run the numbers on many courses, but I can attest that few in the world reach the lofty 100-point height, and most of those that do are missing from the various top 100 rankings. One exception is New Zealand's Cape Kidnappers, set on a string of cliffs 600 feet above the Pacific Ocean. If memory serves, Jack Nicklaus's The Challenge at Manele on the Hawaiian island of Lanai rates 100, too.
Both Royal Porthcawl and Pennard in Wales have sea views from every hole, so I'd expect them to have scores somewhere in the 90s, as should Old Head in Ireland, The Ocean Course at Kiawah, Half Moon Bay and Trump National in California, Palmilla and the Desert Course at Cabo del Sol in Mexico, Mossel Bay in South Africa, and Le Touessrok in Mauritius, all of which claim to have ocean views from all 18 holes. Cabot Cliffs, the Coore/Crenshaw course underway in Nova Scotia will be an all-18er as will both Tiger's and Jack's new courses in Mexico (see page 50).
The first U.S. Open site, Newport Country Club, scores 80 points but only one other—Pebble Beach (around 90)—rates higher. That will change next year when Tacoma's Chambers Bay (with a whopping 97 points) becomes the highest charm-rated course to hold our national championship.
What's a good benchmark charm score? Probably 75, but I haven't tested my system enough to know for sure—clearly I need to get out there and do more on-site research.
WHERE I'VE PLAYED RECENTLY
Old Macdonald/Bandon Trails  Bandon, Ore. I hadn't visited Bandon in a decade and, oh my, what I'd been missing. It's a testament to the place that, if asked to choose my favorite course of the four, I'd be very hard pressed. OM and BT, while very dissimilar, both wowed me, as did the new putting course, The Punchbowl.
The Royal Palace Course  Agadir, Morocco. Arguably the world's most exclusive club (there's only one member, the king—a non-golfer—and it's open only one day a year except for the week when the European Tour holds the Hassan II Trophy), this stern seaside test from Robert Trent Jones Jr. features five par threes, five par fives, eight par fours, and 18 vexing greens, all encircled by seven miles of 15-foot-high walls.
Rockaway Hunting Club  Lawrence, N.Y. I was a member here a couple of generations ago, hadn't been back in years. In the meantime, a Gil Hanse renovation has transformed it from a pleasant if sometimes soggy jaunt into a firm, boldly bunkered beauty, with greens that were among the fastest and smoothest I've seen all year. Made me sorry I ever left.