Any new-course opening is cause for celebration these days. But give an extra round of applause for Tom Doak's first course in the Nebraska Sand Hills, with its perfect, USGA-spec soil, natural blowout bunkers, and rolling terrain—what Ben Crenshaw once called the Promised Land for golf course architects.
Covering more than 23,000 square miles in the central and western parts of the Cornhusker State and formed by glacial erosion, the ancient dunes could be thought of as our Sahara, but with stabilizing prairie vegetation. Crenshaw and partner Bill Coore put the area on the golf map when Sand Hills Golf Club—the consensus No. 1 modern design—opened in 1995. Now Doak is leaving his considerable mark just up the road with the second course at Dismal River Golf Club.
"The Sand Hills is an amazing place," says Doak, who beat out Tiger Woods for the project. "You've got to drive through 50 miles of dunes just to get to where Sand Hills and Dismal are, and if you've got an imagination, you've probably laid out about 100 golf holes before you get there. I remember my first visit with Jim Urbina to Sand Hills Golf Club. We were on our way in the car, driving through the dunes, for about five minutes and the directions called for us to turn off at mile marker 55. I said, 'If we have to drive another 50 miles, it must be one piece of ground they got. I would have stopped right here.'"
The land given Doak at Dismal might be better than at Sand Hills because it's more diverse: The back nine runs along a river at the base of a big bluff, giving players a better frame of reference. While the holes at Sand Hills are stunning, strategic gems, at the end of the day they can be a little hard to remember because of the lack of orientation.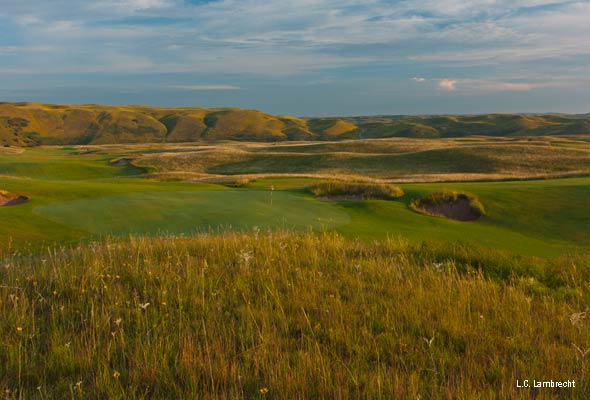 No surprise, Doak makes excellent use of the landforms, such as on the 430-yard, dogleg-left 2nd, where the aiming point for the tee shot is a huge blowout bunker on a distant peak; on the 441-yard, cape-style 13th (top photo), an old buffalo trail along the bluff backdrops the green. With its wide playing corridors and tame (for Doak) greens, the course complements Dismal's more challenging Nicklaus layout, which has been criticized for being too difficult (though it's been softened somewhat since opening in 2007).
Offering a variety of holes and a thorough exploration of the property, Doak routed the front side above the club's main entrance road before transitioning about 200 feet down to the river holes. The finish is particularly strong. The par-four 17th features a blind tee shot over a crest followed by an approach to a small thumb of a green that falls off left, right, and rear. As for the 420-yard 18th, Doak calls it "one of the best finishing holes I'll ever get to build," with two sets of tees offering different perspectives and a promontory green hard by the river.
There are no tee markers, allowing golfers to play from wherever they want. But perhaps the most unusual aspect of the routing is that it neither starts nor ends at the clubhouse, nor does it end where it starts (shuttles take golfers out and back to the walking-preferred course). The lack of rules simply freed Doak to work his minimalist magic all the more.
Save for its name, there's nothing dismal about it.