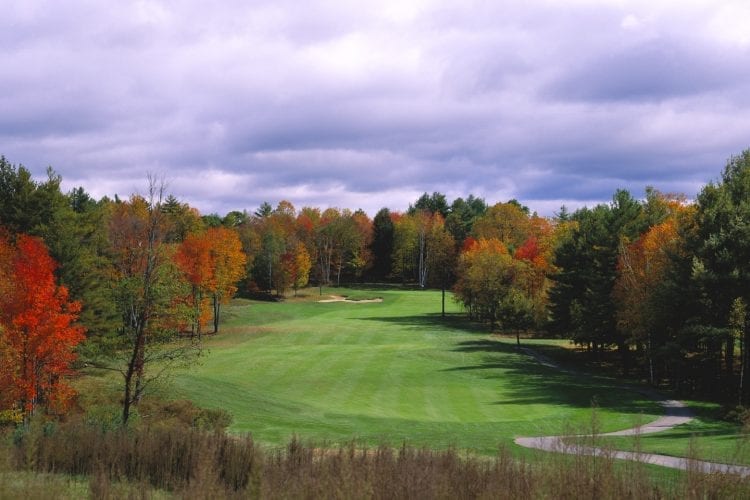 The Crumpin Fox Club sits in the middle of the Pioneer Valley, 50 miles north of Springfield, Massachusetts, on the eastern edge of the Berkshires at the foot of Vermont's Green Mountain. The club's name derives from a local 19th century bottling firm, the Crump and Fox Soda Company, which everyone in town used to refer to as "Crumpin-Fox."
Crumpin-Fox has been masterfully routed so that no two consecutive holes run in the same direction. There's a constant shifting of gears: modestly uphill holes, then dramatic downhill par 3s, par 4s both long and short, no discernable favoring of those who fade or draw, and a memorable collection of par 5s.
Crumpin-Fox starts with a number of fairly tight holes, then opens up midway through the front nine. The most memorable hole is surely the par-5 8th. It starts out from an elevated tee nestled deep in the forest. Dark woods impose themselves on the right, the fairway cants modestly to the left, and a massive lake runs down the entire left side of the hole. The effect is terrifying, until you realize that the wide fairway will hold a drive. No fairway bunkers needed here, but at some point, the player has to confront the water. A controlled second shot will leave a manageable third across. For the more cautious player, a safe—and dry—route is to be found by plowing on straight ahead and then turning hard left at water's end.
The par-5 17th is Crumpin-Fox's most sophisticated hole. Three features work to make this a brilliant hole. The first is a shagbark hickory tree 100 yards short of the green, smack in the middle where the fairway angles to the left. Then there's the putting surface, set on a deep diagonal from left to right atop a natural terrace. Protecting it is a Tillinghast-style bunker complex, arrayed in a classical echelon formation so that there's no circumventing it: The only question is how.
A graceful trend in modern design is to array the final hole so it runs alongside rather than directly up to the clubhouse, as traditional layouts like National Golf Links, Shinnecock Hills and Toronto Golf Club do. At Crumpin-Fox, the finish is equally regal. Guests lounging out on the clubhouse deck witness the agonies (and occasional ecstasies) of players trying to avoid that one final pond fronting the 18th green.