By Adam Schupak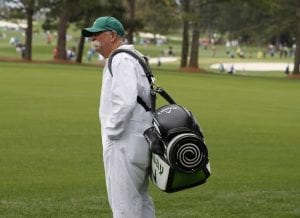 He's caddied for Tiger Woods and Peter Jacobsen, now works with Jim Furyk, and is more recognizable than many of today's players. So what are his favorite memories, what was it like when he started, and how did he get that nickname?
Q. What is your fondest memory of being on the bag for Tiger Woods during the 1997 Masters?
Just watching him take that golf course apart with both his length and his putter. Watching him hit pitching wedges into the 15th hole. I don't think that had ever been done. The 30 we shot on the back-nine Thursday was just an unbelievable way to come back from shooting a bad score on the front nine; turning what could've been 75 or 76 or who knows what into 70 set the tone for the whole week. I don't know what it had to do with anything, but walking to the 10th tee I said something to the effect of it's nothing more than the start of a long tournament. Let's go shoot something in the red and we'll be all right, and from there he just dominated that golf course.
Q. Do you wish you could've been on the bag for more of Tiger's major victories?
I don't hold a bit of animosity because he fired me (in 1999). I don't know why he did exactly. I've never asked him and I never will. I don't care. It happened and you move on. I went home after the firing and waited it out. As crazy as it sounds, I considered trying to play as a professional, be it the mini tours or try to Monday into some Senior Tour events. At that time, I still felt like I could play, but nothing ever came of it.
Q. How did you get the nickname Fluff?
A couple of caddies from Florida—Eddie Davis and Eddie Fletcher—named me after Steve Melnyk. His nickname in college was Fluff. They started calling me Short Fluff, and pretty soon it was shortened to Fluff. I have no idea why they started calling me that. I think they were trying to get my goat because Steve Melnyk isn't exactly the most handsome man.
Q. You had your first winning bag with Peter Jacobsen at the 1980 Buick Open—before many of today's players were even born—and are still going strong at age 70. How much longer do you plan to caddie?
I came out for a summer 40-plus years ago. I had no intentions of turning this into what it has become. I've never planned anything in my life. I always have gone with the flow. It must be the Grateful Dead in me. Every time I went home to see my dad, he'd ask me, "When are you going to quit this caddie thing? When are you going to find yourself a real job?" After four to five years working with Peter, my dad quit asking me that question.
My daughter is in high school now. She's got three more years so I'd like to go at least that long. If you saw me after the round getting out of my car at the hotel, you'd say how the hell is he going to caddie tomorrow? But somehow or other I get out here and I put one foot in front of another. How many more years? I can't really say. I'm thinking I might outlast Jim. I'm thinking he might retire before me. Just imagine if I can make it to 80; then I can be really crotchety.
Q. What was the life of a caddie like when you started in 1976?
Making a living was not even part of the equation. My first bag was $20 a day and 3 percent. Cesar Sanudo was the first guy that actually paid me $100 when we missed the cut. That was huge. A bunch of us would share a room, low round of the day would get the bed, and the rest of us would make do. If you had a good week, you partied hard; if you didn't, you got by. It wasn't like we were out there saving money. But I didn't have anything but me.