Ben Crenshaw has consistently ranked Royal Melbourne's Composite course among the top two in the world. He's not alone. Greg Norman and Nick Faldo have expressed similar sentiments. Unquestionably, the Composite is Australia's best golf course. What can be questioned is whether Royal Melbourne's Composite course is an actual golf course. Or should it be treated merely for what it is: a patchwork collection of all-star golf holes hewn from the club's East and West courses that serves a business purpose by hosting big events.
The composite course concept is newsworthy again in 2022, as the U.S. Open revisits The Country Club, in Brookline, Mass. The Country Club is an American blue-blood, a founding member of the United States Golf Association in 1894 and host to the sport's greatest upset, when local amateur Francis Ouimet downed famed British professionals Harry Vardon and Ted Ray in a playoff for the 1913 U.S. Open.
Ouimet's heroics took place over The Country Club's original 18 holes, now known as the Main course. By 1927, the club had tacked on nine additional holes—six of them designed by William Flynn—called the Primrose nine. From 1957 on, no future national champion would walk in Ouimet's precise footsteps, because for that year's U.S. Amateur The Country Club decided to configure a new, composite test for the game's elite competitors. It dropped three holes from its Main course and added, in a bizarre twist, three-and-a-half holes from its Primrose nine to form its new Championship layout. In so doing, it gave rise to an important, ongoing, yet small classification of courses: composites.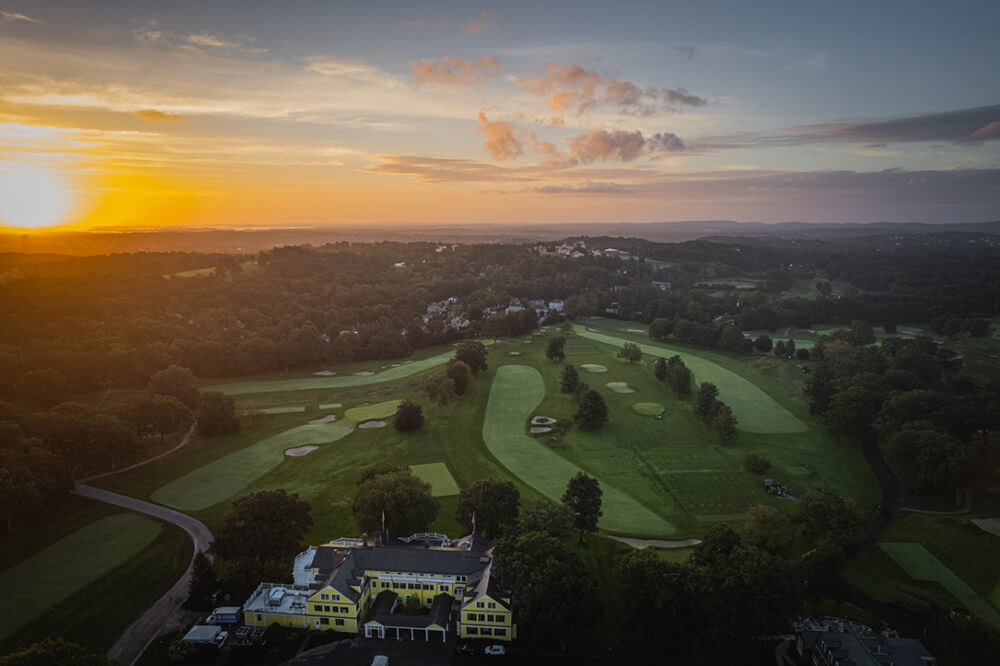 A composite is used for tournaments when organizers decide that an existing course is less than ideally suited to the task and the facility has more than 18 holes on its property. A new 18-hole routing is created by pairing holes from one course with holes from another. In some cases, this coalescence is done to boost the challenge or calibrate the balance. In others, it ensures better gallery flow or accommodates the infrastructure required at major tournaments.
Composite courses sear into our psyches because of television. They impact the professionals in big events. Where they fall short is on course-ranking lists—because they aren't actual courses. By 2007, the top media outlets stopped ranking composites. The Country Club saw little fall-off in its ranking. For Royal Melbourne, however, the decline was enough to drop it from the World's Top 10. Egos were wounded with the demotion, but the publications stood firm.
Planning for the 1957 U.S. Amateur and subsequent 1963 U.S. Open, The Country Club membership wanted its course to present a tougher test. "In the 1950s, members talked about needing a longer, more challenging golf course for national championships," explains Brendan Walsh, head professional at The Country Club. "Four decades had passed since the 1913 U.S. Open. What they came up with was very unusual."
Was it ever. For the Amateur, holes 1, 2, and 4 of the Main course were excluded and a new hybrid hole added to the layout, a tough par four that combined the tee box and fairway of Primrose 1 with the green complex of Primrose 2. By combining a short par four and a short par three into a stern, 450-yard dogleg-left with water fronting the green, The Country Club had invented one of its most fearsome tests. (Credit for the idea goes to Ginny Pearson, the wife of Charlie Pearson, a club member and USGA Vice President.) Ultimately, however, the configuration proved unsatisfactory.
So for the 1963 U.S. Open, holes 1, 2, and 4 from the Main course were reinserted, while holes 9, 10, and 12 were eliminated. Yet, the serious tweaking wasn't done. Organizers transformed the short par-four 2nd hole into a 185-yard par three, reducing par from 72 to 71. Despite (or maybe because of) a winning score of 293, nine-over-par, this version would stick—until the 2013 U.S. Amateur, when a few other changes were tried.
For this year's U.S. Open, the tiny, 131-yard par-three 12th of the Main course, recently restored by Gil Hanse, has been put back into service and will play as the 11th hole during the championship. Not seen in top competitions since 1913, it's now part of the composite makeup for one reason: "This is a really neat golf hole—let's use it," says Jeff Hall, the USGA's managing director, Rules and Open championships. Dropped is Main course hole 4, a short par four.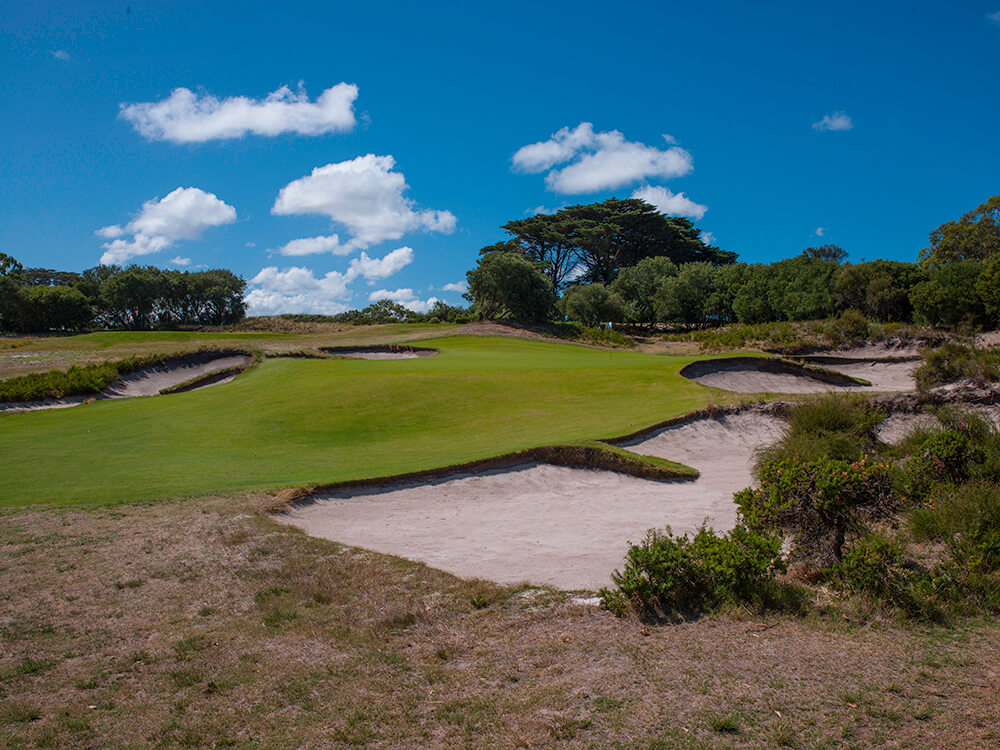 Confused? Einstein would have had trouble sorting this out. What's significant is that the additions, deletions, par changes, design changes, and the rejiggering of the routing have likely improved the golf course. The challenge is elevated, yardages and par are better balanced from one nine to the other, and awkward player and spectator walks have been eliminated. Ultimately, those are the goals for a composite tournament course.
That's precisely what Royal Melbourne had in mind when the 1959 Canada Cup arrived. Later renamed the World Cup, the Canada Cup that year featured 30 two-man teams from countries around the world. As the club expanded following Alister MacKenzie's arrival in 1926, its holes spread across newly acquired land parcels, called "paddocks." With the completion of MacKenzie's West course in 1926 and Alex Russell's East course in 1931, some of the holes on each course spilled onto different paddocks, which necessitated crossing streets to access them. For the 1959 Canada Cup, the composite employed 12 West holes and six East holes. It could be argued that these were the 18 best holes on the property. Yet, organizers used this arrangement primarily for safety and convenience: Officials didn't want contestants and spectators crossing busy Cheltenham and Reserve Roads.
Royal Melbourne proved a superb test. The Australian team of Kel Nagle and Peter Thomson could do no better than plus 3, yet romped to a 10-stroke victory over Sam Snead and Cary Middlecoff of the United States. The Composite course was now firmly entrenched among the world's best.
The original Composite remained in play for many important events until the 1998 Presidents Cup, when the routing was altered to have the finishing holes closer to the clubhouse. Presidents Cups in 2011 and 2019 saw further tweaks, with several holes being shuttled in and out and others renumbered.
In the U.S., two other prominent composite tournament courses resonate. At Ridgewood Country Club in Paramus, N.J., its 27 A.W. Tillinghast-designed holes are all of such high quality they're used almost interchangeably in big events, which have included the 1990 U.S. Senior Open, 2001 Senior PGA Championship, and The Barclays in 2008, '10, '14, and '18 (when it was The Northern Trust).
Tim Moraghan, who served the USGA from 1986 to 2007 as Director, Championship Agronomy, helped prepare The Country Club for the 1988 U.S. Open and Ridgewood for the 1990 U.S. Senior Open. He confirmed that reconfiguring golf courses had little to do with the design merits of a given hole—and everything to do with operations. "It was all about logistics," says Moraghan. "We had people who could figure out that there could be a stronger finish or a more challenging course, but we didn't skip holes just because it wasn't a good hole. We looked to see if it was better for gallery flow, better for corporate hospitality. That's how these things work."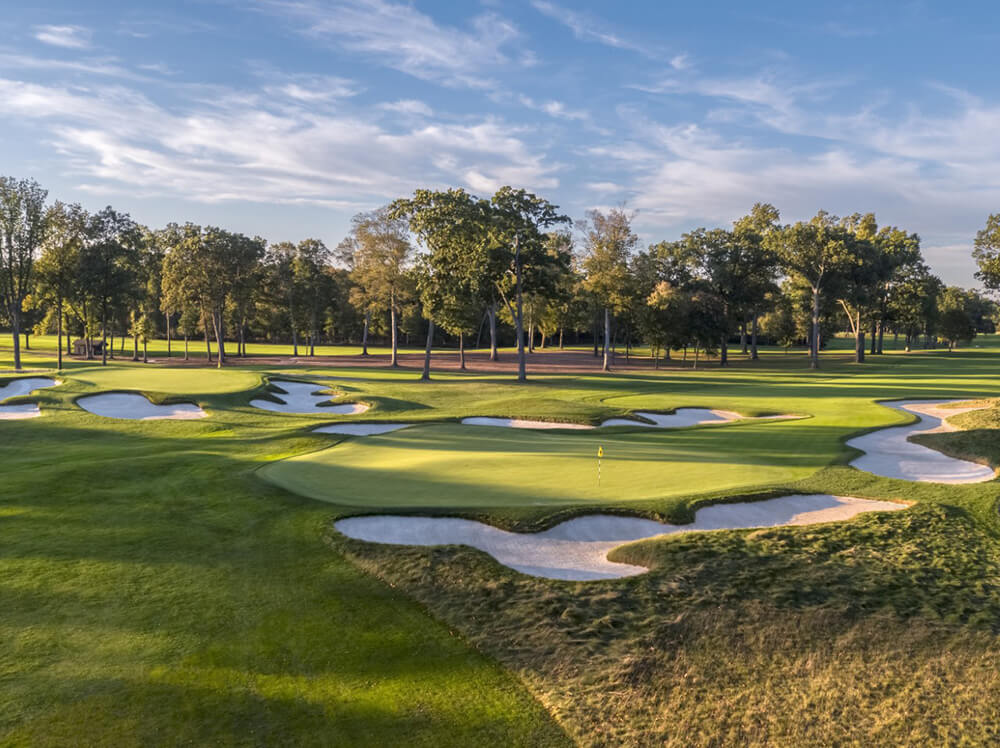 Kohler, Wisconsin's, Blackwolf Run successfully staged the 1998 and 2012 U.S. Women's Open on its two Pete Dye designs. Holes 10–18 of Meadow Valleys served as the outgoing nine and River's 1–4 and 14–18 served as the incoming nine. While there are no weak links on either layout, the very best stretch of holes, River's stretch of 9–13, sat unused in the Women's Open.
Oddly enough, composites were used in back-to-back U.S. Opens in 1963–'64. After The Country Club's successful experiment, Congressional Country Club in Bethesda, Md., resorted to the same measures to get around the fact that Congressional's tournament course, the Blue, concluded with a par-three hole. The USGA normally treated par-three closers the way most of us look at a trip to the dentist's office, so for the 1964 U.S. Open two holes from the adjacent Gold course were inserted into the championship layout. This permitted the U.S. Open course to finish with a demanding, beautiful, lake-guarded par-four hole that was forever etched in history when Ken Venturi completed a comeback for the ages. For the 1997 U.S. Open, it was all Blue—including the par-three 18th. Ahead of the 2011 U.S. Open, however, a Rees Jones redesign eliminated the Blue's par-three 18th entirely, replacing it with Venturi's famous par four. Congressional's composite layout is likely a relic of the past.
Other notable composite tournament courses include Omni La Costa, in Carlsbad, Calif.; Wildfire Golf Club, Phoenix, Ariz.; The Dunes at Shenzhou Peninsula, Hainan, China; Hong Kong Golf Club; Accordia Golf Narashino Country Club, Tokyo, Japan; Detroit Golf Club; Gullane Golf Club, East Lothian, Scotland; and Walton Heath, London, England.
Both The Country Club and Royal Melbourne offer opportunities for members and guests to play the composite course. "We provide the Championship course setup 10 times per year on average, for member play and one-day member-guests," says The Country Club's Walsh. Similar opportunities arise at Royal Melbourne: On a typical day, red-and-white flags fly on the East course, blue-and-white on the West; on Composite course days, a solid white flag adorned with the club logo flaps in the breeze.
When all is said and done, a composite tournament course has to thrive as a premier test for competitors and as a safe, navigable space for sponsors and spectators. Beyond that, debating the worthiness of composite courses is best left to trivia buffs in grill rooms. Let the arguments begin.