Even after 100 years, a timeless design only gets better with age
Since the first ball was struck there a century ago, Winged Foot Golf Club has seen plenty of magic (like Davis Love III's 1997 PGA Championship triumph under a rainbow), anguish (the 1974 U.S. Open "Massacre" with only eight rounds below par), and everything in between. It has staged 10 major championships on its 36 holes—six U.S. Opens and one PGA Championship on the West; two U.S. Women's Opens and one U.S. Senior Open on the East—along with the 1949 Walker Cup and two editions of the U.S. Amateur.
Winged Foot was founded in 1921 by a group of New York Athletic Club members, who took the organization's seal as inspiration for the club's name and iconic logo. They sought to build two "man-sized" courses on a 280-acre plot in Mamaroneck, 25 miles north of Times Square, and turned to A.W. Tillinghast, who was wrapping up his work on the country's first "dual courses" at Baltusrol in New Jersey.
The East and West courses were completed in 1923; it then took just six years for Winged Foot to host its first U.S. Open. The tournament was originally slated to be played on the East, but after that course sustained damage from a storm, it moved to the West. It was there that a 27-year-old Bobby Jones holed a sliding, downhill 12-foot putt on the 18th hole to tie Al Espinosa, forcing a 36-hole playoff Jones would eventually win, giving him his third U.S. Open title and serving as a catalyst for his Grand Slam the next year.
The West has been a timeless test of golf throughout its first century. Its rollercoaster greens get much of the attention; they were the major focus of Gil Hanse and Jim Wagner's restoration in 2017, which returned each putting surface to its original size and shape using photos from the 1920s. The result is 18 diverse geometry tests where positioning—both on and off the green—is essential to avoiding disaster.
The course is also known for its length—it played at a brutish 7,477 yards during the 2020 U.S. Open—as evidenced by the 214-yard par-three 10th (which Ben Hogan famously called "a 3-iron into some guy's bedroom") and the 633-yard 12th, a true three-shot par five. Then there are the trees. While there are many fewer today than in the past, the large elms that dot the property still play a significant role in both framing, as at the par-four 2nd, and defending, most noticeably on the par-four 18th where Phil Mickelson's best chance at a U.S. Open was blocked by the timber in 2006.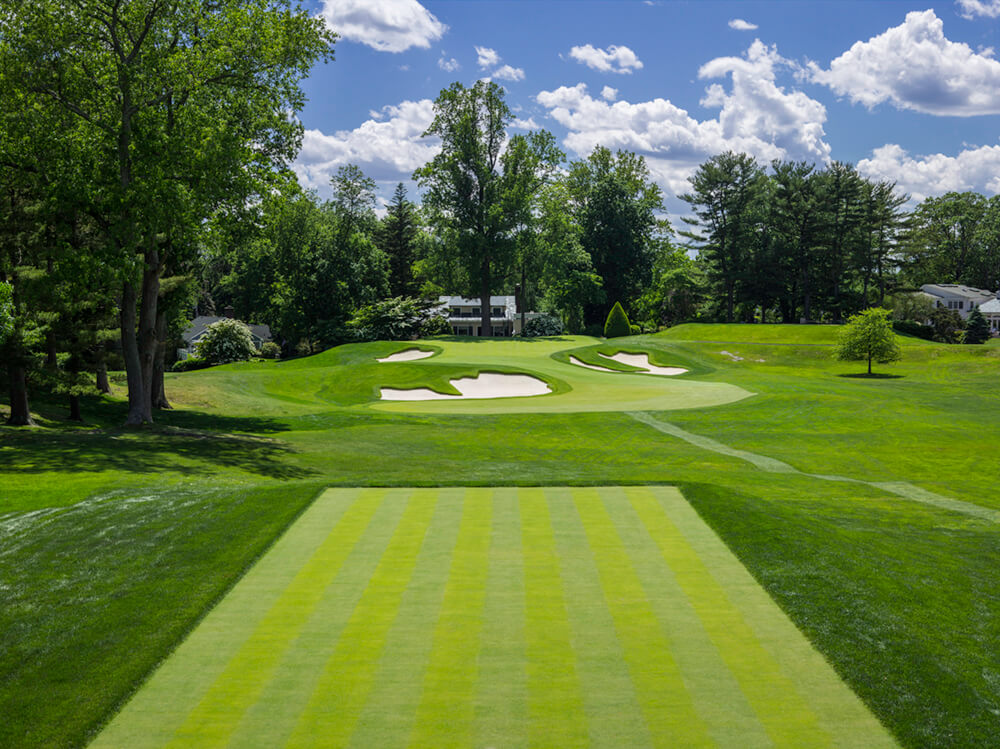 Winged Foot has other qualities, including its stately, Tudor Scholastic clubhouse—with its signature blue-and-white awning—which noted architect Clifford Wendehack built from the schist rock excavated during the courses' construction. Also, according to club lore, the term "mulligan" was invented on the West course's first tee, where hotel executive David Mulligan was known to ask for a breakfast ball.
The next chapter will be written at the 2028 U.S. Open, where the enduring elements that make Winged Foot an American classic are sure to add to its captivating tale.
Thank you for supporting our journalism. If you prefer to read in print, you can also find this article in the Summer 2023 issue of LINKS Magazine. Click here for more information.