With its gently rolling terrain, stately trees, and intimate playing environment, Quaker Ridge epitomizes Westchester County parkland golf. The course's routing is Muirfield-esque—the holes of the front nine run counter-clockwise around the club's perimeter, embracing the clockwise homeward nine—allowing for a highly satisfying exploration of the property.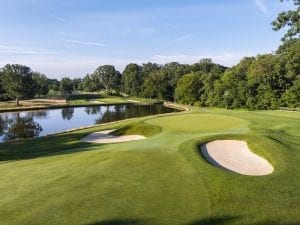 Jimmy Demaret once said that Quaker Ridge could host any tournament, including the U.S. Open. One might only disagree from the point of view of modern tournament logistics—certainly not the golf itself—but to date the club has mostly preferred to focus on high-level sectional events such as Met Opens and PGAs, as well as its own prestigious, 87-year-old amateur event, the Hochster Memorial. Until the 2018 Curtis Cup, the 1997 Walker Cup was its lone foray into the international spotlight. During the run-up to that event, Rees Jones reworked bunkers and added back tees.
Following a restoration project by Gil Hanse, Quaker Ridge once again sings with Tillinghast character. Perhaps the most famous of the vintage features Hanse restored is Tilly's "Great Hazard" at the par-five 14th. This 20-bunker salute, designed to scare golfers off to the right side of the fairway—much lengthening the hole in the process—was nowhere to be found as recently as late 2010.
Quaker Ridge combines traits seen on other great Tillinghast designs yet remains entirely distinctive. It has long and strong two-shot holes to rival its major-hosting neighbor, Winged Foot. The 6th and 7th, in particular, are a pair of deadly doglegs-right that play even longer than their scorecard yardages (478 and 437 yards, respectively). The 456-yard 18th features a perspective-skewing fairway bunker some 85 yards short of a green that tilts from back to front.
And like Tillinghast's early-career classic Somerset Hills, Quaker Ridge also incorporates a batch of compelling shorter holes. The front nine ends with a split-fairway par four that's nearly drivable and a gorgeous, petite par three with a green that retreats on the diagonal. The 17th is a first-rate drive-and-pitch hole with a green Hanse returned to its original, diminutive shape. With a pair of tough fairway bunkers suggesting that players take something less than driver off the tee, this is the kind of hole where anything can happen.
This well-struck balance between might and finesse goes a long way toward locating the particular brand of genius that Tillinghast brought to Quaker Ridge. Thanks to Hanse's deft touch, the club is in perfect position to pass along one of Tilly's greatest works for the enjoyment of future generations.