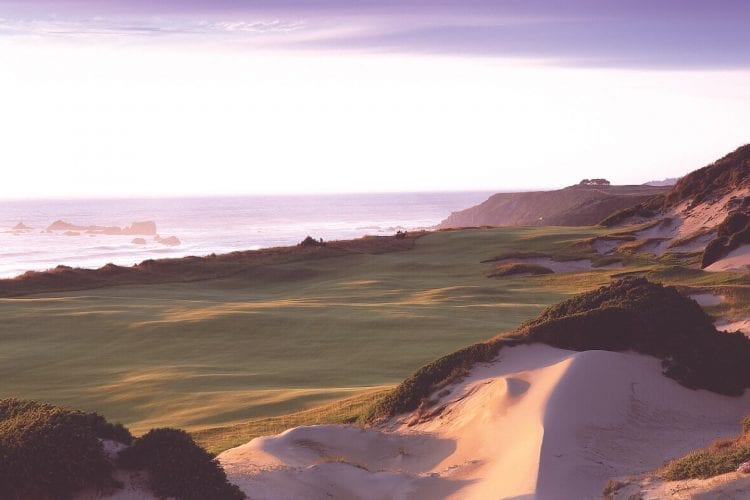 Given that he's had a hand in the creation of many of the best courses of the past two decades, from Pacific Dunes to Sebonack to Old Macdonald, where he received a co-design credit, it seems unusual that Jim Urbina could be described as golf architecture's next rising star. But that's the current state of affairs.
When we caught up with him last fall, he was working on an extensive restoration of Paramount Country Club in New City, New York. Formerly known as Dellwood, this A.W. Tillinghast design was originally the personal playground of Paramount Pictures founder Adolph Zukor. Despite its relative obscurity, the course contains many of the design principles the famed architect outlined in his writings.
Perhaps the most anticipated piece of the project is the rebirth of Tilly's "Reef" hole. Playing across the entrance drive, slightly uphill and over a ridge to a green retreating along the diagonal, the par-three 18th was meant to make a strong first impression. Watching Urbina direct the shaper George Waters as he maneuvered a Bobcat excavator around an intimidating bunker short of the green, one senses that it will once again.
Urbina, 54, grew up in Pueblo, Colorado, across the street from the town steel mill. "Golf wasn't for my neighborhood," he says. Instead, he put his powerful build to good use in wrestling and football. Upon graduation from the University of Northern Colorado, he went to work for Pete Dye at TPC Plum Creek (now Plum Creek Golf & Country Club) in Castle Rock.
A year later, he changed gears: "I decided to go teach, to fulfill my mom's dream—and she'd paid for my college." Urbina taught drafting to high schoolers, working for Dye during the summers. After three years, he jumped into course construction and design full time.
Asked about the number-one lesson he learned from his decade with Dye, Urbina said "lines." He spray-painted a diagram in the mud, like a kid quarterback setting up a sandlot play. "Pete always began his holes by establishing a long line—something to take the eye all the way to the green. Sawgrass is a perfect example—those lines are so creative. They're burned into my mind. Then he'd look for the 'X-Factor'—a second axis, oblique to the line of play, that creates angles."
Ultimately, Urbina came to see this approach as overly prescriptive. "St. Andrews is devoid of lines," he says. "At Pacific Dunes I worked hard to erase grassing lines. That was my rebellion. I said, 'I'll have no borders."'
One of the few subjects Urbina is reticent about is his departure from Renaissance Golf—"I don't want to be negative"—but despite the reality that he'll now be competing with his former boss Tom Doak for new projects, it's clearly only a matter of time before we find out what a Jim Urbina design will look like. When asked if he thought he'd favor wild greens—the kind he produced so often during his years with Renaissance—or if he'd take a different approach, Urbina diplomatically replied: "Depends on the client."
And what if that client is Donald Trump? One surprising rumor (which did not come from the architect himself, but which he did not dispel) has Urbina on the short list for a third layout at the real estate mogul's Bedminster, New Jersey, facility. Would this man who revels in analyzing Tillinghast be comfortable building blingy waterfalls for The Donald? Probably not, though to be fair to Trump, his future intentions for the Bedminster property are not known.
Meantime, Urbina is genuinely passionate about the restoration work that has filled his calendar during these lean times,  pointing out that even if the economy hadn't cratered, he'd likely still be working at Paramount, or somewhere like it. "I went out of my way during the boom years to work at cool places like San Francisco Golf Club, Pasatiempo, the Valley Club of Montecito," he says. "The classic courses are the key to my education. It's not until you start digging around those designs, looking at them all day, from all angles, that you absorb what you need to absorb."
By Thomas Dunne.