Comic to caddie to covering golf for radio, TV, and online, Michael Collins is the game's newest media star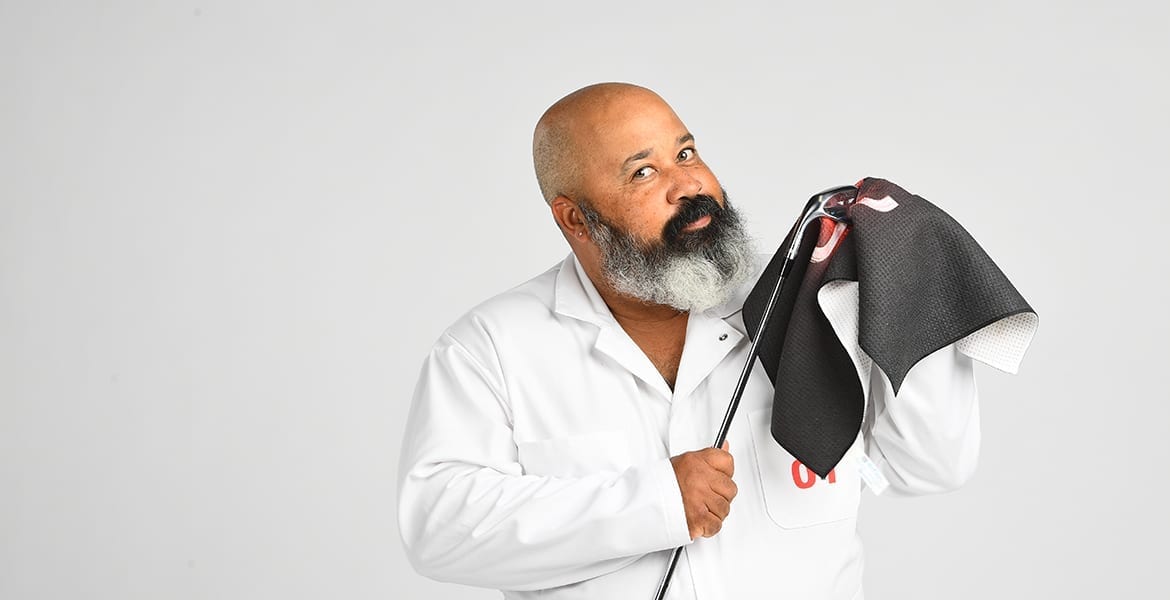 Sam MacNaughton, the agent for Rickie Fowler among others, has been known to greet Michael Collins with a friendly, "What's up, Dream?" It's an abbreviation of the nickname he coined for Collins—"The American Dream"—a one-of-a-kind character in the traveling circus that is the PGA Tour.
Collins, a former stand-up-comic-turned-Tour-caddie, has emerged as a prominent talking head on ESPN and the PGA Tour Radio Network. Seemingly against all odds, Collins—a short, bald Black man with a Buddha belly, a Santa Claus beard, and a voice that a listener once described as if Tupac and Fat Albert had a baby—has carved a niche as golf's latest media star.
"It's crazy," Collins says. "I've had the most "It's crazy," Collins says. "I've had the most roundabout journey to having my dream come true, ever."
Collins, 50, stumbled into the game quite innocently. He was the class clown who grew up idolizing the stars of Saturday Night Live and discovering the wonder of laughter.
"I used to see how much SNL made my mom laugh and I wanted to make her laugh like that," he says.
But could he leave a roomful of people in stitches? There was one way to find out and his pals encouraged him to do an open mic night at the Uptown Comedy Club in his hometown of Lancaster, Pa.
"I was scared that if I went on stage and bombed that I would lose my dream," he says.
In April 1991, he finally took the plunge, puking before walking on stage but nailing his punchlines. Afterwards, one of the club's headliners told him he'd found his calling.
Golf entered the picture when Collins was working a comedy club in Hilton Head, S.C., during the week of the 1998 RBC Heritage and struck up a friendship with veteran pro Omar Uresti and his brother at the course. Soon, Collins began booking appearances near Tour events and spending his free days roaming the fairways. He jumped at the chance to come inside the ropes and carry a bag during a practice round. Those experiences inspired Collins to learn the nuances of being a caddie, from proper technique for raking a bunker to how to read a yardage book.
Robert Gamez was the first pro to hire Collins. When he lugged Chris Couch's bag to victory in the 2003 Nationwide Tour Championship, he earned a Tour promotion and thought he'd secured a steady bag with a bright future. But Collins quickly learned that he'd entered a tenuous line of work, getting fired over the phone at his third event after canceling six months' worth of comedy gigs.
Collins caddied full-time through 2011, including three third-place finishes, but his career veered in a different direction when he was approached to call the action at Tour events for Sirius/XM Radio. That led to an interview to join ESPN.com's golf coverage.
"I thought somebody was setting me up and Ashton Kutcher was going to bust out and tell me I was punked," Collins says. "It wasn't until I actually got the job where I was like, holy cow, this is crazy what's happening in my life."
Collins co-hosts a Sirius/XM radio show, "Out of Bounds," with Tour pro Pat Perez, and his latest venture is America's Caddie, a magazine show on ESPN+. With ESPN gaining PGA Tour digital rights beginning this year, expect Collins's role to grow.
Collins is living his dream as one of golf's storytellers, but he hasn't forgotten his roots in the game.
"I still look at everything through the lens of a "I still look at everything through the lens of a caddie," he says. "I don't ever want to lose that."