Alan Grant makes sure Scotland's Skibo Castle—as well as its guests—don't take themselves too seriously
The exclusive Carnegie Club at Skibo Castle in the Scottish Highlands has an uncommon set of standards. Alan Grant, the club's unofficial ambassador, describes them this way: "It's not like standards where you tick a box and say everything's nice, everything's on time, everything's neat. It's beyond that. It's touching people in a unique way." And that, for the past 30 years, is precisely what Grant has been doing there.
Grant's family has operated sheep and barley farms near Dornoch for six generations. After earning a master's degree in fashion and textile design at the Royal College of Art in London, he returned home just as Peter de Savary was starting the club. Grant worked there initially in support of a splashy Jaguar car-launch event. He remembers that after a couple of weeks, de Savary came up to him and said: "I watch what you do. I like what you do. I want you to come and work here full-time." To which Grant responded: "What do you want me to do?"
"I want you to carry on what you're doing now," was de Savary's answer. "I don't know what it is, but carry on doing it."
"That," says Grant, "was my job description. And to this day, that's really all I do."
When Grant (a six handicap) isn't playing a few holes with members and guests, he's hosting the club's communal lunches and dinners, where he recites—or perhaps performs is a better word—not just Scottish standards like Robert Burns's "Ode to the Haggis," but passages like the "Here's to the crazy ones…" section from Jack Kerouac's On the Road: "Here's to the crazy ones. The misfits. The rebels. The troublemakers. The round pegs in the square holes. The ones who see things differently…"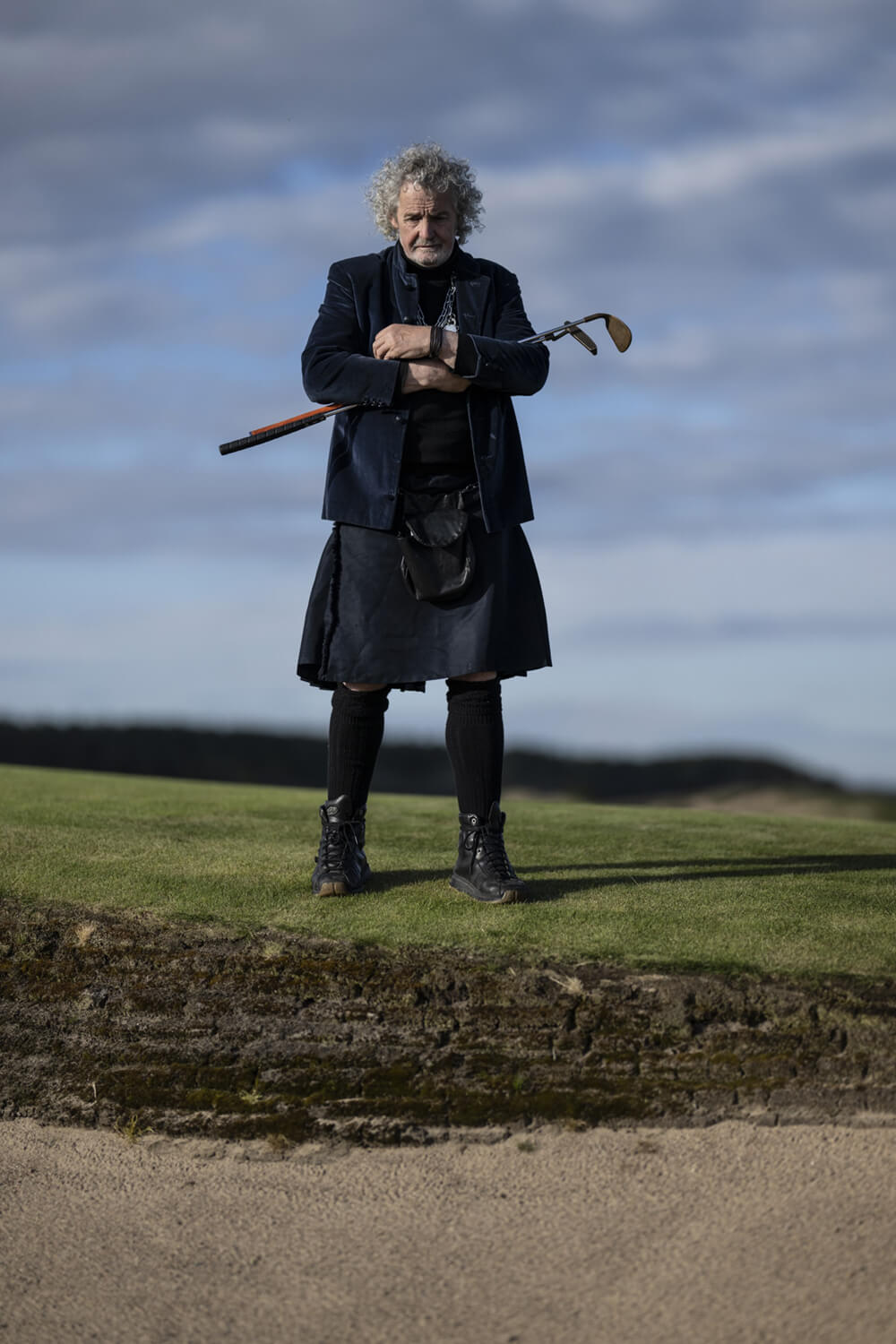 It's a description that fits Grant to a T.
"When I started, I was told I had to wear a dark suit. And people would just look me up and down and look away. And then one night I wore a pair of red shoes, and a woman asked where I'd gotten them. And that's when I thought, Aha!—let's just see how far I can take this."
Grant says he was born with a desire to create. He composes music, is writing a novel, and makes a lot of his own clothes. On a given day, he may greet you in a kilt paired with a velvet jacket and cowboy boots, or one of the suits he's bought on eBay and dyed "every color you can imagine."
"My clothes are a bit unusual," he says, "and they've now become a part of the club. I don't have any boundaries.
"It's playing with people a little bit, because they come to a club like Skibo with expectations. And I'm just toying with their expectations by not being that person they expect to meet. Although I talk about it as being an act, my looking like a gypsy renegade, it's not an act. It's who I am."
Today, the Carnegie Club is owned by Ellis Short, an American businessman and longtime member who reportedly loved the place so much that he purchased it in 2003, saying he wanted it to be the best club in the world. Since then, improvements have been made throughout the castle and club-wide. New stables were built. Country pursuits like shooting were added. Tom Mackenzie was brought in to upgrade the golf course from one that Grant admits he viewed as a "four out of 10" to one that's now "a solid nine out of 10."
But one thing Short didn't change was Grant. Not that he could have if he'd tried.
Thank you for supporting our journalism. If you prefer to read in print, you can also find this article in the Summer 2023 issue of LINKS Magazine. Click here for more information.