By Graylyn Loomis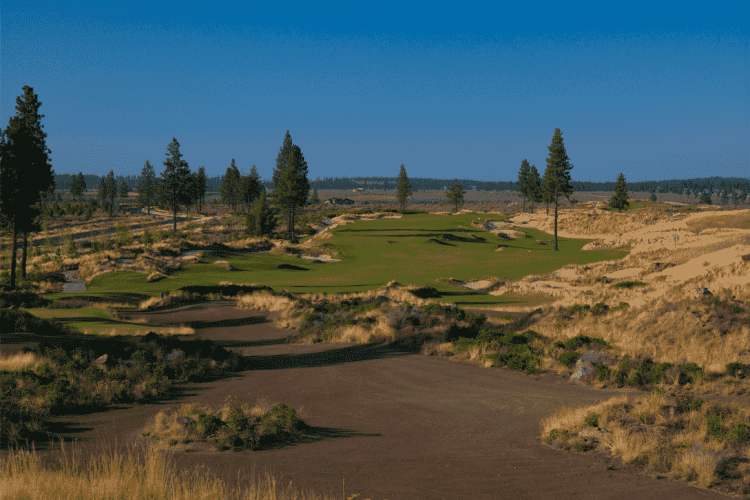 Keen readers of the LINKS Insider will remember writer Tony Dear's recent newsletter on golf in the Pacific Northwest. While he covered a great number of areas, this week we will take a deeper dive into Oregon, and specifically the central part of the state centered around the city of Bend.
The city itself is a fun, artsy, brewery-filled town that embodies the Pacific Northwestern themes of embracing the outdoors, supporting local, and welcoming visitors. Mount Bachelor sits nearby with skiing and hiking, as does Williamette National Forest to Bend's west and Deschutes National Forest to its north.
The good news for all of us is that Central Oregon is also filled with stellar golf. While the greater area has over two dozen golf courses, there are a handful that you should consider for your first trip. They are featured below!
__________
Pronghorn Resort – Nicklaus Course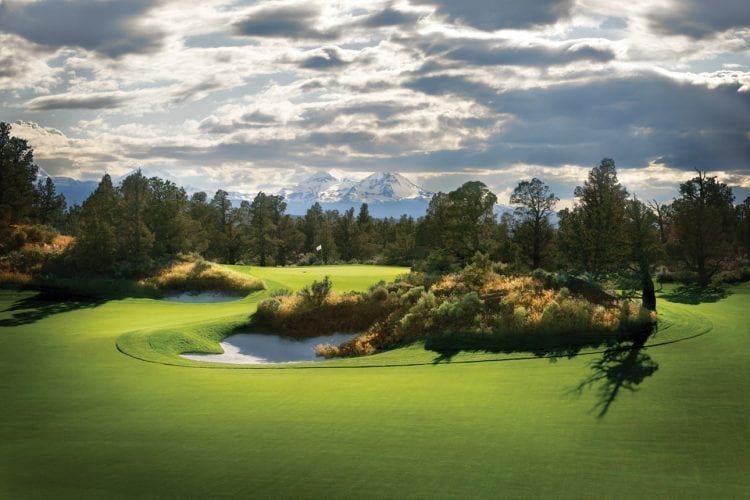 There's a real sense of occasion when arriving at Pronghorn Resort. After driving 15 miles from Bend, you turn off an already rural road and meander four miles down Pronghorn's drive into the middle of their 600-acre property. Their Nicklaus course is impeccably maintained, but miss the fairways and you'll find yourself in high-desert scrub that swallows golf balls.
The course peaks on the back nine, with challenging holes framed by views of surrounding mountains. Tony Dear called Pronghorn's Nicklaus Course, "One of the best Jack Nicklaus designs the public golfer can play."
Pronghorn also has a highly-regarded Fazio course, but it is private and only available to members.
__________
Tetherow
Scottish architect David McLay Kidd calls Bend home, and his local course is Tetherow, which he designed in 2008. The course is polarizing, with difficult elevation changes, tough mounding, sloping greens, and blind shots. Since opening, the course has been tweaked to play easier, and in turn more golfers now enjoy the experience. Having spent four years in St. Andrews, Scotland, the course reminded me of Kidd's St. Andrews Castle Course, just in a high-desert setting.
The views from the course are second to none and the caddies are valuable and necessary. The course also emphasizes a modern approach to golf with a relaxed vibe. Golfboards are available and this range is filled with young golfers learning the game. Speaking of which, the range can be turned into a par 3 course to add to Tetherow's amenities. The resort has accommodation on site that offers expansive views of the golf course and mountains beyond.
__________
Black Butte Ranch
Black Butte has two courses – Glaze Meadow and Big Meadow – which are much tighter and more tree-lined than the aforementioned high-desert courses. Glaze Meadow underwent a large renovation by John Fought in 2012 to update the course. Both layouts feature elevated greens and views of the surrounding mountains.
Black Butte is located in Sisters, Oregon, which was originally established in the 1830s as a lumber town. As the lumber mills closed in the 1970s, the developers of Black Butte helped rebuild the town as a tourist destination with restaurants, shops, and an 1880s theme that harkens back to Sisters' roots.
__________
Sunriver Resort
Sunriver is one of the oldest and most well-established resort communities in the area and their amenities embody the local lifestyle. There is tennis, hiking, horseback riding, skiing, swimming, concerts, and more.
There are also four golf courses, one of which is Crosswater – a Bob Cupp design – that will host the 2017 PGA Professional Championship. While Crosswater is the resort's most well-known layout, there is also the John Fought-designed Meadows Course, the Robert Trent Jones Jr. designed The Woodlands course, and Caldera Links, a Cupp designed nine-holer that is perfect for young golfers and those learning the game.

Of any of the properties I've mentioned, Sunriver and Black Butte are the best for families or those traveling with non-golfers in the group.
Even if you had time to play the eight rounds mentioned above, you'd still have missed Aspen Lakes, Meadow Lakes, Lost Tracks, and many more golf clubs within a short drive.
A useful stop in the area is just outside of Sunriver is the Central Oregon Visitors Association. They can help point you in the right direction based on your interests, and they also have a free golf concierge who can help arrange packages and tee times.
_______________
Tell us about other underrated golf regions of the United States in the comments below. We may feature them in an upcoming article!