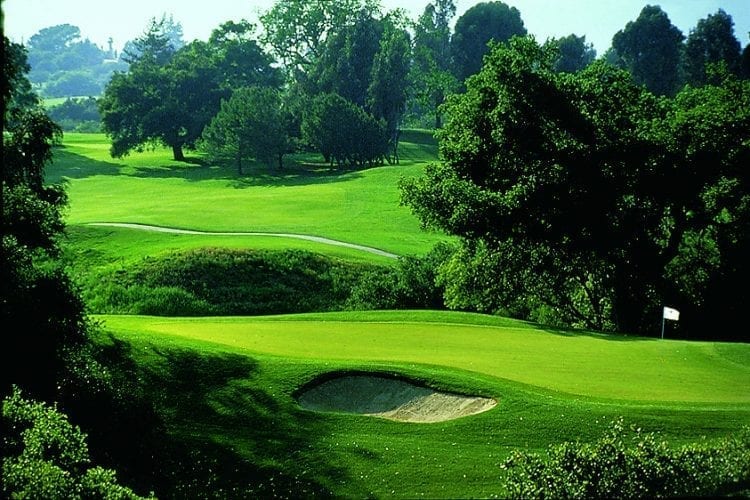 Drifting north on El Camino Real, the "King's Highway" that links California's 21 colonial missions, I can sense Junipero Serra's presence in the red-tile roofs and whitewashed adobe walls all around us. My wife, for some reason, cannot.
"Nobody can walk that far for that long and not collapse," she insists. But Serra, a frail, asthmatic priest who wandered from San Diego to San Francisco, established these outposts for Spain's distant monarchy.
"This land belonged to the Chumash, one of the richest and most sophisticated Indian cultures in the West," I lecture. We are embarked on an Old California golf trip that, as a devoted history geek, I have been planning since high school. "King Carlos III expelled the Jesuits from his Mexican colonies and moved the Franciscans in. Father Serra, head of the Franciscans in Baja, started walking north, beyond where Europeans had penetrated.
"We are the product of an empire. Centuries of dirt and wind blown by colonial dreams."
"Sure," she replies. "If you say so."
Thousands of Chumash were equally circumspect and fomented rebellions against Serra's legions. Thousands more gave in and were baptized as Christian neophytes. This clash of cultures is still evident in Santa Barbara, where sun-dappled hills and stately Colonial architecture seem touched by both natural and divine inspiration. Visiting missions at San Buenaventura, Santa Barbara and La Purisima Concepcion, I find a trio of unforgettable golf courses that, as Junipero Serra once said of his own adobe creations, "catch heaven in their nets."
The first of these destinations lies 15 miles east of Mission San Buenaventura at the Ojai Valley Inn & Spa. With dusk washing over ancient oaks and guests wandering in silent contentment in their cotton spa robes, it looks like a page from the friar's sketchbook. The resort's 6,305-yard course, tucked in a natural bowl of live and valley oaks, it was built in 1923 by George C. Thomas Jr.
In 1988 Jay Morrish reworked Ojai's greens to USGA standards and revived Thomas' signature tongue bunkers. Ten years later, Jay's son, Carter, along with director of golf Mark Greenslit (and with input from Ben Crenshaw) rebuilt two lost holes. To gaze down on the 203-yard 16th (originally Thomas' 3rd) and the majestic Topa Topa Mountains is to behold the joy and terror of Golden Age strategic architecture.
Traditional design elements also describe the recent renovation of the inn and spa, home to the only Chumash Indian-inspired mud treatment in the nation. Only fitting, since locals say the Chumash word "Ojai" means nest or sanctuary.
Our next stop is 30 miles up the coast in downtown Santa Barbara, which is all about laid-back grace, like the city's easiest-swinging local, Fred Couples. Rancho San Marcos Golf Course is Old California distilled to its essence. Its sand-covered adobe chapel, visible from the 17th green to the 18th tee, dates to 1804, when the ranch was an outpost of Mission Santa Barbara, with vineyards tended by Chumash believers. A dirt cart path along the 17th was a stagecoach route built by local businessmen in 1868 to reduce travel time from Los Angeles to San Francisco. The par-5 18th plays through terrain that is unchanged from when Junipero Serra hiked through.
Mission La Purisima Concepcion (and the course a mile east that takes its name) is another Old California gem, with gentle breezes whipping through the ancient mission's El Cuartel, quarters of the leather-vested soldiers who quashed Chumash rebellions.
La Purisima is, as its name trumpets in Spanish, as "pure" as public golf gets. Its 15th is the most evocative par 5 in Santa Barbara. Any drive hit short and left will likely find the sand, and only a pinpoint mid-iron lay-up will leave an opportunity for an aggressive approach.
With no concrete cart paths, and poa annua/bluegrass fairways cutting through native grasses, ancient dunes and oak woodlands, La Purisima is gorgeously unspoiled—and humbling, too. But the lovely 50-minute cruise back to the Inn of the Spanish Garden takes away the sting, as do the inn's homemade cookies.