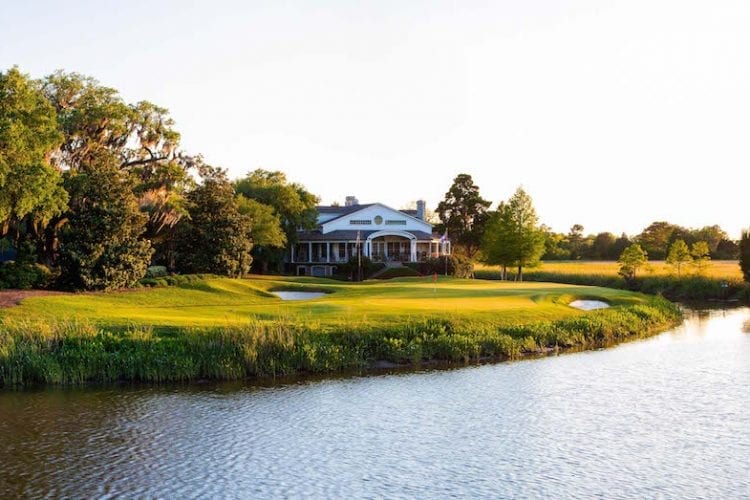 Caledonia Golf and Fish Club in Pawleys Island, South Carolina, evokes one of those enduring layouts that were created at the heyday of golf course architecture in the 1920s. Why shouldn't it look and play like a work of creative genius? Its designer, Mike Strantz, after all, is doubly skilled as a craftsman of both turf and fine art.
Strantz, who passed way in 2005, began his career working for Tom Fazio. By 1987 he was tired of the travel and wanted to spend time with his young family in Mount Pleasant, South Carolina, and was determined to pursue his love of art by starting anew—as a commercial artist.
Although Strantz was happy with his art career, he couldn't quite resist his first solo job at Caledonia, for which he drew detailed sketches of the holes showing exactly how he wanted them to look. The intimately routed 6,526-yard layout features loads of contour on greens. There is no shortage of swales, decks, tiers and mounds that kick the ball in or out. It's one thing to hit greens in regulation at Caledonia, quite another to hit them in the right places.
What helps the player is that all the approach areas have been carefully sculpted to signal the oncoming golfers about the right—and wrong—angle of approach. In other words, this is a course for intelligent players who study their courses carefully and who know how to select diagonal lines of attack.
At the par-5 2nd hole, golfers need to think about their two long shots, for several sets of bunkers in the landing area and short of the green make placement and angle significant. The green site, the axis of its putting surfaces, its shape and contours, and the way its bunkers and other hazards all open up— or close off—play all require careful consideration.
At the seventh hole, a 399-yard par 4, golfers play across the inlet and over several beach bunkers. At the next hole, a 528-yard par 5, players must either steer left or try to carry a quartet of Tillinghast-style diagonal fairway bunkers. Before heading off to the back nine, check out Caledonia's ramshackle old chowder shed, where a wizened old man doles out complimentary helpings of steaming hot (and spicy) fish soup.
The tee shot at the 553-yard 10th plays through a chute created by the overhang of a massive pine tree. The green here, Caledonia's smallest, is tucked onto a shelf and fronted by deception bunkers that only appear to be tight to the front edge.
The middle five holes of Caledonia's back nine is a very strong run of par 4s, four of them 415 yards or longer. A welcome change of pace in No. 17, a Pine Valley-style par 3 of 156 yards, replete with its own maddening pot bunker up front. An overly bold approach that kicks over or that hangs out too far right ends up in deep trouble.
At the final hole, golfers confront an intriguing set of angles on this 383-yarder. The green sits on a natural shelf on the far side of a canal that traverses the fairway about two-thirds of the way off the tee. The fairway cants to the left, and so golfers face the option of playing close to the water, steering way left on their drive or threading a longer shot to a landing area that funnels down alongside the canal.
Be careful of the canal. Golfers share it with rowboaters and small trawlers. Behind the putting surface presides Caledonia's gracious lodge-style clubhouse, a lovely little wooden affair with spacious decks, rocking chairs and the intimate ambiance of—what else?—a fishing and hunting club inside.
Par: 70
Yardage: 6,526
Year founded: 1994
Architect: Mike Strantz