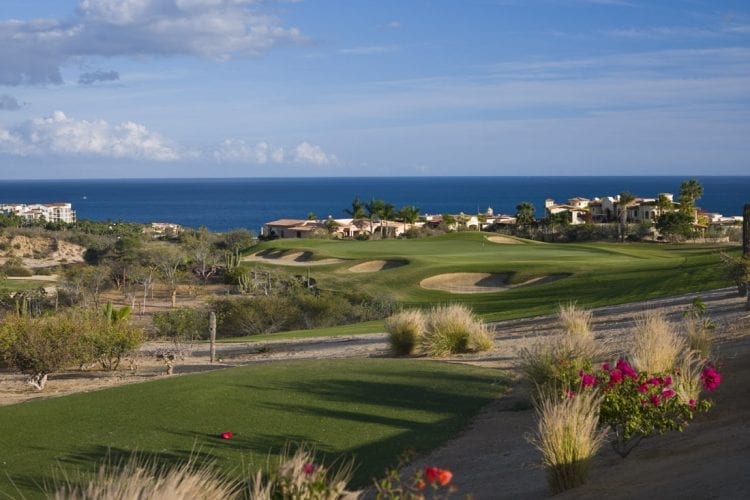 Tom Weiskopf faced a couple of stiff challenges in designing the Desert course at Cabo del Sol, the 1,800-acre resort and residential playground located at the tip of Mexico's Baja Peninsula.
First, he had a tough act to follow. The Ocean course—Cabo del Sol's first layout, designed by fellow Ohio State alum Jack Nicklaus—is one of golf's ravishing beauties, with six holes that play directly alongside the Sea of Cortez and a finishing trio that's often described as the finest in resort golf.
Second, the piece of property earmarked for the Desert course presented a bit of a hurdle. "The land is up in the foothills, and most of the topsoil had eroded from this area and moved down toward the beach," explains Weiskopf. "What was left is an extremely interesting landscape, with lots of ravines and scarred areas formed by the water flow, as well as a lot of dramatic rock formations."
As it turns out, the golf holes fit quite nicely. Opened in December 2001, the 7,053-yard course plays through stands of dry, gnarled terote and Palo Blanco trees that lend a distinctly eerie feel. Large cardone cacti, similar to the saguaro of the Arizona desert, stand sentinel among the rocks. Then you emerge from the desert vegetation to face a 180-degree vista of the sparkling blue Sea of Cortez. This breathtaking contrast is like nothing you'll find north of the border.
Unlike Ocean, where most of the holes are visible from the tees and fairways, Desert is more of a "hidden" golf course. With fairways and greens that skirt or sit atop rock formations, the course has a number of semi-blind tee shots and approaches.
Weiskopf incorporated a number of interesting short par 4s into the design. The 7th plays 338 yards from the tips, but only a portion of the fairway is visible from the tee, and the approach shot is semi-blind as well, playing uphill to a green perched on a rocky ledge. No. 4, which plays downhill with the prevailing wind at your back, is a drivable 325 yards from the back tees. The three-tiered green will hold a well-struck tee shot, but you'll have to carry the fairway bunker to the left and avoid the pot bunker directly in front of the green.
Like its sister, the Desert finishes in strong fashion. The 432-yard 17th plays uphill off the tee and finishes at a peninsula green with water front, left and behind. That sets the stage for the 18th, a 430-yard par 4 that's crossed three times by a creek and plays downhill with the Sea of Cortez as a dramatic backdrop.