Brandon Johnson earned a Master's degree in Landscape Architecture from Harvard in 1999, before becoming Manager of Design for The First Tee, where he oversaw design and construction of 250 facilities. In 2006, he joined Arnold Palmer's course design firm and, seven years later, was made a Senior Architect and Vice President of the company.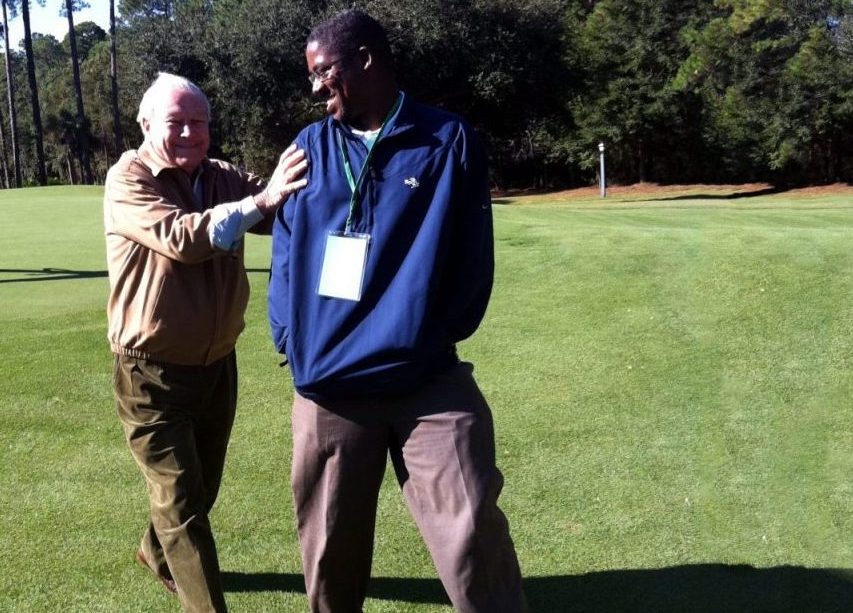 Give us some insight from working with Arnold Palmer that illustrates what kind of man he was.
We were in the Cayman Islands, and had some down time between activities. It had been a long, demanding day with a full schedule that evening, so we all went down to the pool for a break. Word got around that Arnold Palmer was on the property. A server came over and asked if he could sign a bar receipt with an Arnold Palmer drink order on it. More requests came, then people in bathing suits began asking for pictures. Without the slightest hesitation, Mr. Palmer enthusiastically engaged with everyone and signed every autograph request.
Anytime we walked into his office to get his opinion, we would hear his big booming voice say, jokingly of course, "What do you want? What are you doing here?," or "Oh no, you again?" He loved to tease us, but he was genuinely interested in what we were doing and how he could help.
And a couple of things that would surprise us, or that we don't know. 
He always smelled great. It was a sweet, pleasant, and distinctive scent. Never overpowering. When you shook his hand, you would still get a hint of the scent 30-45 minutes later. It would put a smile on your face.
Mr. Palmer was not a fan of facial hair, and might tease you a bit if you had it. I feel lucky that he hired me despite my goatee. One day, he gave me the needle about it, and asked why I had facial hair. I explained that my wife preferred me with it, and didn't want me to shave it off. He nodded with a smile and never said another word about it. And he always asked how my wife was doing.
What did he teach you about course architecture? 
Mr. Palmer's design principles were to make each course fun, beautiful, strategic, and environmentally and economically sustainable. He wanted others to enjoy golf as much as he did. Of course, he was able to provide us with the perspective of someone who played the game at the highest level, but he was grounded and knew what was good for the game. He encouraged us to focus on things like meaningful width off the tee, recovery options around the green, and features that could be maintained sustainably. Perhaps the most important lesson, though, was observing him with clients. It was a master class in how to treat people.
Since his passing, what has been the conversation at Palmer Design? Will you and Thad (fellow APDC VP Thad Layton) continue with the company name indefinitely? 
Amy Saunders, Mr. Palmer's daughter, has been behind the scenes for several years. It's a tremendous honor to continue working with her and the family. There's no better way to honor Mr. Palmer than to continue creating enjoyable courses. We opened Lakewood National, outside Sarasota-Bradenton, in January to full tee sheets and rave reviews. Work on the Palmer Course at PGA National, and SilverRock in La Quinta, Calif., was recently completed, and we open an extensive renovation of Naples Lakes Country Club, in Florida in January 2018. The redesign of the old Tartan Park course at what is now Royal Golf Club in Lake Elmo, Minn., a collaboration with Annika Sorenstam, will open next summer.
We have several exciting projects around the world on the horizon, and are eager to get back in the dirt.
As an African-American, have you ever encountered any obstacles working in the golf industry? 
I've had my share certainly, but, because of the heroic efforts of people who worked so hard to eliminate cruel access barriers, my personal experience has been very different to theirs. I'm fortunate to have had a lot of support and encouragement from family, friends, and colleagues. And Mr. Palmer, obviously. Any success I've experienced can be attributed to them.
​While our society has evolved a great deal, we must still recognize the game we love can, and should, be more inclusive. I hope to help make this a reality.