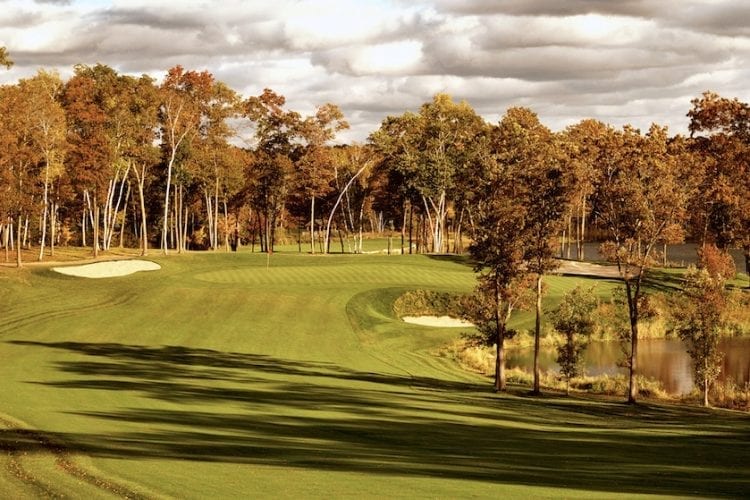 Summers are short in Minnesota, but the days are long, and golf-mad locals make the most of them. With daylight lingering until 9:30 in peak season, locals find it easy to get a round in after work or play 36 on a day off. In fact, Minnesotans are more passionate about golf than everything else but fishing. Angling, especially for walleye, is more religion than pastime in the Land of 10,000 Lakes. Not by coincidence, a majority of the state's premier public courses are located on or near bounteous fishing spots.
These pleasures are well-suited to vacationers as well, even in the fall, when temperatures are still agreeable and the foliage has turned to vibrant colors. Most full-service Minnesota golf resorts are clustered in the Brainerd Lakes region around the town of Brainerd, located about two hours north of Minneapolis and St. Paul. A visit to Brainerd Lakes is a step back in time, one in which you can experience something akin to the lazy days of New York's Catskills. More like summer camps than hotels, Brainerd's resorts feature supervised children's programs and outdoor activities such as horseshoes and volleyball. Each has a wide assortment of lodging options, from quaint lakefront cabins to modern condos to standard hotel rooms, and most offer old-fashioned rate plans that include all meals. Vacationing families are abundant here throughout the summer, but you don't need children to enjoy Brainerd. In fact, with spacious lodging and bargain-price golf—to a Minnesotan, green fees over $100 are an absurdity—these resorts are ideal for an autumn getaway after the kids have trudged back to school.
Madden's on Gull Lake has the area's best course and its most old-timey, camp-like feel. Cabins, villas and hotel rooms are scattered along a lake and throughout the vast property, along with a tennis and croquet center, bonfire pits, a barbecue pavilion and other outdoor facilities. But the main attraction is the Classic, the first and only design by Scott Hoffmann, the resort's longtime course superintendent, who knew the terrain intimately from hunting and hiking it. The wonderful opening hole, a par-5 with a welcoming tee shot to a wide-open fairway, is a good way to get in the swing of things. From the landing area, the fairway drops downhill and the green is offset behind a small lake. Those who want to take a risk right out of the gate can go for it, but a short lay-up and wedge approach allows for a respectable opening par. Next comes a short par-3 over water, then another fine risk-reward hole, a drivable par-4 requiring all carry over water to get home in one. The Classic continues in this wonderfully rhythmic vein, weaving one unique hole after another.
Madden's two other courses, Pine Beach East and West, are the area's oldest, and are so different from the Classic as to suggest schizophrenia. The latter is an upscale daily-fee facility with a beautiful new stone-and-timber clubhouse, while the other two are unkempt municipal-style tracts. But the Pine Beach courses are open to guests on the American Plan and ideal for occasional or first-time golfers (e.g., a non-golfing spouse). Madden's also offers the Social 9, a surprisingly difficult par-3 layout that will quickly sharpen your short game.
Grand View Lodge offers the most golf in the area, and there's even more on the way. Most of the guest rooms here are in the impressive log cabin-style lodge itself, but large lakeside cottages with decks, kitchens and fireplaces are also available. Additional lodging options are offered at two of its golf complexes, the nearby 27-hole Pines and the Deacon's Lodge course, situated 20 minutes away. Deacon's Lodge is an Arnold Palmer design, one that's unique in the region for its plateau fairways cut from dense forest and wetlands. Seemingly removed from civilization, it sprawls through a nearly 500-acre parcel with a private and primordial feel. Fairways and greens are generous, but the greens are severely undulating and easy to three-putt.
Grand View also has two other first-rate golf facilities. Laid out by Minnesota's own PGA Tour veteran Mike Morley, the Preserve is a wide-open, rollicking course that's good for the ego (with 11 friendly downhill tee shots). The 27-hole Pines is another pleasant and playable resort course with three distinct nines. The Marsh, teeming with murky water hazards, is the best, and the choicest combination is Marsh and Lakes. A new nine is on the drawing board at the Pines, which, when completed, will yield a golf complex of two 18-holers. Finally, for those short on time, there's the nine-hole Garden course.
Palmer isn't the only big-name architect in Brainerd. Cragun's Resort features the Legacy Complex, with two 18-hole designs by Robert Trent Jones Jr. Bobby's Legacy and Dutch Legacy (the latter named for longtime resort manager Dutch Cragun) push the envelope with two split-fairway holes, another with two greens, several angled heroic carries from the tee and a short-but-sweet, 100-yard downhill par-3. Three of the four nines have a non-traditional combination of three par-3s, 4s and 5s. These courses are among the region's best, with excellent conditioning and strong routings. To add interest, there is a 37th hole, the Gambler, to settle bets, plus a reversible nine-hole par-3 course and a full teaching academy with dedicated practice areas. With whirlpool-equipped rooms and non-stop special events and festivals, Cragun's is the most modern of the area resorts.
Ruttger's jump-started the high-end golf bandwagon here in 1992 with the Lakes, which stands out for its elevation changes. It's by far the region's hilliest layout, climbing and dipping through forests and offering several tee shots that are rewarded with extra roll if distant ridges are carried. Both the Lakes' nines close with par-3s, including one of the best one-shot finishing holes you'll ever play. No. 18 measures 233 yards and requires a choice between an aggressive line over water or a safe lay-up below the hole with a chance to get up and down for par. In keeping with area custom, Ruttger's includes a nine-hole par-3 layout among its golf offerings.
While the Brainerd Lakes region has ample golf, lodging, dining and activities, Minnesota's newest golf hotspot strips things down to the state's barest essentials, golf and fishing. The result is nothing less than the two top public courses in the state, and a third that's nearly as good. All three are the work of a Texan, Jeffrey Brauer, who first made a splash here in 1998 with the Legend at Giants Ridge, a ski area turned golf resort owned by a state agency. Giants Ridge sits in the northeasternmost corner of the state, not far from Ontario, Lake Superior and International Falls, the latter often touted as the coldest spot in the lower 48. This has long been an active mining area, but state officials are trying to ease the transition to an alternative economy, namely one based on golf—thus the Legend, which opened to critical acclaim and has a classical flair, with extensive use of large, shallow, cloverleaf bunkers framing tee shots and approaches (a nod to Alister MacKenzie). This impeccably maintained design is cut through thick forests of pines and hardwoods, offering a secluded feel that's fitting for this remote corner of the Upper Midwest.
Brauer outdid himself when he opened the second course at Giants Ridge last August. The Quarry, as its name suggests, is laid out through old mining sites, but unlike other such designs, its past is subtly evidenced through boulders, elevation changes and waste areas of mine tailings rather than dramatic exposed cliff faces or deep canyons. It's nonetheless spectacular, with one risk-reward hole after another, such as the fifth, a long par-5 with a heroic carry off the tee to an angled fairway and a pond left of the green challenging long hitters. The Quarry also employs a bit of desert-style target design, but in a generous way—rather than require you to hit from point to point, Brauer guides you from one safe spot to the next. The trouble is easy to avoid, but when you find it, be prepared to forfeit strokes. Nests of multiple deep bunkers lie in islands of deep rough, making recovery almost impossible. All in all, it's golf for the serious player. Giants Ridge has a lodge and villas, but there's little in the way of other activities or entertainment on the premises.
The state's newest and possibly best public design, on equal footing with the Quarry, opened at the end of May, half an hour north of Giants Ridge on the shores of Lake Vermilion, one of Minnesota's top fishing spots. The Wilderness at Fortune Bay Resort is another dramatic Brauer design showcasing exposed rock ledges, strategic risk-reward decisions and several lakefront holes to boot. The first hole is a stunner, a long par-5 with two fairways split by a vertical rock ledge. This brand of dramatic and thought-provoking golf plays out continually along the well-groomed 18. The casino resort also has a marina for fishing and a posh new stone-and-timber clubhouse that has quickly proven popular with golfers and casino guests.
With its bargain prices, fine golf courses and peaceful rural resorts, Minnesota begs for either two rounds a day or a mix of golf and fishing, with either option followed by quiet evenings in the cool northern air. If stalking aquatic prey is not your thing, you can still get a taste of local culture, for it's nearly impossible to find a restaurant that doesn't offer walleye, usually breaded or crusted with pecans. The traditional accompaniment is wild rice, harvested locally. It's a worthy complement to the natural beauty and wildness of these lakeside golf locales.