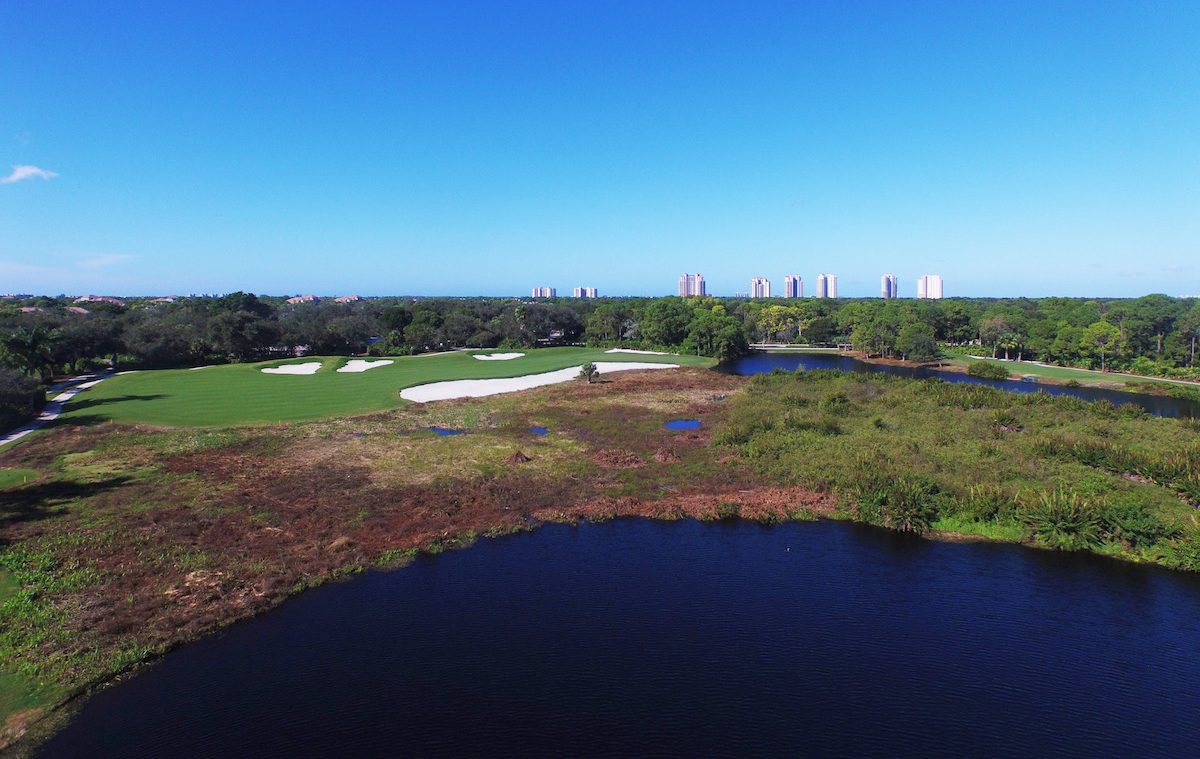 It's not enough to offer extraordinary golf and tennis today. Bonita Bay Club makes sure its members stay fit and are healthy enough to enjoy Club life for many years. 
If you're standing still, you're losing ground. That is the philosophy that Bonita Bay Club, the largest club in southwest Florida, lives by. While health and wellness are high on most club's list, you would be hard pressed to find one as committed to those concepts—and have the facilities and programming to carry them out—as Bonita Bay Club.
This renowned member-owned, private club has all the pieces in place, including five golf courses, the region's largest tennis program, and a 60,000-square- foot state-of-the-art Lifestyle Center that is the hub of its club-wide initiative to promote a healthy and active lifestyle. And they are very serious about it.
Dubbed WAVE (Wellness and Vitality Enrichment), the WAVE initiative reaches into every department to encourage members to live a healthy, active lifestyle through education and programming in all areas of wellness, fitness and movement, nutrition, and mental and emotional health. Bonita Bay has partnered with local healthcare providers to offer educational workshops and lectures as well as offering members health and wellness packages to combat stress and hypertension, improve sport performance, and improve joint health. The club also works closely with their on-staff registered and licensed dietician to make healthy eating easier and more convenient for members at the WAVE cafe.
The goal of the WAVE initiative is to help members age well and continue to enjoy playing golf and tennis well into their 80s. In view of the extraordinary golf and tennis available to members, that is a worthy goal. And while many clubs are focused on promoting wellness, Bonita Bay Club specializes in golf and sports fitness.
Golfers have three Arthur Hills-designed courses and two Tom Fazio-designed courses to enjoy. The three Hills courses, located within the Bonita Bay gated community, form the Bonita Bay Club main campus. The Marsh weaves its way through wetland terrain with beautiful oaks and palmettos forming a backdrop for challenging golf, while the Creekside's broad fairways and elevation changes that create a subtle feeling of rolling hills make it the most popular with members. But Bay Island, the longest and most challenging of the Arthur Hills trio, is considered the signature course.
The real gems, especially for golfers who crave a pure golf experience, are the two Fazio courses secluded outside of the community in North Naples. The 1,000-plus-acre setting for Bonita Bay Naples Club includes preserved cypress wetlands and no residential development. Cypress, the longer of the two Naples courses, leads off with wide fairways punctuated by strategically placed bunkers on the front nine to tighter landing areas on the back with some holes cut through dense stands of trees. With its slick-running greens, Cypress is considered the course to play for those looking for the ultimate challenge. Sabal, slightly shorter and tighter than its sibling, is named for its abundance of graceful sabal palms. Sabal features steep bunkers, multi-tiered greens with false fronts and terraces, and sloping bunkers.
The tennis at Bonita Bay Club is just as spectacular. With one of the busiest social and competitive calendars in the country (more than 25 league teams, plus exciting events and weekly play), the 18 Har-Tru courts are always in play. Thirteen of the courts are lighted, four feature Playsight Technology, and they all have a subsurface irrigation system that maintains top playing conditions at all times. And coming soon is a new Sports Center featuring a new casual café and aquatic center, now under construction, which will serve the club's active tennis community.
There are only two membership options available to residents of the Bonita Bay Community. The Golf Membership comes with full use of all club facilities and amenities, including all five golf courses, the 18 Har-Tru tennis courts, fitness center, swimming pool, spa, and social and dining facilities. The Sports Membership offers all the same privileges except for golf, which is limited to twice a month as a guest of a golf member from November to April, and unlimited golf privileges at the prevailing rate from May through October. Residency is a requirement for either membership.
One of the big draws of membership, beyond the comprehensive health and wellness initiative, is the 60,000-square-foot Lifestyle Center, housing The Fitness Center and The Spa and Salon. The new fitness facility is equipped with Technogym's state-of-the-art Artis line, including all of the Kinesis Stations and the Kinesis One. A full array of programming is offered in two group fitness rooms as well as dedicated golf training, spin, and Pilates/Gyrotonics rooms. Individual programs are tailored to meet the needs of members by a staff that includes licensed athletic trainers, personal trainers, and TPI Certified golf fitness professionals. The Spa and Salon are an oasis of luxurious tranquility with seven treatment rooms, saunas, steam rooms, whirlpools, and relaxation lounge. A completely dedicated men's barber shop and a women's full hair and nail salon is available to cater to members' every need.
Bonita Bay Club, with its two clubhouses, is discreetly tucked within the lush landscape of the Bonita Bay Community. The community, located midway between Naples and Fort Myers, and known for its philanthropic efforts, civic contributions, and high-spirited lifestyle, has devoted 1,400 of its 2,400 acres to open space, including lakes, nature preserves, a 12-mile network of biking and walking paths, numerous parks, and marina.
Bonita Bay Club
26660 Country Club Drive
Bonita Springs, Fla. 34134
(239) 495-0200