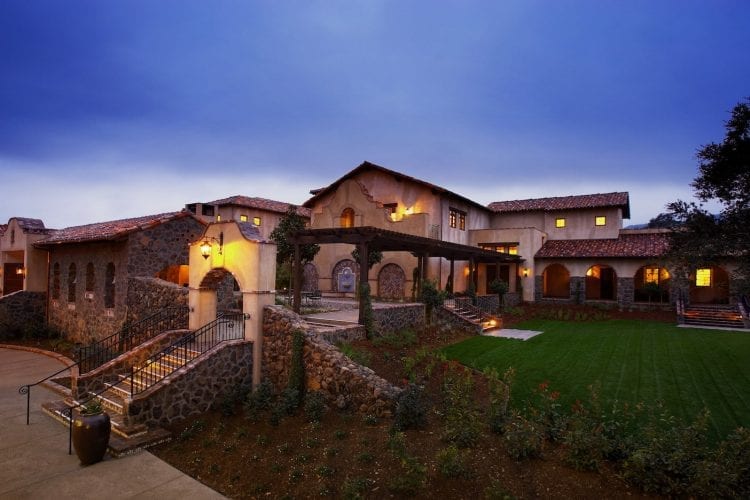 This may be something a born-and-bred Easterner shouldn't admit, but I'm beginning to warm to California. And I don't just mean the heat.
A few months back, while near Los Angeles, I spent a few days relaxing at Ojai Valley Ranch and being charmed by the golf course there. Then just last week, my travels took me farther north to the Bay Area, beginning with a few days of slightly blottoed bliss in Sonoma County, where the wine flows like water and vineyards spread as far as the eye can see. I'd heard there was golf in wine country, too, but figured the best land went to growing grapes rather than grass. Like discovering a tasty bottling at a good price, I was very pleasantly surprised to learn that isn't always the case.
Sitting on the edge of the town of Sonoma is the Fairmont Sonoma Mission Inn and Spa, the ideal base for a few days of drinking and driving. Just seeing the name Fairmont should be proof enough that this place is special, a gold-medal hostelry in the Golden State.
Elegant but not stuffy, luxurious yet laid-back, the inn is a series of California-mission-style buildings—the original dating back to the mid-1920s, some of the newer wings considerably younger—surrounding blooming gardens, fountains, pools, and arcades. There are 226 rooms (60 of them suites, many of them with working wood fireplaces), ranging in size and price, and usually booked. The resort doesn't ever feel crowded, but there are usually couples as well as small business groups, even weddings and small parties of friends just hanging out and enjoying life.
Nothing is more than a few minutes' walk, including a luxurious Willow Stream Spa, 40,000 square feet of indoor and outdoor pampering, with a collection of pools and baths heated by the natural mineral hot springs that have been drawing visitors to this area for decades.
Another big draw is Santé, the only restaurant in the region with a Michelin star. The food is outstanding, appetizer to dessert. Chef Bruno Tison, who came from The Plaza in New York City, earns kudos for creativity and dishes like "adult mac 'n cheese." Sante also has three master sommeliers on staff and an unbelievably rich cellar: Leave it to the experts to match the pour to your plates, and ask for the details on what you're drinking. Their knowledge is as deep as the wine list. Also try the more casual Big 3, the longest-operating restaurant in the county and a great stop for breakfast and lunch.
Golfers will want to push themselves away from the dining and massage tables for a round or two at Sonoma Golf Club, a private club that hosts guests from the inn, about five minutes away. Designed in 1928 by Sam Whiting, who also laid out the Lake Course at San Francisco's Olympic Club, site of this year's U.S. Open, SGC is a classic—charming, very playable, and the sort of subtle design that reveals itself slowly to the discerning player.
The golf isn't flashy, not a smack-you-in-the-face resort roller-coaster that will make you say "wow" (nor, for that matter, "ow"). It's a lot like the inn—high quality while low-key, perfectly suited to the surroundings. Also like the inn, the course is expertly managed and maintained. It was a favorite with Champions Tour players, who battled for the Charles Schwab Cup here for quite a few years. And when the Presidents Cup came to San Francisco in 2009, Sonoma was the back-up course in case the in-town Harding Park had any problems.
There's an awful lot to drink in in Sonoma. And it's only vintage stuff.