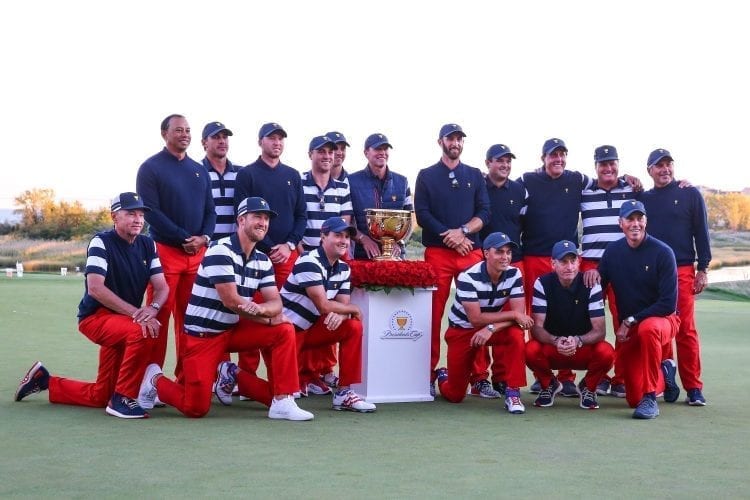 The United States once again won the Presidents Cup, defeating the International side 19-11. While the Americans defeated their opponents pretty easily this week, the real magic might have taken place after the last putts dropped.
Over the years, the post Presidents Cup/Ryder Cup press conferences have been nothing but colorful for the U.S. side. After a win, it is usually filled with champagne, jokes, and jabs at one another. Even after a loss, there are usually several notable quote worthy moments. I think we all remember the comments Phil Mickelson and Jim Furyk had in 2014 after the Ryder Cup loss at Gleneagles.
Once again, this year's victorious press conference did not disappoint. Here is a look at some of the best, and funniest, moments from the Americans press conference.
We start with Matt Kuchar taking this playful jab at Phil Mickelson for missing the Tour Championship last week:
Matt Kuchar makes fun of Phil for being the only U.S. team member to not make the Tour Championship with Phil right next to him. pic.twitter.com/EHPbqvbmAw

— Alex Myers (@AlexMyers3) October 1, 2017
Some of the guys on the American side also had some fun at the expense of Si Woo Kim who, during his match on Sunday, gave the "shush" to the crowd made famous by Patrick Reed despite trailing in the match:
Spieth enjoying the Casamigos in victory pic.twitter.com/O5wrzFwZxT

— Dan Hauser (@DanHauserGolf) October 1, 2017
But wait. It gets even better. pic.twitter.com/9A0dB3zvpB

— Skratch (@Skratch) October 1, 2017
Then, there was Jordan Spieth making fun of himself a little and his less than stellar singles record in team competitions, with the aid of Reed and Dustin Johnson:
"If we only sent three out, Jordan wouldn't have been one of them." -DJ with some gems during the #PresidentsCup media conference 😂 pic.twitter.com/2cSb7ayv3z

— Golf Channel (@GolfChannel) October 1, 2017
The U.S. side was certainly victorious on the course this week. There is no question though that they were also victorious off of it too.
Let the celebration begin! 🗣#USTeam 🇺🇸 pic.twitter.com/1EQONFPDeF

— Presidents Cup (@PresidentsCup) October 1, 2017